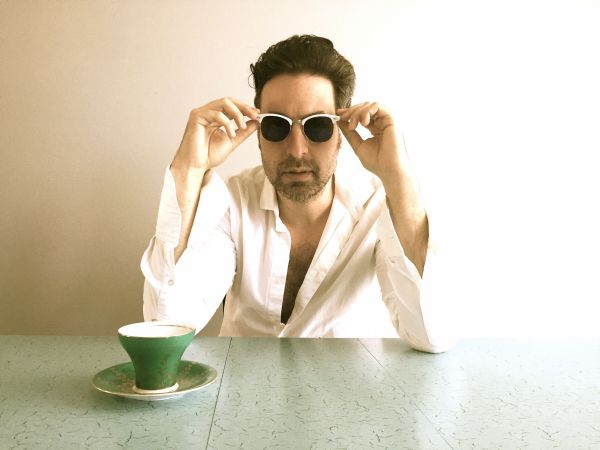 12 August 2020
Krief – Photo Credit: Julie Clermont
Veteran Canadian musician Patrick Krief (former guitarist in The Dears), under the moniker Krief, is set to release his new album, Chemical Trance, on August 14th via Rock Ridge Music in the US, Indica in Canada, and German label Popup Records.
Chemical Trance is a psychedelic masterpiece of secular shamanistic humanism. The Montreal-based singer-songwriter taps into that holy intersection of the divine and mortality, confronting his own vulnerabilities in a beautiful cacophony that, at times, recalls Pink Floyd, late-era Beatles, Leonard Cohen, and Radiohead.
And just like the artistic epochs of thos egreat musical masters,the new album is at its best when Krief digs deepest into his most personal moments.Chemical Trance (the follow-up to his 2019 release,Dovetale) was recorded at Krief's home studio just outside of Montreal.Krief helmed most of the drums, bass, piano, guitar, keyboards,and vocals across the nine songs that comprise the album.
The LP was produced and mixed by Krief himself.To maintain a feeling of raw, old-school performances,most of the instrumentation was recorded in one or two takes.The vocals were performed live with an instrument (piano or guitar) and a commitment was made to not using tuning or editing.
While Krief is known for dream pop,shoegaze,classic pop/rock,and folk,he pictured Chemical Trance to be more psychedelic in nature,like an Ayahuasca trip. "It's like you've taken the drug and you're confronting your whole past–all the darkest stuff," Krief says. "But you're not reliving it in a normal way, it's hyped-up: emotions as demons, that sort of thing."
Big Takeover is doubly pleased today to host the song premiere of "I Love You Just The Same," a reflective, psych-tinted indie rock piano ballad/lament, and its mirroring accompanying video.
Krief begins by singing in a soft and light tone, but as he lyrically comes to grips with a dissolving relationship, his delivery turns urgent and the reverie is broken by the psychedelic-infused rumble of rock guitars, crashing cymbals, and juddering drum beats.
In the gently evocative video clip, Krief enters a creative dreamworld. He's shown sitting at a table strewn with crumpled-up papers, penning a few lines in a notebook. He then drifts off into his thoughts, this time pictured outside, laying back on the grass and contemplating the sky while hazy swirls and kaleidoscoped images pass by.
The images change to what looks like Roscharch test ink blots as Krief struggles with what he's trying to express… He's back at the table staring off into space, while his coffee cup, which was originally colored green has turned to red…
Krief divulges some details about the song and video, revealing, "This is a farewell song, of letting go of things I loved so dearly, because the universe was insisting I do so. I don't often write songs on a piano (guitar is my go-to writing tool), but this song was written on an old, abandoned, and terribly tuned piano I came across one September night. It took a long time to make all the pieces fit on this one. I had a lot of ideas I wanted to include in the cacophony. The main objective was to evoke a specific feeling when listening back. Just touching one fader made the song change dramatically. The song is so fragile, and likely my favorite on the record. I had a very loose idea for the video that brought in some sentiments I had when writing these lyrics. My wife and I set out to film the shots in our home. We then sent Maia Davies (director) the footage and she made amazing things happen with it, as she always does."
Pre-save/Pre-order Chemical Trance HERE
Website
Facebook
Twitter
Instagram