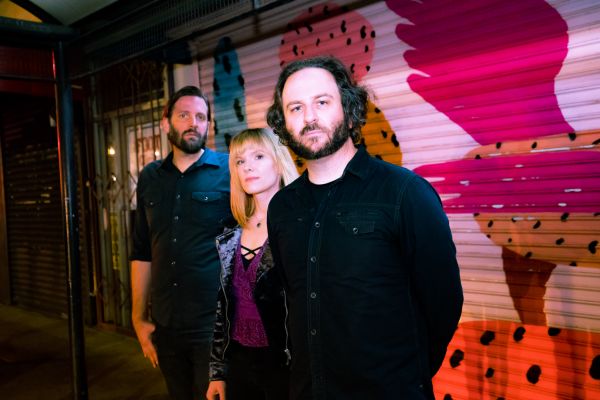 3 September 2020
Modern Time Machines – Photo credit: ZB Images
Los Angeles-based shoegazers Modern Time Machines have been keeping busy during the unsettling upheaval of pandemic, finishing up a time travel-themed music video for their new dreamy, fuzzed-out single "Keepsake," which was produced by Josiah Mazzaschi of The Cave Studio
Big Takeover is pleased to host the premiere of this nostalgic and inventive music video that has actually been in the making for 20+ years.
The video started out as a short 8mm black & white film way back in the late 1990s. The clip's original genesis was an unfinished short film starring a nearly unrecognizable teenage version of Modern Time Machines singer and guitarist Ben Golomb, and was directed at the time by his high school friend, Marc Slater.
Golomb, who directed the final product, says, "The video hopefully makes for a fun journey away to a different time other than the dark days of 2020."
During lockdown, working around the limitations of social distancing, Golomb decided to dust off the old reels of 8mm film, and shot some new scenes to wrap around the old footage. The result has modern-day Golomb slipping into a 1990s dream, with an intriguing industrial espionage/shoegaze/time travel storyline that will hold viewers spellbound.
Ben adds, "As luck would have it, my bandmates Jacquie Dillon and Michael Morgan were remarkably close body doubles to the other two actors who were in the original decades-old 8mm short film. So, I was able to keep some of the original 8mm footage of the other actors, but when it came time for the close-up shots, I substituted in newly-filmed shots of my bandmates. Definitely a stroke of luck!"
The band borrowed a Gibson Firebird guitar from their friend Dave Dupuis (oNightmare Air, Film School) in a not-so-subtle joke keeping up the Pontiac Firebird theme of the video. And their buddy Jack Panossian kindly lent use of his 1974 Pontiac Firebird Trans Am as a double for Golomb's old car that was in the 8mm original footage.
For the music video, movie poster art was commissioned by artist Steve Steigmeyer at 814 Art Studio, inspired by 1970s-era action flicks/B-movies.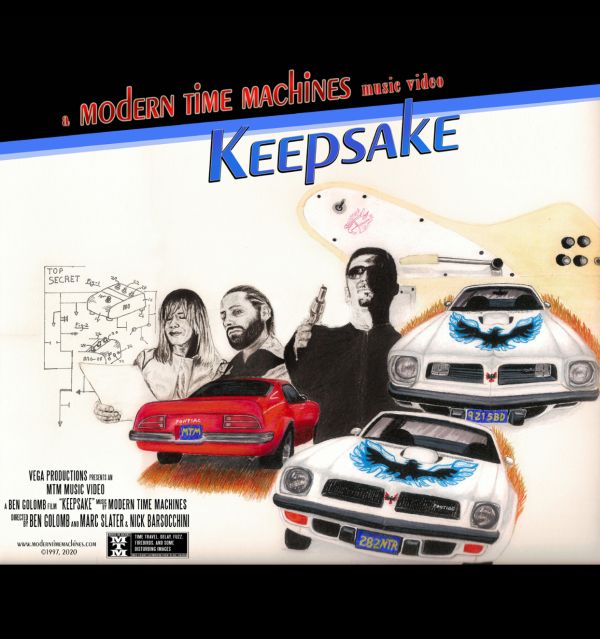 Modern Time Machines' single "Keepsake" comes out on digital platforms on September 3rd, and includes several bonus tracks and demos from the band's vault. They also has a number of other new songs in the works, which they hope to release in the near future, including a music video sequel to "Keepsake."
"Keepsake" follows up Modern Time Machine's 2019 single/music video "Malaise For Days, and the band has two full length LPs to their name as well.
The band spent the latter half of 2019 collaborating with the late Grammy-winning songwriter Allee Willis on a yet-unreleased Modern Time Machines song, and Golomb and company are also currently scoring a documentary called Howard the Doc Or: How I Learned to Start Quacking and Love the Bomb, which is about the '80s cult film Howard The Duck. Info about this project can be found at Facebook
Website
Bandcamp
Facebook
Instagram
Twitter