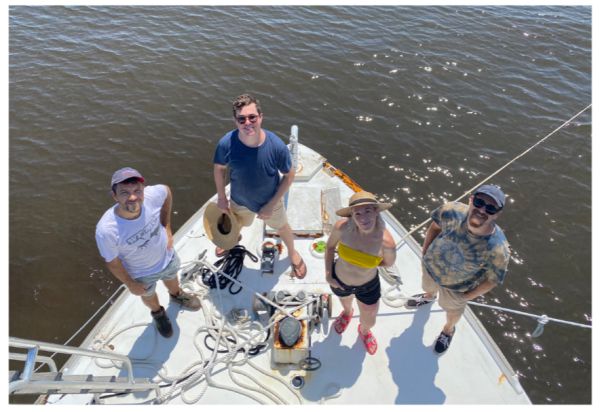 17 June 2021
Surfer Blood – Photo Credit: David Hamzik
The Shins' classic debut album, Oh Inverted World, came out 20 years ago on June 19, 2001. Fans and tour-mates Surfer Blood now celebrate the anniversary with a cover of "Know Your Onion!" done as a performance music video.
Big Takeover is pleased to host the premiere of this engaging live-in-the-studio rendition of the song today.
Surfer Blood singer John Paul Pitts reminisces about the album's impact on him as a young musician: "When I was younger I listened to Oh, Inverted World on repeat for a solid year. Most of my experience with music up until that point involved whatever was on FM radio, so when I heard the Shins for the first time it blew my mind. It showed me that there was a whole world of music outside of the extremely narrow genre of late '90s radio rock. The melodies and vocal production would definitely become an influence when I started working on Astro Coast years later, and "Know Your Onion" was always a stand-out track for me. Cathartic, triumphant and melancholy all at once."
"You can imagine my excitement when we were asked to tour with The Shins in 2017. I watched their set every night and still never get sick of "New Slang." It's inspiring to see a band with so many classic records in their catalog still putting out new music and working hard on the road. I'll always be grateful for the opportunity to get to know them and call them friends."
"I'll never forget playing with The Shins and Built To Spill on Memorial Day in a minor league baseball stadium. It was peak Americana! My high school self would have been ecstatic and extremely proud. It was just one of many fond memories from that tour that I'll think of fondly for the rest of my life."
"Happy 20th anniversary to Oh, Inverted World!"
After Covid canceled their tour twice, Surfer Blood finally hit the road to support their 2020 album Carefree Theatre (Kanine Records).
SURFER BLOOD on tour
Fri Jul 30 – Atlanta, GA – The Earl
Sat Jul 31 – Memphis, TN – Hi-Tone
Sun Aug 1 – Oklahoma City, 89th Street
Tue Aug 3 – Albuquerque, NM – Launchpad
Wed Aug 4 – Denver, CO – Larimer Lounge
Thu Aug 5 – Fort Collins, CO – Surfside 7
Fri Aug 6 – Salt Lake City, UT – Urban Lounge
Sat Aug 7 – Boise, ID – Neurolux
Sun Aug 8 – Spokane, WA – Lucky You Lounge
Wed Aug 11 – Everett, WA – Tony V's Garage
Thu Aug 12 – Bellingham, WA – The Shakedown
Fri Aug 13 – Seattle, WA – Chop Suey
Sat Aug 14 – Portland, OR – Doug Fir
Tue Aug 17 – San Francisco, CA – Bottom of the Hill
Wed Aug 18 – Morro Bay, CA – The Siren
Thu Aug 19 – San Diego, CA – Casbah
Fri Aug 20 – Los Angeles, CA – The Echo
Sat Aug 21 – Pioneertown, CA – Pappy & Harriets
Sun Aug 22 – Tucson, AZ – Hotel Congress
Tue Aug 24 – Austin, TX – Hotel Vegas
Wed Aug 25 – Dallas, TX – Club Dada
Thu Aug 26 – Houston, TX – Satellite Bar
Fri Aug 27 – New Orleans, LA – The Parish
Sat Aug 28 – Mobile, AL – Alabama Music Box
July 30 – Aug 28 with Worn-Tin
Friday Nov 12 – Brooklyn, NY – Brooklyn Made
with Tobin Sprout
Surfer Blood Website