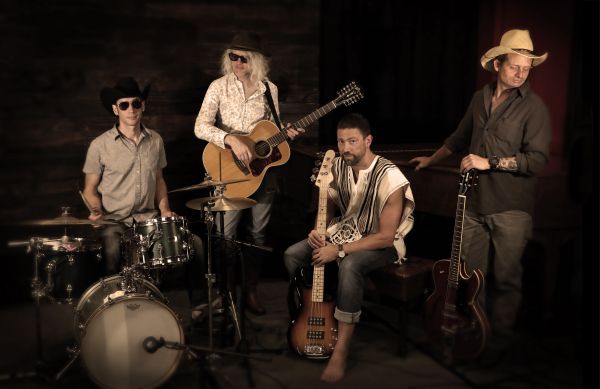 3 May 2020
Anton Barbeau & Kenny – Photo courtesy of Anton Barbeau
Sacramento native, Berlin resident, and prolific musician Anton Barbeau recently released a new album titled Kenny Vs. Thrust among his 30-plus bunch that consists mostly (but not exclusively) of older songs given new coats of paint.
The collection that's out via Big Stir uses two backing bands: Kenny, his Sacramento-based group, and Thrust (AKA Charms Against the Evil Eye) from the U.K.
Rocking a bit harder than usual, Barbeau fills the record with sweetly crunchy (or jangly) guitars, surreal lyrics that makes sense once you let them sit in your brain awhile, psychedelic marshmallow plushness, and melodies, melodies, melodies.
Big Takeover is pleased to host the video premiere of Barbeau's performance clip with Kenny for the track "Land of Economy." The band is comprised of Kevin Allison (guitar), Tom Monson (drums), and Jeff Simons (bass) and the video was shot by Julia VBH.
Barbeau and his backing band revitalize the original number in this live version, rocking out with richly chiming guitars and a scintillating rhythmic drive. As always, the melodies and Barbeau's crunchily upbeat and slightly wavering vocals hook the ears; there's something familiar and inviting in the sound; a bit of a nostalgic, '90s indie rock vibe, perhaps…
Barbeau relates details about shooting the video, commenting, ""Land of Economy," like several other songs on the Kenny vs Thrust album, is an older number of mine that seemed well-timed for a remake. My California band, Kenny, recorded the backing track for this and the other songs for our half of the album in the same room, The Melon Ball in Davis, CA, where we shot the "Economy" video."
"Guitarist Kevin did warn me, "I'm just gonna do windmills," but I didn't really pay him much mind. We had only a narrow window of time in which to film. Besides gigs and late-night recording sessions, the Melon is rented out for various [other events]."
"On the Sunday we filmed this video, there was a church service from 10am to 11:30 and a choir recital booked for 2pm. We got in just before noon and were out by 1. Efficiency is sexy, right? We grabbed some spare footage from a recent trip to Reno and have this slice of charm cake to offer you now!"

Order Kenny Vs. Thrust at Big Stir Records#!
Anton Barbeau Website