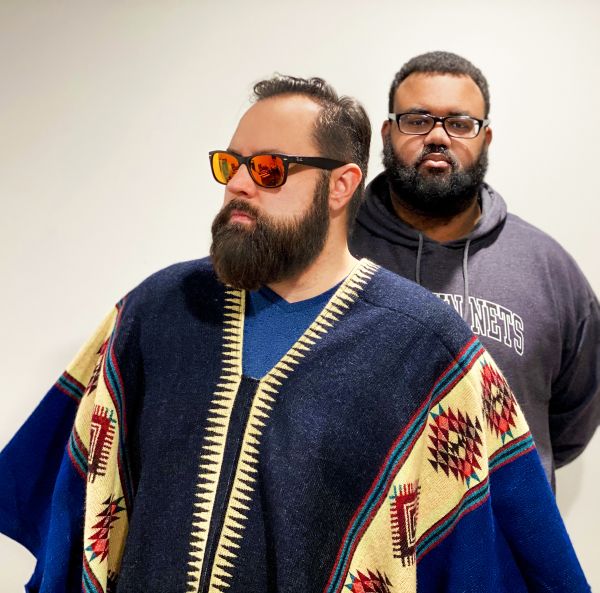 9 December 2021
Underlined Passages – Photo Credit: Underlined Passages
It has been a long and hard journey back to music for Baltimore's Underlined Passages. The duo of Jamaal Turner and Michael Nestor spent the two years between 2015-2017 building a musical reputation by appealing to listeners who are passionate about songwriting that is guitar-driven, emotionally intense, and ephemeral.
The band's sheer grit and work ethic slowly, but surely began to win over audiences at venues large and small across the Northeast US – even though many are oversaturated with seemingly infinite choices in indie rock and indie pop groups. All was well with the band, but then it all came to a tragic and sudden halt.
Right before the recording of their 2017 record Tandi My Dicafi, Jamaal suffered an immense personal loss. Then, soon after, Michael lost his voice and found out that issues with his vocal cords might prevent him from singing permanently.
The band took this as a sign that it was time to let go. They decided to quietly stop. Nearly two years later, in the winter of 2019 Jamaal and Michael sat down for dinner, and asked each other whether they were ready to begin again. The answer was a resounding, "Yes!" But this time was different. Before they had a chance to have their first rehearsal, the world faced down the COVID-19 pandemic and the project was put on hold again. It seemed like a higher power was saying, "No!" to their yes.
They did not let this stop them however, and after nearly four years away, Underlined Passages is releasing their new record, Neon Inoculation, as a full-length in January, 2022 via Mint400 Records,
Their new single "Lng Trm Xpsure" follows on their lead single "Couples Therapy," which was released in September. Recorded by Frank Marchand (Sugar, The Thermals) and mastered by Michael Nestor (The Brixton Riot, The Seldon Plan), "Lng Trm Xposure" is thematically similar to "Couples Therapy," playing with the idea of what it means to be stuck in the same place all the time with a significant other. Whereas "Couples Therapy" looked outward with hope, "Lng Trm Xpsure" looks inward at what went on between people stuck inside during the COVID lockdowns.
Big Takeover is stoked to host the premiere of the rad and amusing to the max '80s-themed performance music video for the dreamy "Lng Trm Xposure."
In the video Jammal and Michael sport totally tubular shades and choice vintage T-shirts that range from Prince's Purple Rain to the MTV logo. It's a fun Delorean-ride back in time with the pair putting on a bodacious show.