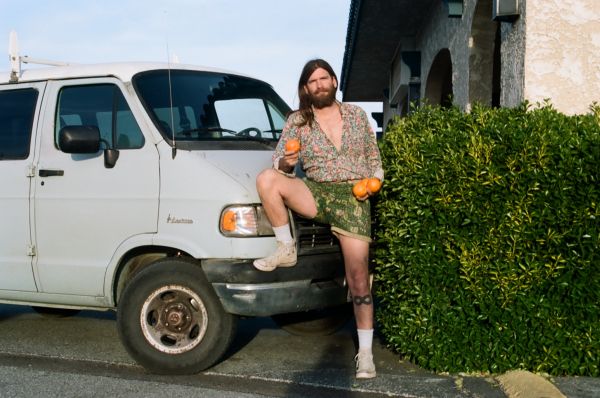 12 December 2019
Grant Earl LaValley – Photo Credit: Nairobi Schmila
Joshua Tree-dwelling (by way of Ohio) songsmith Grant Earl Lavalley has been conjuring up a forthcoming album of melodic, yet haunting Gothic folk/Americana. Entitled A Brighter Day, and out via Exit Stencil Recordings in 2020, it's the start of a new era for the old-school troubadour, which also includes a move to L.A. soon and future live shows.
The Big Takeover is delighted to host the premiere of the video for the LP's lead single, "Summer Angels." The song radiates a beautiful, yet unsettling vibe as it alternates between a dark electro-folk rumination and bursts of energy and color.
There's a fierce tenacity and 'everyman' element to this song, as in all of LaValley's work, but the video also rides on a strong current of nostalgia with its subdued '70s Techinolor infusion (not to mention LaValley's white platform shoes and long locks of hair swaying to the rhythm).
In the video, moving panels and laser beams of color create a psychedelic atmosphere, but the most gripping part of the clip shows LaValley, pin-stripped suit and all, staring into the camera as he plays his guitar. His soul comes through – almost as if he's stood the test of time and even in 2019, he's got the grit and the effortless cool of another era.
Grant LaValley is a self-taught musician originally from a working-class family in Columbus, OH. He never even picked up a guitar until he was in his 20s. His grandfather gave him his first guitar at eight years old and it just collected dust until he moved to California – Mendocino County to be specific. It was just LaValley and his trailer (all he could afford and still own) and his cat. He works with his hands at a day job still to this day.
The concept of working for what you have and earning your way through life is a brutal honesty that many musicians face. Keeping that honesty, however, is a skill and making that honestly part of your music is an art. That's what LaValley has perfected with his distinctive and pained baritone commands, as he vividly paints a picture of life from his off-the-grid cabin in the deserts of Joshua Tree.
On his start, LaValley comments, "Sitting on a mountain, listening to heavy-hitters like Townes Van Zandt, I thought, "Well, I bet I got a song or two in me." His 2017 debut, From LaValley Below, garnered him comparisons to Nick Cave, Townes Van Zandt, and Gene Clark's cosmic Americana.
While those comparisons still ring true, this new selection of sounds is grungier, weirder, and finds LaValley and his Joshua Tree collaborators greatly expanding upon their soundscapes and arrangements; an expansion beyond the more stark folk offerings of the first record.
Explaining details of "Summer Angels," its video, and the future of the project, LaValley states:
"I think that others can relate with this constant balance of work and art, work and leisure, or hobbies or whatever therapeutic practices people find themselves most held by. For me, moving around and progressing creatively gives me that solace and satisfaction."
"I had the idea for the "Summer's Angels" video before the song ever existed. In fact, we shot the video before the song was even a song, and Joseph Kennath (director/videographer) was quite stoked to do a "plain white background, simple video." I wanted to do something that wasn't representative of the desert, so we shot this video with only a drum machine and guitar track in Joseph's L.A. studio."
"I guess my desire to make less desert-centric music and my more rock n roll past have taken their toll. Also, I've been wanting to be more in the mix, so now I am moving lo L.A. to get a band together and hopefully put on a great show."
So, Los Angeles, get ready for Grant Earl LaValley to bring that Ohio-born, desert-living grit and raw,, compelling honestly to a city that's so often accused of being plastic and fake. It's definitely a brighter day for LaValley, his collaborators, and listeners of his captivating music.