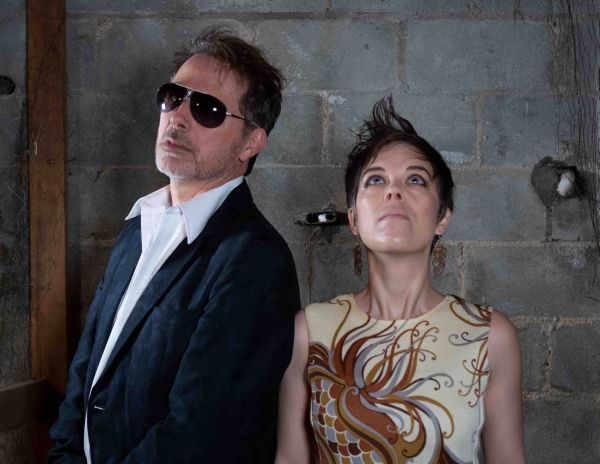 3 March 2020
I Am a Rocketship – Photo Credit: Katja Bjorn
Last year, we introduced you to I Am a Rocketship , a Swedish-American electronic pop rock hybrid duo, based in Atlanta, Georgia. This week, the band announced that they will be releasing their third album 'Ghost Stories' at the end of April.
Word has it that there will be eleven songs on this album and that they are quite diverse, spanning "from noisy sample-based instrumentals to somber ballads". Ahead of that, they present the first single 'My Nature'. a driving track with a catchy melody and clever wording about what seems to be a passive-aggressive relationship with a potentially dangerous / unstable friendemy. Recommended if you're into Curve, Garbage, The Ting Tings, Feral Five or m1nk, for instance.
Against winding guitar line grit and punchy drum hits, L.E. Kippner sings in a direct, but slightly dispassionate tone. The video flashes by with the duo performing the song, secluded in a stark basement setting with gray concrete walls and wooden frames. Footage of Weissinger and Kippner are at times juxtaposed, but mostly they're in the same scene, with added images of an owl in flight, striked matches, and a beautiful flower smashed to bits, definitely a visual metaphor for the lyrics of the song!
I Am a Rocketship is Eric Weissinger and L E Kippner, an Atlanta-based self-contained duo, whose music draws from memories of 80s pop, hip-hop overheard on Atlanta streets, Bernard Hermann soundtracks, and Neue Deutsche Härte to make bedroom pop with an edge.
"The song 'My Nature' is both fun and threatening. Sometimes people can want to help you, and really care in their own way, but they are inherently dangerous. We probably all have known people like this, who just seem to leave a trail of destruction despite their best intentions," says vocalist L E Kippner.
I Am a Rocketship merges cool Scandinavian vocals, pop hooks and a dash of experimenting. Layering dark lyricism and fuzz guitars over pop grooves, they create a notably attractive hybrid sound. They write, record and create art and videos without other contributors, capturing this new album on a notebook computer in various locations over the course a year.
The new album follows up their sophomore offering 'Mind Grafitti', released in 2019 and featuring lead single 'Face Off', influenced by Led Zeppelin's album 'Physical Graffiti', and a distinctive cover of Rammstein's classic 'Du Hast'. They released their debut long-play 'Mission Control' in 2016.
The title track 'Ghost Stories' sprang into fully formed existence when Eric first played a 70-year-old guitar. This spirit of letting ideas emerge without trying to conform to any style led to the creation of the rest of the album. Lyrics and instrumentation were chosen quickly and by instinct, leading to a collection of music that can be jarring but rewarding.
"This wasn't intended to be an album. We were going to do an EP of a few songs we'd played live, but then I got this guitar, a 1949 Gibson, and the song Ghost Stories just poured out, completely written. We both fell into this groove of coming up with new song ideas, so that we ended up having to cut material for the album. It was an incredibly loose and easy album to make, but it's not disciplined or planned," says Eric Weissinger.
A journeyman bassist and guitarist backing up various artists and opening for bands such as The Wedding Present, The Black Crowes, James, Cracker and Portastatic, everything changed for Weissinger thanks to a chance meeting with L E Kippner – cellist, scientist, radio DJ and singer for Swedish synth-pop duo Neobox. At first forming Hitchcock Blondes in Ohio, they relocated to Atlanta to try new ideas as I Am a Rocketship, for which they have been receiving quite favorable international press and radio play.
As of April 2, 'My Nature' will be available online via Bandcamp and iTunes / Apple Music. The full Ghost Stories LP will be released everywhere digitally, as well as on CD, on April 30 via the band's own My Long Wknd imprint. It is already available for pre-order via Bandcamp HERE. The duo will soon announce select performances in the Atlanta area, as well as a UK tour with Russian-Swiss avant-pop artist Ekat Bork forthcoming in July 2020.
TRACK LIST
01. False Impressions
02. My Nature
03. Ghost Stories
04. Come Along
05. Crush
06. Resolve
07. Give
08. Walk With Me
09. Five Points
10. You're My Angel
11. The Spectacle
Also check out their video for 'Face Off' from their 'Mind Grafitti' album (yes 'Graffiti' is misspelled on purpose):
I AM A ROCKETSHIP
Website
Facebook
Instagram
SoundCloud
Bandcamp
Twitter
YouTube
Spotify