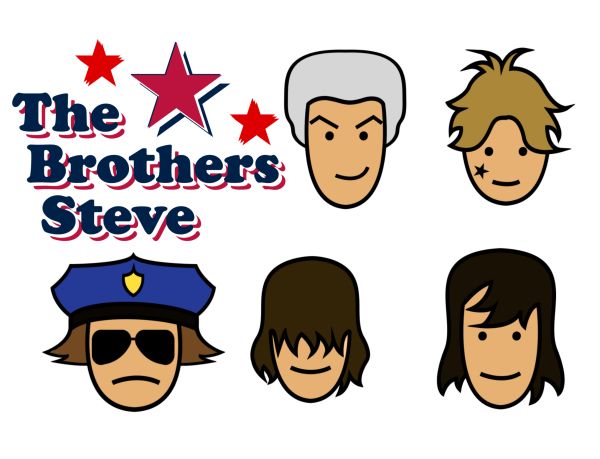 12 October 2021
The Brothers Steve
There's always been an air of mystery surrounding The Brothers Steve. As accessibly ear-friendly as their audaciously-titled 2019 debut #1 with its addictive pop-punk hooks remains, a certain shroud of intrigue clings to the band itself.
We know they're from LA, but with origins in Santa Barbara. We know three out of the five Brothers were also prime movers in fondly remembered '90s power pop heroes Tsar. We know that there are no actual siblings, and only one individual named Steve, in the band. And we know their faces only as as the hand-drawn avatars that appear in their putative press photo.
The new album Dose and the new single and video "Next Aquarius" will do little to dispel that mystique, and that's a good thing.
With dollops of psychedelia, glam rock, and even Zombies-like chamber pop stirred into the already-heady stew the Brothers serve up, there is if anything even more to ponder. But it's big, it's fun, and it's instantly recognizable as the same band that delivered #1 to wide acclaim two years ago.
Big Takeover is pleased to host the nostalgic found film footage music video for "Next Aquarius."
"Next Aquarius" is a prime example of what makes Dose so intoxicating. There's a prevalent psychedelic haze and a vintage garage-punk swagger to the mix and Jeff Whalen's sneering, seductive vocal, but like everything else on the album, it's timeless, and anything but retro.
The video, created by the visual artist known only as moirebender, follows that cue: constructed out of public domain footage from 1946 and processed into a trippy '60s-evoking mindscape using genuine '80s video processors, it's the sort of thing that could only hit YouTube in 2021 and the perfect complement to the enticing swirl of the track itself.
And as the mystery of The Brothers Steve deepens, so, on Dose, does their allure.
BIG STIR RECORDS
Website
Bandcamp
Facebook
Twitter