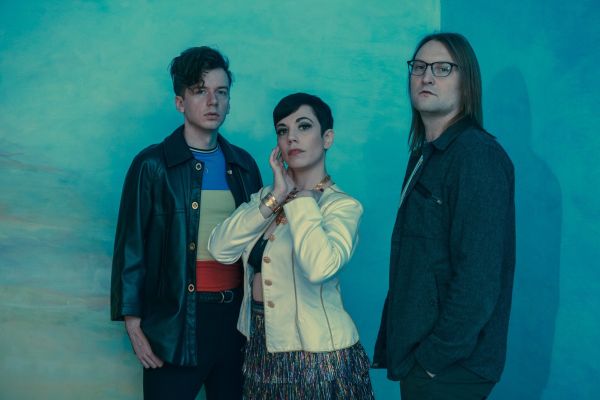 8 July 2021
$100 Girlfriend – Photo Credit: Britt Olsen-Ecker
Cashing in on the group's first record, Baltimore, Maryland-based outfit $100 Girlfriend have returned with a new music video for their track "Paper".
Big Takeover is pleased to host the premiere of the music video today.
A highlight from the band's debut EP Easy To Please, the video's visuals pair perfectly with the trio's signature dreampop haze — recalling a psychedelic bouquet of sounds from Madonna, and more recently St. Vincent, Sylvan Esso, and Phantogram.
In an alternately darkened and brightened room that moves from hues of blue to shining sunlight, vocalist and bassist Melody Easton contemplates life.
Projected images of prior times scroll along the room's ceiling and walls, acting as a nostalgic portal while Easton sings with longing to the camera lens.
There's also footage showing Easton in the outdoors. She's broken free from being cooped up indoors and enjoys a moment in the fresh air, renewing greenery, and golden glow of a city park.
"Filmed at the height of quarantine, it felt appropriate to make a video for a song about loss and reexamining life," says Easton. "Memories of happier times play like a movie in your room, but they distort as time goes on."
$100 Girlfriend is rounded out by Dan Ryan (who also directed the music video) and Jon Birkholz — both of whom spend time in crosstown act Super City.
Watch "Paper" below, and stay tuned for more from the band, who are currently working on new music.
Instagram
Facebook
Bandcamp
Spotify