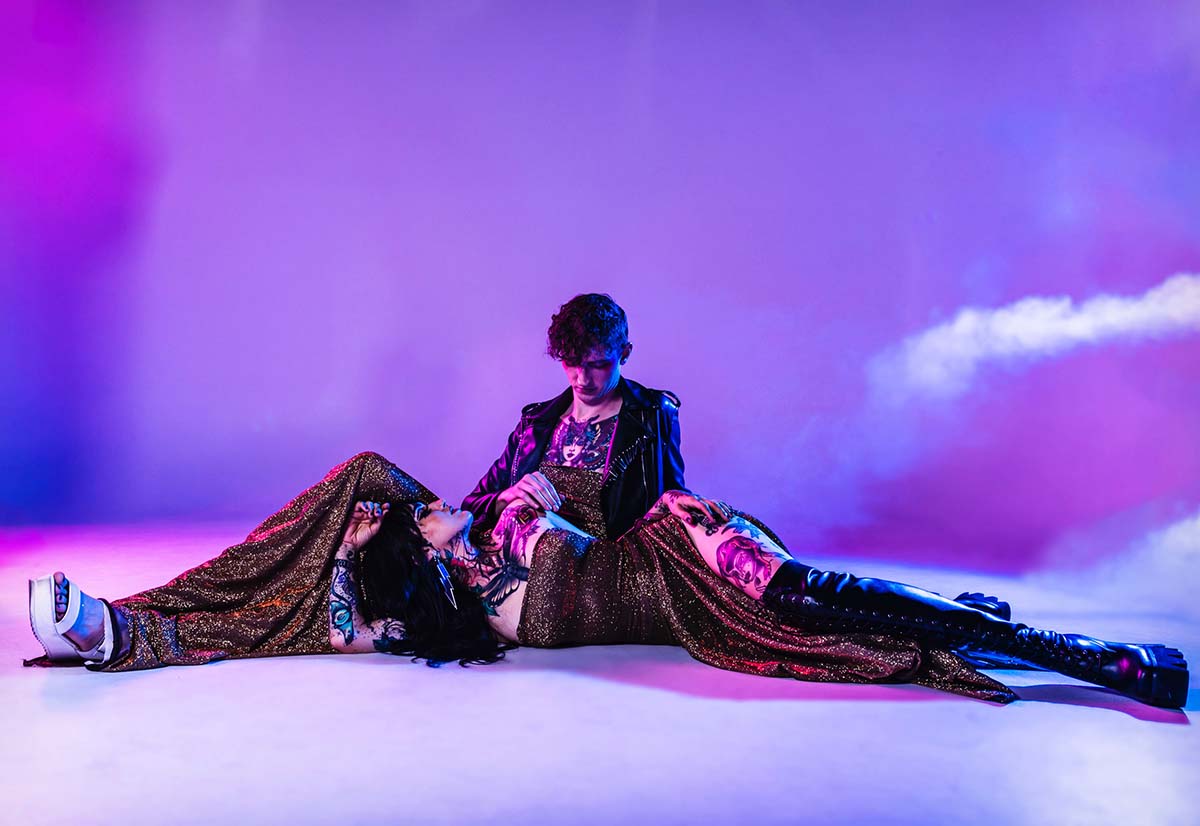 7 April 2022
Photo credit: Jeaninne Kaufer
Equal parts melancholy and glitter, Chateau Chateau is an evolving community of musicians from Tuscon, Arizona making cathartic indie pop for weirdos, outcasts, queer folks, and anyone else who needs it. Formed in 2018, the band is led by Bleu and Alex, a DIY-minded duo who transform things that are "traditionally ugly, abstract, and leftover" into new shiny and special forms. Although their songs explore dark subjects like mental illness, addiction, and trauma, Chateau Chateau channel their anguish into upbeat, danceable tracks packed with grim humor and messages of resilience.
After releasing "Crisis Party," their debut single that took off on streaming services, the band quickly built a local reputation for their outrageous performances (featuring up to nine people on stage) and flamboyant self-designed stage costumes, inspired by everyone from horror drag icons The Boulet Brothers and glam rocker David Bowie. "We're a bunch of introverts that dress up like extroverts and get up on stage and dance around," says Bleu, a tattoo artist by day. The reason for the larger-than-life persona is to help their audience — but especially their LGBTQ+ fans – feel comfortable in letting out their inner freak. "We want to keep making a safe space for people to come and boogie and be weird," adds Alex, a drag queen by night.
Grow Up, the band's debut release for Kill Rock Stars, tells the "coming of age story" of frontperson Bleu, who dedicates each song to different toxic relationships throughout her life and how she found herself growing up through each experience. On the raucous lead single "I Don't Love You Anymore," she takes a stand against her abusive father with acerbic lines of indifference, while the galavanting song "Converted," they poke fun at a narcissistic ex who once saw Bleu as his "token fantasy."
About the new single and music video, "Push Your Luck," Bleu tells Big Takeover:
"Push Your Luck is the fourth single off our upcoming album, Grow Up. This album is full of true trauma, addiction, mental illness, and toxic relationship stories that happened to me during my formative years.This song describes what it felt like to have had everyone around me thinking I was a failure and having horrible rumors spread about me, when in reality spending years all alone were the most important years of my life for my personal growth. People have always found it easy to use me as a punching bag. I've found it's the people who hurt me most, especially behind my back, that try to come back first. 'Push Your Luck' also dances with the idea that you'll never fully leave behind who you were. Especially when dealing with addiction.
Accepting that it permanently alters your life, no matter how long you've been clean, is really hard at first. And people tend to think once you're clean, that's it, you're magically a better person now. There's no consideration for the grueling years following, which is why a lot of it feels so lonely. Being clean is ten times harder than being addicted. But rather than try to hide it or act like it didn't happen, I'm owning up to it and making music about it. I think growth is beautiful, and I'm so proud to have gotten myself where I am today. So after spending years alone, working on growing, it feels that much better to be surrounded by pure love and success.
"I just want to be loved… that's why it hurts this much being alone in a crowded space", speaks to being truly alone even when surrounded by crowds of people thinking they know and love you. It's a pretty jarring feeling. But all you have is you at the end of the day, and I'm personally happy about that, which I feel like is all I can really ask for in life. This song is another upbeat pop song led by strong, catchy guitars. A classic Chateau feeling song, It's fast paced and gives you the feeling in your chest of being in a big crowd of people. We can all dance alone, together to it!"
This is Chateau Chateau's first project where Bleu helms the vocals on every track — a marked difference from the band's 2020 self-release album, Princess. This step into the spotlight goes hand-in-hand with Bleu's newfound willingness to explore themes and memories that are more personal than ever before. "She's finding her voice in the songwriting process and through who we are as a band," Alex observes.
Bleu hopes her story resonates with a younger generation of listeners, especially those who are queer, or grew up "in an unaccepting household." With their songs, Chateau Chateau hope to tell their fans: "You're not alone. Let's stand together and take ourselves and our identity back. [Let's] be whoever the fuck we want to be."