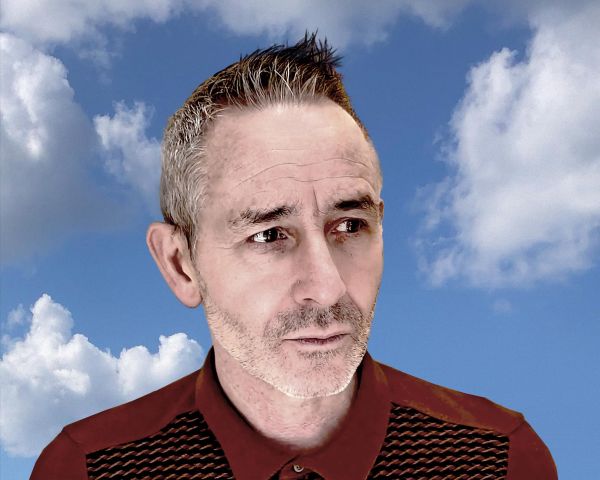 6 July 2021
Alan Brown of The Great Leap Forward – Photo Credit: Richard Gardner
It's always inspiring to hear of an artist you loved decades ago announcing that they will be putting out a new release or heading out on tour with new material. However, what is equally as cool is when you discover an artist from that period decades later due to the fact that they are indeed still putting out new music here and now. Win-win in regards to their current music, win-win with respect to their back catalog.
Today we present the new single from an artist with quite the pedigree in terms of output, touring and originality. Enter Alan Brown, frontman of Manchester agit-postpunk icons bIG*fLAME, who has announced a new album under his solo moniker The Great Leap Forward.
On July 30, a label we are very familiar of and appreciate very much – A Turntable Friend Records – will be releasing his new long-player, entitled Revolt Against An Age of Plenty. This special issue will be available as a color double-vinyl gatefold LP, digital download and also gatefold CD with 16-page lyrics booklet.
Alan Brown is a multi-instrumentalist songwriter and lyricist whose legacy as a British underground artist became apparent from 1983 onwards. Featured on the influential C86 NME cassette as part of bIG*fLAME, Brown also recorded nine John Peel sessions for BBC Radio One in the 1980s with bIG*fLAME (4), The Great Leap Forward (2), A Witness (2) and Inca Babies (1).
Since bIG*fLAME split up in 1986, Brown has channeled his work as The Great Leap Forward, writing all songs and lyrics, as well as playing and programming all instruments on recordings.
What can we say? This first offering is fantabulous. Cleverly worded, cynical (or is that realistic?), catchy and danceable – a winning formula. The sound and aesthetic for this lead track most strongly recalls the Bristol band Modesty Blaise, but other Turntable Friend artists such as The Wolfhounds and Candy Opera also come to mind, along with UK alt-pop mainstays The Manic Street Preachers.
This video, created by Richard Gardner, is visually pleasing and nostalgic. Teasing his forthcoming 13-track album, this title track rallies against mass consumerism and media control.
The Revolt Against An Age of Plenty LP features Brown's trademark political digs and social commentary, with incisive political and social commentary layered over sharp yet melodic guitar pop – plus a touch of electro and humor thrown in for good measure.
Not surprisingly, the name 'Revolt Against An Age Of Plenty' was lifted from an article by one of Brown's favorite social commentators and writers, Jack Common, whose works he has drawn on heavily for inspiration for decades.
"The culmination of four year's writing, this album has a more varied approach than previous releases. Whereas previously I've concentrated on a political approach, this album takes a wider view of the world – perhaps it's an age thing – last year (2020) saw me reach a milestone birthday which I explore in the song 'Can You Kanreki?', celebrating the Japanese concept of second childhood and re-birth for those hitting 60," says Alan Brown.
"Of course I still provide the trademark political and social vignettes – how could I not – such as the title song of the album 'Revolt Against An Age Of Plenty' – named after a collection of works by the English writer Jack Common in which I rail against mass consumerism and media control."
The Great Leap Forward released the debut EP Controlling The Edges Of Tone in 1987, followed by 1988's A Peck On The Cheek À La Politique EP, described by the NME as "conspicuously excellent" and the 12-inch single 'Who Works The Weather?'
1988 brought the release of the debut long-player Don't Be Afraid Of Change, praised by The Guardian and Melody Maker, among other leading publications, and tours of the UK and Europe as support for the likes of That Petrol Emotion. In 2007, he revived The Great Leap Forward, releasing Finished Unfinished Business the next year, followed by the album This Is Our Decade of Living Cheaply and Getting By in 2012.
As of July 16, the title track 'Revolt Against An Age of Plenty' will be available across streaming platforms like Spotify and online stores such as Apple Music. The full album will be released in all formats on July 30 and will be available for pre-order at Bandcamp
CREDITS
Mixed, produced & mastered at Otterhead Studios UK by Ant Chapman & Alan Brown
Alan Brown – vocals, guitars, bass, drums and synth programming, lyrics / peasant poetry
Ant Chapman – extra Kraut Rock synths
Album artwork by Ian Cheeseright, Simon Williams & Alan Brown
Video and imagery by Richard Gardner
Product distribution by SRD
Catalogue number: TURN77LP / TURN77CD
Do catch the trailer for the album too, as it's sure to be a doozy:
The Great Leap Forward
Website
Bandcamp
Facebook
Twitter
SoundCloud
Apple Music
Spotify