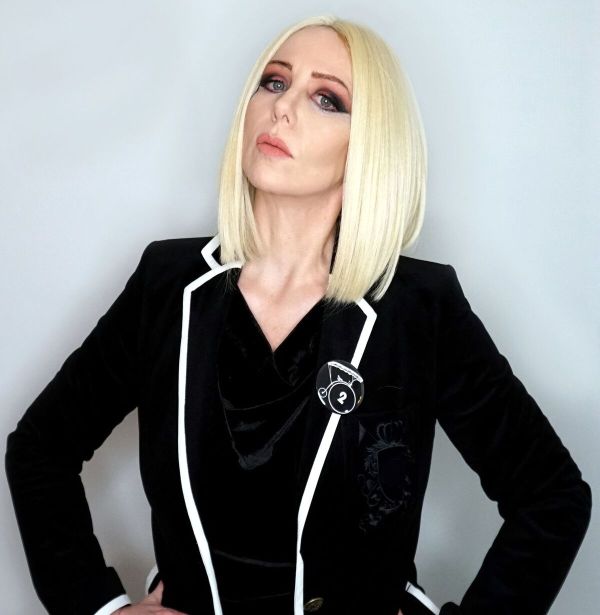 13 August 2019
Jenn Vix – Photo Credit: Reybee Inc.
Rhode Island-based veteran electronic pop/rock singer-songwriter Jenn Vix dropped her latest record, 6 EP, this past spring via Umbrella Music Co. It's comprised of six uncompromising electronic and rock-studded, melodic pop songs from the influential multi-instrumentalist.
Vix's career, which she kick-started in 1995, spans decades and boasts collaborations with such luminaries as Adam Horovitz of The Beastie Boys, Reeves Gabrels (The Cure, Tin Machine with David Bowie), John Ashton (Psychedelic Furs), Marco Pirroni (The Models, Adam and the Ants, Rema Rema), Dirk Ivens (Klinik, Dive), and the late Andy Anderson (The Cure, Edwyn Collins, Iggy Pop).
On the bold and personal 6, she jammed in the studio with Paul LF on bass and drummer Dave Barbarossa (formerly of Adam and the Ants and Bow Wow Wow) at his kit.
The Big Takeover is proud to host the premiere of a mysterious and suspenseful video for the lyrically thought-provoking "Rover", an atmospheric track off of 6. On the song, Vix warns, quite relevantly in this day and age, "The mind police are onto you / so you'd better watch your tongue."
In the video Vix is shown in contact with trackable tech (using possibly monitored phones and on closed circuit TV) or out in the supposedly free, open air. The camera follows her and various characters in the bright sunshine, amid imposing statues of historical figures, and along the dockside of a calm bay. But something else is following them…
Vix delves deeply into the meaning behind and storyline of "Rover", revealing, "The video is a tribute to the 1967 TV show The Prisoner, featuring the late Patrick McGoohan. The clothing, umbrellas, and ocean scenery were easy; I have family members who live in Newport, RI, so I stayed with them while filming, and I used the location for all of the outdoor shots."
"The interior set was a bit more difficult, but I managed to somewhat recreate Number 2's lair to the best of my ability with the budget I had available. I purchased some telephone handsets that were the exact shape of the ones used in the series, and I spray painted them with spray paint that adheres to plastic; to be the colors of the original phones. The Eero Aarnio Ball Chair was custom made; in Black and Royal blue, just for this video shoot. It is a replica of Number 2's chair, and I still have it and love it!"
"The "Rover" ball which chases Number 6 is actually a large weather balloon, which is the type that they also used in the original series. I filmed all scenes of others, and all scenes of me were filmed using a reverse screen on the camera, a tripod, and a professional lighting rig; for the indoor shots at night. The action scenes were filmed by placing the camera on a 3 axis gimbal, and following the subject."
"This track means a lot to me because I grew up watching the program, in syndication, and the messages of independent thinking struck a chord with me. It wasn't just a visually stunning program; Number 6's struggle completely reminds me of the struggle of being an outsider who does not blindly accept mediocrity and mind control."
"What is most remarkable to me is that the series still makes sense in this time period. We're currently dealing with massive amounts of propaganda online, as well as invasion of privacy, and hive-mind; collective thinking. He didn't just want to escape from the village, where he was held captive for resigning from his position as a secret agent; he fought to maintain his own mind, and personality, when everyone around him was conforming without questioning why they conform. That drew me in and made me think about a lot of things. I think that Patrick McGoohan was a genius, and he was also an intensely private person off-camera. I will always respect and admire his brilliance."
Website
Facebook
Twitter
Spotify