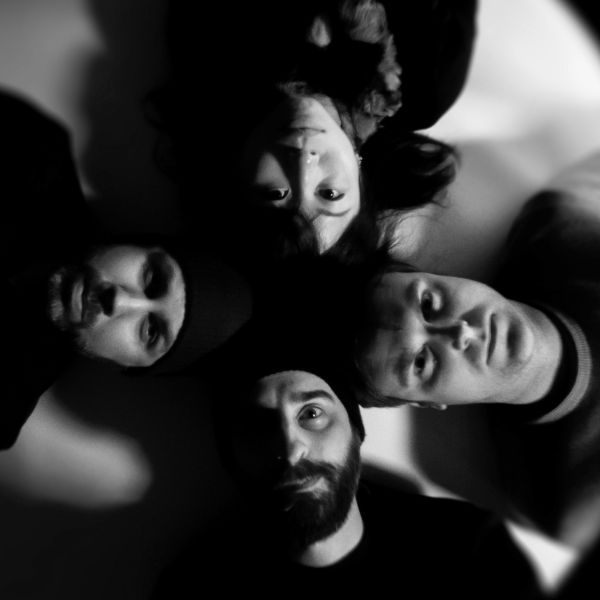 8 March 2021
Mount Forel – Photo Credit: Ross Thompson
Coming from the four corners of the world, London-based atmospheric post-rock band Mount Forel's members each bring his/her own musical specialties to the outfit for a powerful combined effect.
Not your average band, Mount Forel have grown up and lived in many countries around the world including the U.S., New Zealand, Japan, Northern Ireland, and England. This wide range of cultural influences is reflected in their musical output with lyrical references to global issues like climate change, populist politics, technology overload, and societal imbalance.
The title of their upcoming debut album, Small Worlds is an apt descriptor for Mount Forel. Small Worlds will arrive in early May via imprint Fallen Swine. The LP will be available on a limited run of 12" vinyl and features striking artwork by Japanese artist Hodaka Mitsui.
Ross Thompson (lead vocals, guitar), Takaco Iida (bass, backing vocals), Pete Garner (guitar, keyboards), and Andrew Wakatsuki-Robinson (drums).have built up a live following through a series of uniquely themed gigs involving audience participation, although that's been on hold for now due to the pandemic. They had reached the finals of the Isle of Wight Festival's New Blood competition before COVID put an end to live events.
The band's new single "Russia" is the first in a staggered release of tracks from Small Worlds. "Russia" was recorded alongside other songs from the album at Shaken Oak Studios in the Oxfordshire village of Witney. It was co-produced by the band and Jake Murray, who then went on to mix the release at London's Strongroom Studios.
Big Takeover is pleased to host the premiere of the vibrant live performance music video for "Russia" that captures the band's intense interlocking sound. Lyrically, the number questions life in Russia from a Western perspective, touching upon cultural differences mirrored across the globe.
The epic track slowly builds up from a reflective folk-styled beginning of just Thompson's vocals and picked guitar to the addition of heavy blues-psych guitar, low-end bass line groove, and kinetic drumming.
As Thompson passionately draws out his words, the vivid instrumentation around him swoops to the ground and reels to the sky before gliding in for a brief calm landing. The rhythm section soon picks up the pace and the song is off and flying again with screaming-eagle guitar riffs, a plunging bass line, and mightily pummeled drums.
The video clip shows the band members on a split screen, playing the song with determined focus, each in their own space, but with everyone still perfectly attuned to each other. Such is life, and performing music together, yet apart in the age of COVID.
The band members comment, "Musicians and punters miss live music! Because we can't play shows for now, we decided to release live versions of the tracks on our upcoming album as each one becomes digitally available – starting with "Russia." Plenty of bands have turned to streaming, which gets people to watch together, but we didn't want people to stare at a stage through a screen. Instead we wanted something a bit more in-your-face – hence a crunchy, up-close performance of us in the studio with our mics, our amps, our desk, and our mildew – It's like you're right there with us in gritty South East London!"
Website
Facebook
Twitter
Instagram
Spotify