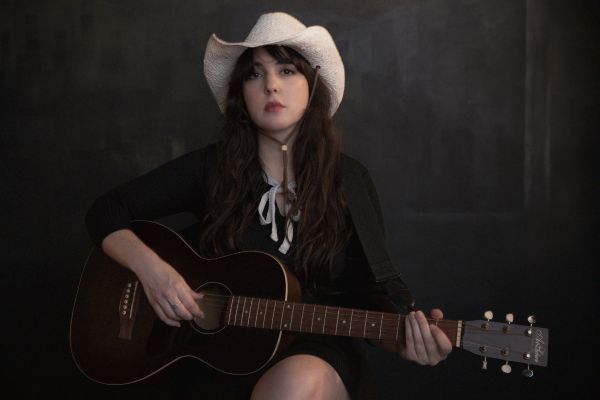 25 August 2021
Emily Frembgen – Photo Credit: Adrian Buckmaster
Living in New York City, but originally from Denver, and doing a whole lot of living in between, singer-songwriter/musician Emily Frembgen is set to self-release her engaging and perceptive album, It's Me or the Dog, on September 24th.
After a successful tour and two albums with Denver indie-rock band Language of Termites and a string of DIY solo albums and EP's, Frembgen enlisted world-renowned blues musician Hugh Pool, along with musicians Keith Robinson, Charles Dechants, and Xenos, to produce the first single of her new album, "Silver Lining."
Frembgen worked on the track with friend and collaborator Keith Xenos at Excello Studio in Greenpoint. With its infectious melody and romantic optimism, "Silver Lining" is a fan favorite, envisioning a "perfect world" where "we'd both have everything / The cake and the icing."
Frembgen has also enlisted comedians she met in the overlapping NYC comedy/music scene, like Clare O'Kane, Nick Thune, and Joe Pera to help her crowdfund her album. This LP is Frembgen's most personal, beautiful, and fully realized offering to date. It's indicative of everywhere she's been and everywhere she still wants to go.
Fellow musician Sam Barron offers a concise description of her sound, stating "Frembgen has an angelic voice, ethereal songs, and a poetic sensibility that recalls the minimalism and genius of Emily Dickinson."
Big Takeover is pleased as pie to host the premiere of the acerbically cheeky music video for the sweetly tuneful "Silver Lining."
Against a twangy C&W backdrop Frembgen wistfully warbles her bittersweet lyrics about miscommunication and misunderstanding in relationships. The storytelling video takes it even further, showing Frembgen hanging out with successive dates, with each one having some issue about them that's a deal-breaker, to great comic effect.
Frembgen comments, ""Silver Lining," a fan favorite at shows is a love letter to a friend. It's about the futile desire to protect someone from themself, and for them in turn to do this for you. Turns out it's not a perfect world."
"We made the video in the heart of the pandemic at my boyfriend and [my] apartment in Queens. He plays all the dates. It's a spoof of the '80s dating montage that was everywhere on the internet a while back. It also captures almost too well my lonely single times. Also, cake!"
Website
Instagram
Facebook
Twitter