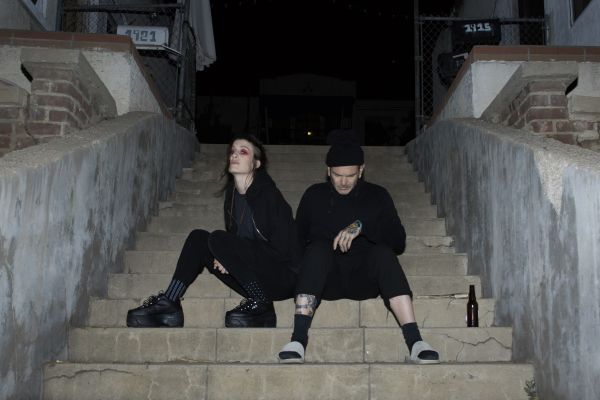 30 July 2020
Boy Deluxe – Photo Credit: VianneRobitaille
Los Angeles-based dark pop/electronic duo Boy Deluxe, who have morphed from their previous incarnation as Ever So Android, have recently been releasing a run of striking singles/videos ("Bait," "Beginning of the End," and "Creeps.")
The alternative music act Ever So Android was originally formed in Seattle by Hope S, a pastor's daughter who was raised in the shadow of dogma and divorce, and True Murra, a Philadelphia-born multi-instrumentalist who has battled with heroin addiction.
After five years of sold-out shows at venues like The Crocodile and The Tractor Tavern, with regular airplay on KEXP, Hope and True turned their focus to Los Angeles, where they relocated in 2017.
After years of experimentation and writing songs on the side, the pair decided to change their name to Boy Deluxe, finally admitting they had grown into something else. Most importantly, the name change signified a change in approach.
Hope S reveals, "Boy Deluxe is exactly who we are. Trying to 'do the right things' led to confusion and a loss of identity. The turning point came when we accepted that writing fulfilling music came alongside self-understanding. The more we learned about ourselves and quit caring what everybody thought, the more we loved our art."
Big Takeover is pleased to host the premiere of the video for the arresting "So Slow," a chill, but foreboding trap/trip-hop track that rolls with a moody, staccato flow.
"So Slow" is spiked with crisply clacking and echoed percussion, brightened by twisty electronic notes, swirled with a deep well of buried bass grind. Hope's brooding, yet matter-of-fact vocals float over the sonic miasma as she obsesses over an all-consuming love.
The engaging video clip focuses on Hope as she wanders through the gritty outskirts of a city, performing in front of the lens against a backdrop of storefront security gates and empty streets. She sing-talks to the camera, decked out in all-garb much of the time, swaying and dancing, and even smiling, to the beat of the tune.
Hope spills details about the song, explaining, ""So Slow" was written early 2019 in our apartment on Sunset while we were still Ever So Android. I think True had actually written the music to this song and we sat on it for a while, unsure how to finish it. There was a big difference between this track and what we had traditionally written in ESA and to be honest, it paved the way for what became Boy Deluxe."
"We called up a couple of our friends to give us feedback on what we had and ended up digging in really deep into the vocals. Changed the delivery completely, added a thousand harmonies and all the sudden we felt like we had something real. Once it was written, we sent it over to True's longtime friend and ex bandmate Gabe Pressman in New York to mix it and then sat on the song a little longer."
"Finally figured out we wanted John Geenham (Death Grips, Billie Eilish, Ice Cube) to master it and finished the song in the end of February [of this year]. With the final product done, we decided to release it under the new project and give the song our full attention."
Bandcamp
Soundcloud
Instagram
YouTube