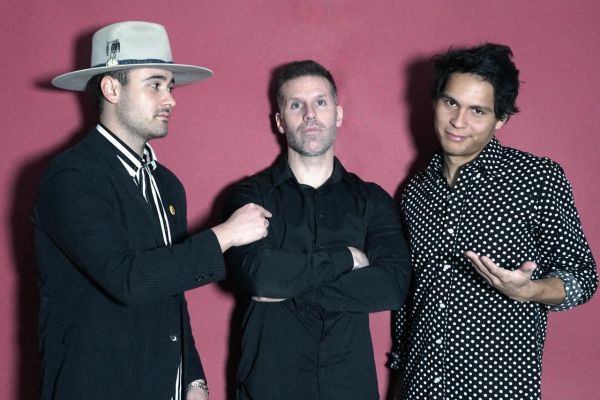 17 October 2019
The Skullers – Photo courtesy of The Skullers
New Jersey-based rock band The Skullers are digging up some fun times and energetic music on their upcoming record Freight Trains & Party Games EP, set for release on October 18th on all digital streaming platforms. The EP was produced by acclaimed artist/producer Don DiLego at his Velvet Elk Studio in the Pocono Mountains, PA.
This recording reveals the ever-evolving songwriting of frontman singer/guitarist Jack Skuller. Two tracks on the EP, "She Denies Herself The Things She Loves" and "Out Of The Garden", were co-written by Skuller and art-pop singer/songwriter George Usher. The record also includes a bonus track live recording featuring Skuller at the Third Man Record Booth in Nashville, Tennessee performing an early version of "She Denies Herself The Things She Loves."
The Skullers have developed a local reputation for their dynamic live shows and powerful recordings. The band's sound is an organic hybrid merging the blues and rockabilly of Skuller with the urgent and powerful playing of punk-inspired drummer Brian Fahey and bassist Luigi Sardi.
A video was created for each of the five tracks on the EP, which launched with "Brooklyn Girls" this past summer. The second single/video off of the EP, "She Denies Herself The Things She Loves", arrived in September and the song has been getting airplay on 90.5 The Night, KX 93.5, Rodney Bingenheimer on SiriusXM, and is also the WRAT-FM Jersey Rock Video of the Week.
The Big Takeover is mighty pleased to host the premiere of the video for "Still Life"; an ironic title considering all the movement in the video and the restlessness of the track!
The video Intercuts footage of various people during their daily activities, from intently working the pottery wheel and attacking the punching bag with gusto to getting the face made up for a date and 'clowning around' on stage (literally!).
The Skuller-penned song keeps the pace lively, with an elastic bass line, stirring, bluesy guitar bluster, the occasional tambourine jingle, and an emphatic drum beat. Skuller emotes with a heavy dose of longing, while still driving his lyrics home with passionate conviction.
Link to Pre-Save the Freight Trains & Party Games EP
Frontman Jack Skuller will perform a special solo set at the Danny Clinch Transparent Gallery in Asbury Park on Oct 26th.
Website
Instagram
Facebook
Twitter