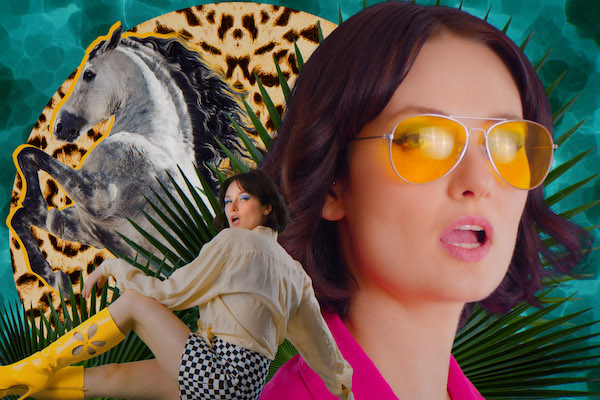 22 March 2022
Blonde Diamond – Photo Credit: Brandon William Fletcher
Vancouver's Blonde Diamond came out of the gate hotter than a plate of poutine when they dished up their debut single, "Feel Alright," in 2016. The song earned the indie-pop quartet Canada's prized Juno Master Class mentorship program, after which they released two EPs.
Blonde Diamond's long-awaited debut LP is finally due to arrive later this year. But in the meantime, they're feeding us a new video, for the song "Strange Times," to keep our appetite at bay. The clip gets a public release tomorrow, but lucky for you (and us), the Big Takeover is providing an exclusive look at the clip a day in advance.
As the video unfolds, viewers are bombarded by a chaotic collage of fantastical scenes from a parallel universe, drenched in Technicolor and speckled with anything from intergalactic pop art, geometric shapes, and even jungle creatures. Despite the lush scenery, though, disaster is quickly on the way.
Immerse yourself in Blonde Diamond's new video here:
Director Brandon William Fletcher recently went into detail about the video during a chat with the Big Takeover:
"The video itself was a trip, the story sort of sprang into existence of its own accord," Fletcher said. "I spent a month in pre-pro building visuals and scenes (about 70 percent of which wouldn't even make it into the video) before a single image was even shot. Once we completed production there was a bunch of back-and-forth with the band, this really collaborative atmosphere of world-building to uncover our story.
"At the heart of it for me, I think, was the myth of Icarus (and indeed the current state of the world as it stands); humanity's hubris taking us to the brink and this cognitive dissonance where we're unable or unwilling to see the seriousness of our situation so we just keep dancing. All presented in this glossy, magazine format, where each image is vying for your attention more than the previous, conveniently distracting you from reality.
"Additional inspiration came from artists like Hiroshi Nagai, Eizin Suzuki, and Hiroshi Takahara who really seemed to define the look of the Japanese 'city pop' genre, and architect Luis Barragán."
Read what Blonde Diamond vocalist Alexis Young had to say about "Strange Times" in this short-but-sweet (and exclusive!) Q&A with the Big Takeover:
This track is fairly self-explanatory given the "strange" time it was written in — was it somewhat cathartic to write, given the seriousness of the situation and the ridiculous ways some people have dealt with it?
ALEXIS YOUNG: It was definitely an opportunity to express some of the frustrations that we were feeling at that time. But instead of trying to write something lyrically that reflected exactly what we were going through, we decided to take it to this fantastical narrative. Because no one wants another song about the pandemic, hahaha. We already lived through it, let's just try to forget about it as fast as we can.
How did you and Brandon go about conceptualizing this track into a visual format? Where did things start?
YOUNG: It started by trying to find a way to visualize this parallel universe, which we both agreed needed to be via green screen and animations so we could build our own "sets." As we created these scenarios and began the editing process, it became clearer that we were all hedonistically dancing while awaiting the impending impact of an asteroid that would completely eradicate earth. A visually beautiful, nihilistic fantasy.
Lyrically, the song "Strange Times" takes place in a fantastical parallel universe, so it only made sense that the video should represent that. We chose to use a bright and dreamy palette to provide a luxurious backdrop for our characters to obliviously dance away on. As it becomes clear through elements of foreshadowing that there is a clear impending doom, we ignore the signs and carry on. In the background as we see chaos and destruction unfold, we try to keep the dream alive until we become swallowed and it reveals that the universe goes on without us, unaffected. Strange times indeed.
If you were to enter into a parallel universe where chaos was imminent, what would be the ideal scenario?
YOUNG: Honestly, I would just want to be dancing with my best friends until the very end.
For more on Blonde Diamond, check out these links:
Artist website
Facebook
Twitter
Soundcloud
Bandcamp
Instagram
YouTube