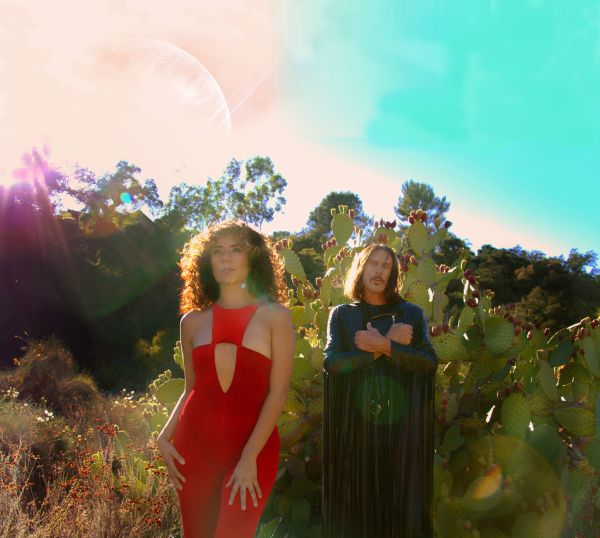 17 September 2019
Tigercide – Photo Credit: Deví
Southern California denizens Shexist and Saint Brendan formed Tigercide a half-decade ago in L.A. The darkwave/trip-hop duo create mesmerizing music, bringing the ethereal, melancholic vocals of Shexist and the sparse, shadowy, and balanced beats of Saint Brendan to underbelly of the Hollywood dream.
Beneath the bright lights, and beyond the velvet ropes of Hollywood lies a different Southern California: a desolate land filled with darkness, punctuated by unrealized dreams, and broken down with anguished hearts. Tigercide gives musical form to this landscape, capturing the ethos of Angelenos anxious about their future in a city characterized by soaring rents, temperatures, and population.
The Big Takeover is thrilled to host the premiere of a chilling narrative (and performance) video for "The Remedy", which ends with a dark and powerful twist. "The Remedy" is the debut single of Tigercide's upcoming The Remedy EP.
The song itself is a gleaming and foreboding number that runs on a slow-drip of deep beats, uneasy, heightened synths waver, crisply hit percussion, and Shexist's forlorn and breathy vocals that float over the composition.
The video for "The Remedy" begins a live performance from the duo in what looks to be a living room setting illuminated in hazy red and blue hues, surrounded by dazed partygoers bending and swaying to the beat.
The storytelling part of the video takes off from there, as viewers follow a couple from the gig; a verbally and physically aggressive guy and a put-upon young woman. The pair drive away from party post-argument. The guy's loaded and hurling (unheard, thankfully!) insults in between passing out in the passenger's seat.
The woman takes the abuse, but is at her wit's end. How can she escape the cycle of abuse from her boyfriend? She's desperate and feels that there's only one way out…
"The Remedy" at Spotify
Upcoming show on September 21 at The Troubadour in L.A.
Shexist and Saint Brendan took some time out of their busy schedules to enlighten readers about their captivating sound, varied projects, and the latest musical scoop:
Hello! How would you describe your music to the uninitiated?
Shexist: "Our music has a sound of its own. That's what you get with two people who have been working on music not only together, but individually for quite some time. I often describe it as this beautiful flower breaking through the concrete. Light and dark/oil and water. Almost like something that shouldn't exist together, yet it's exactly what it's meant to be. It's deep, dark and thoughtful."
St. Brendan: "In the past I've described us like "a mix of triphop and electronica", and I would name a few influences. But lately I've asked people what streaming sites they're on, and tell them we're on there too;go listen."
What are you up to at the moment?
Shexist: "I keep thinking about Troubadour on September 21st. Really excited about that. We are also currently working on new music and we would very much would like to tour outside of the US."
St. Brendan: "The Remedy EP is being released, with some awesome videos to back it up. And we're playing the Troubadour!"
How has the SoCal (or L.A. specifically) environs informed your music?
Shexist: "Our first show ever together was Viper Room and after that we kinda just magically landed all over. We have had the opportunity to perform at some of the most amazing venues in LA. So yeah, I'd say LALA has been pretty good to us. We've met a lot of amazing people along the way. I've grown and learned a lot out here."
St. Brendan: "A lot of the artists that influence me are in other countries, but the LA vibe has definitely helped shape the Tigercide sound. That whole 'after hours Hollywood haze' shapes every artist here. Every day here is like a David Lynch film."
You're both each involved in other projects. Does that affect the dynamic of you as a duo, or do you co-exist easily while branching out with other collaborations?
Shexist: "We definitely co-exist easily while branching out with other collaborations. I actually feel like it inspires other projects and vice versa. There have been a handful of instances where St. Brendan helped me out with other projects; whether it was recording my vocals or traveling to another city to back me for a performance. For that I am grateful."
St. Brendan: "I just write a lot. I have to, I have a physical need to write and perform, like a sonic junkie. Every time I get near a decent synth I make another riff. I possess many different styles and techniques, and constantly strive to learn more. Tigercide is my main band, but I also do soundtrack work and I make beats for a few select artists. And I've been known to drop in on some Hollywood synth jams."
Facebook
Twitter
Instagram
Spotify
iTunes
SoundCloud