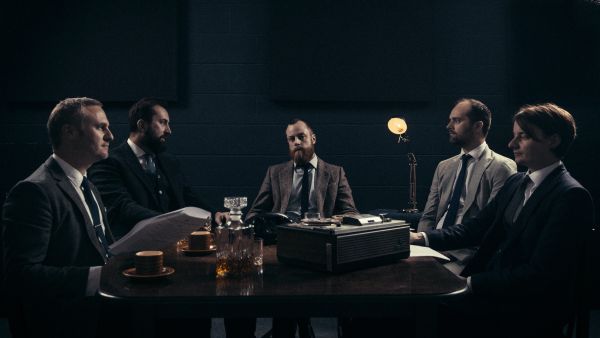 6 May 2020
I LIKE TRAINS – Photo Credit: Ben Bentley
It's been a while since the world was gifted with an album from British five-piece I LIKE TRAINS – eight years in fact. Previously on Beggar's Banquet and a handful of other record labels, the band now has a new home with the new Schubert Music -affiliated Atlantic Curve label.
While their long-awaited KOMPROMAT album won't be out for a few months' still, today we have the pleasure of introducing you to on-target lead single 'The Truth', the deep-fake video for which is a perfect fit with the lyrics' timely socio-political text.
The song is a lyrically trenchant and relentlessly driving post-punk number with coolly spoken lyrics of lines/lies that certain politicians have said mixed in with catch-phrases about 'the truth'. In these dark days "The truth is no longer concerned with the facts" when it comes from specific politicians who are spinning lies and trying to pull the wool over the eyes of their constituents.
For a good portion of the video, a much-younger Trump is a talking head, which ought to give more than a few people Max Headroom flashbacks.
It's a chilling reminder of the lowlifes we the public have put in charge in the highest offices of the land (the US and UK); self-serving nationalists/isolationists who are destroying their – actually, our! – countries with their incompetence and ignorance (at least one of them boasts that he doesn't like to read! How is that something to crow about?!), fear- and hate-mongering, blatant lies, and discriminatory and extremist beliefs.
Formed in 2004, I LIKE TRAINS is made up of David Martin (vocals, guitar), Alistair Bowis (bass), Guy Bannister (guitar, synths), Simon Fogal (drums), and Ian Jarrold (guitar).
"I'd been writing this list on my phone for a couple of months, adding a couple of lines to it every so often. I'd read a news article or a tweet and I'd make reference to it. I decided to dig out this list in the last couple of days in the studio [for this track]. It's pretty much the order I wrote it in – it came together on the fifth take and it was a pretty cathartic process," says David Martin.
This video was directed by previous co-conspirator Michael Connolly, a Leeds-born artist and designer, who says: "The track is relentless and I wanted the film to feel the same. Claustrophobia and confusion were my watch words. I combined deepfakes, distorted visuals, and digital cut-up techniques to create an intense level of disorientation. It sums up the last four years in geopolitics for me."
'The Truth' was the last track to come together during the group's recording sessions – a summation of the way in which facts are bent and, in many cases, utterly dismantled. Over a burring build of disco-inflected post-punk that recalls LCD Soundsystem and early DFA Records, "The truth is no longer concerned with the facts."
This upcoming fourth studio album from the band may be the follow-up to 2012's The Shallows, but it would be a mistake to say that this release picks up where the last one left off. These are two entirely different beasts, with KOMPROMAT venturing into post-punk territory more than previously.
Thematically as well, listeners will willingly enter the sonic operating room, where the band dissects and explores populism's rise, the divide-and-conquer tactics that caused Brexit in the UK, and Trump's ascent in America and the subsequent reign of lies and misinformation. 'The Truth' is the perfect place to start.
I LIKE TRAINS has never shied away from confronting the possibility of humanity's collapse. Earlier records, like the towering Godspeed-influenced Progress Reform (2006) and Elegies to Lessons Learnt (2007) took tales of tragic characters and events from history and applied them to the modern day, while He Who Saw The Deep (2010) looked uneasily ahead to the climate change battle we are on the verge of losing.
While KOMPROMAT sounds like none of those records, it contains DNA from all of them. I LIKE TRAINS has somewhat returned to the artists who inspired the band's formation: Joy Division, The Birthday Party, Gang of Four, Television, and The Velvet Underground.
"An I LIKE TRAINS record doesn't really start to take shape until there's a theme. That point came following Edward Snowden's NSA leaks in 2013. We didn't set out to write a record about current affairs, but the path we set out on converged drastically with that daily discourse. The album inadvertently became about populist politics across the world. Brexit, Trump, Cambridge Analytics and covert Russian influence ended up at the centre of it all," says frontman David Martin.
At the time, Martin started writing about low-key, insidious intrusions on our privacy. As global events unfolded, however, so did the importance of those themes: the perception of what is true and what isn't true being challenged on a daily basis and how that confusion could be used to manipulate populations into thinking and voting in certain ways.
While I LIKE TRAINS often look back and also to the future, 'The Truth' speaks very much of the here and now. Available across digital platforms as of May 6, and can be ordered HERE.
On August 21, the full KOMPROMAT album will be released on black vinyl LP, limited edition silver vinyl LP, and CD, as well as digitally. It can be ordered HERE
I LIKE TRAINS will be under interrogation on Saturday, May 9th. Hard-hitting music journalist Simon Catling will be pressing for answers on KOMPROMAT. Join the live-stream on I LIKE TRAINS' YouTube, Facebook, and Twitter from 20:30 (BST).
CREDITS
Performed by I LIKE TRAINS
Music by Guy Bannister, Alistair Bowis, Simon Fogal, David Martin, Ian Jarrold
Lyrics by David Martin
Produced and mixed by Lee Smith and Jamie Lockhart at Greenmount Studios (Leeds)
Mastered by Tom Woodhead at Hippocratic Mastering
Album artwork by Michael Connolly
'The Truth' video created by Michael Connolly
Also catch a preview the feature documentary A Divorce Before Marriage, for which British filmmakers Ben Lankester and Matt Hopkins followed the band around for over three years
I LIKE TRAINS
Website
Facebook
Twitter
Instagram
YouTube
Soundcloud
Bandcamp
Spotify
Apple Music