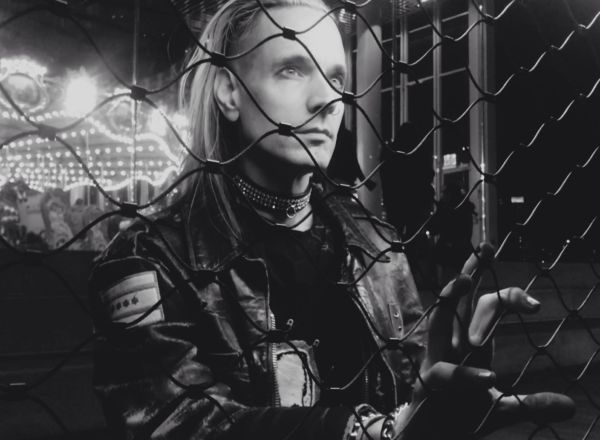 4 May 2020
Andee Blacksugar of Black Sugar Transmission – Photo Credit: Hypnodoll)
Over the course of Black Sugar Transmission's decade-plus existence, the NYC-based post-punk/electro-rock initiative continues to push at the limitations of genre tags. Black Sugar Transmission's output is equal parts jagged New Wave, power pop gloss, metallic muscle, glam swagger, and techno-gasmic sound design.
Led by main instigator Andee Blacksugar (perennial fixture of NYC's rock scene, guitarist for industrial rock pioneers KMFDM, and former touring sideman for post-punk icon Peter Murphy), Black Sugar Transmission has to date released eight albums of original material (not counting 2012's front-to-back cover of Madonna's classic debut platter and 2018's re-imagining of Motorhead's Overkill LP).
Although Andee tends to do the lion's share of the writing and recording, BST has become a fluid umbrella project that has welcomed a colorful variety of contributions by guest instrumentalists and singers, including Dug Pinnick (King's X), Timo Ellis (The Netherlands, Sean Lennon, Cibo Matto), downtown pop poetess Patti Rothberg, and New York avant jazz-rock guitar icon Vernon Reid (Living Colour), among many others.
The year 2020 will see a whopping three new album releases spread out across the seasons. The LP trilogy began with Wandering Into The Bullseye, and the second offering, The Flowering, arrives on June 2nd. The record is a dark one, refracting conflict and discord through moments of haunted beauty – a reflection of our upended times and lives, where fear, isolation, and social media influence all reign supreme.
Andee has performed this album entirely himself, opting for the insular experience of going it alone in his home studio rather than enlisting outside collaborators.
Big Takeover is pleased to host the premiere of the compelling video for pile-driving lead single "This Is Crazy Town." The song addresses the inexorable march towards technological dystopia and our correspondingly heightened impatience and emotional atrophy.
The video clip focuses on Andee performing the song with ghostly images of his face peering out of the darkness as he plays his guitar. The footage has been treated with a bleached-out process, like a photo negative, giving it a disorienting look.
The vid mirrors the destabilizing effect of the track that grinds away with an industrial buzzsaw loop and hard-struck drums. Images of streaming traffic on the highway, masses of obsolete computers and TVs, and the unveiling of the latest smartphone convey the relentless drive for new, shiny tech that will be tossed without a thought when the next model comes in…
Linktree
Bandcamp
Website
Facebook
Instagram
Twitter
YouTube