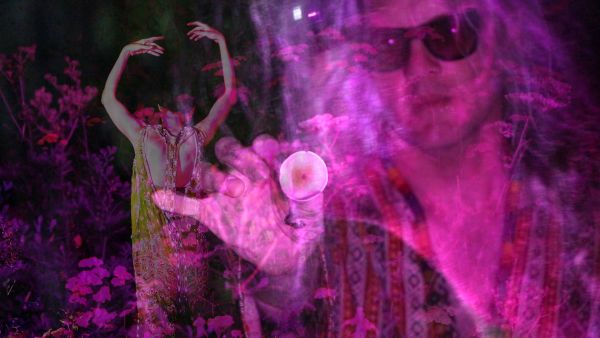 13 December 2021
"Underneath The Mushroom Tree" music video still – Photo Credit: Julia VBHB
Anton Barbeau remains "famously undiscovered," even after over 30 albums and collaborations with Colin Moulding (XTC), Robbie Macintosh (McCartney, Pretenders, Talk Talk), the Bevis Frond, members of the Soft Boys and Cake, and many other excellent talents.
In 2020, the Sacramento-born songwriter released Manbird, an autobiographical (and bird-, airport- and suitcase-filled) double album, a meditation on flying, landing, leaving the nest, and always trying to get back home. In 2021, he married Julia Boorinakis Harper and moved from Berlin back home to Northern California, settling on Julia's family farm.
"Underneath The Mushroom Tree" was inspired by a book of Mother Goose nursery rhymes, and was written by Barbeau on the farm while Julia was outside building the nest that appears on the Manbird album cover.
Big Takeover is pleased to host the premiere of the atmospheric and hypnotic music video for the enchanting song "Underneath The Mushroom Tree" today.
The videos for the album's title track and its New Wave follow-up, "Across The Drama Pond," were both fanciful and ambitious productions, utilizing many green screens and pigeon masks, but the video for "Mushroom Tree" was intended to be simple and very natural in construction — homegrown, right down to the mushrooms.
Anton and Julia filmed at midnight in the flower garden that Julia planted before their wedding. Julia wears an acid-green 1920s flapper dress, while Anton's kaftan and love beads were authentic 1960's hippie garb made by his late mother, Kay.
Says Barbeau, "After the very intense and intensive videos we made for the slick pop singles of Manbird, we imagined that "Mushroom Tree" would be an easy, relaxed vid to make. We were in the garden, in a very psychedelic mood, and there wasn't much asked of me here. But man… I'm just a tense guy! It didn't help that between the dark of night and the lights always in my eyes, I couldn't see a thing. I was tripping over flowers, walking into our dog and bumping into trees. Thankfully, the footage of Julia being actually groovy makes up for my wobbliness!"
The "Mushroom Tree" film was extended to include the subsequent album track, "Auslanderbeak."
Barbeau says of that track, "In contrast to the first song here, this was written and recorded in Berlin, where I lived for ten years, and reflects the heavily Turkish vibe of life in Neukolln. The hooded crow picking chips from a bag was filmed on our first trip back to Berlin since the pandemic."
"This song, and the Manbird album as a whole, has a sort of cinematic feel to me… this was one of the tracks that jumped out and almost demanded a film to accompany it," says Julia. "We knew that if the set and setting were right, we could just switch on the camera and do as told, so to speak. The colors, the garden, the overall vibe — it came together in a way that was unplanned, but quite Intended."