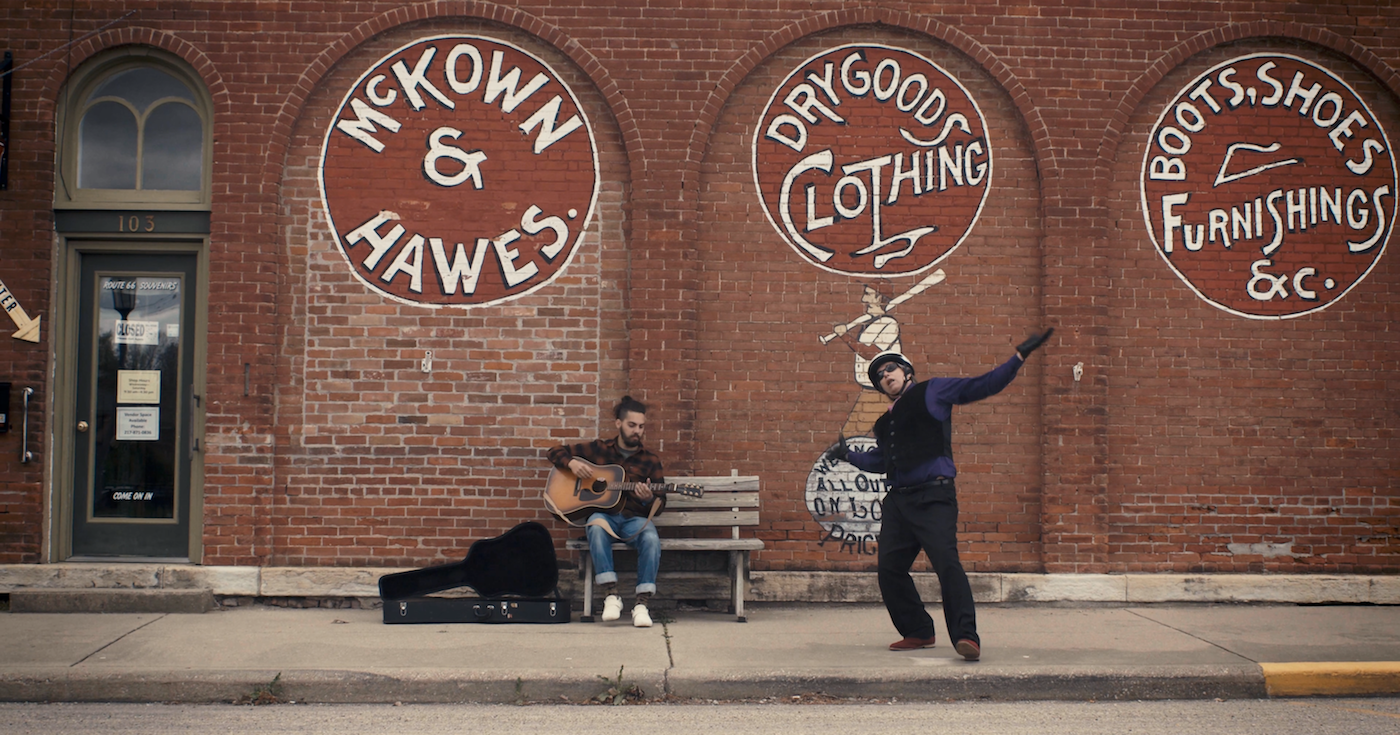 28 June 2022
Mecoclub filmmakers Luke Welchel and Elijah Settles have crafted a campy and lighthearted video for "Unstoppable Me." The sunny pop charmer appears on The Threefinger Opera, the latest LP from Chicago-area progressive roots-pop collective Jeff Elbel + Ping.
The song's boundless confidence sets up a twist in a musical storyline. "The song works on its own as jaunty fun," says Elbel. "I like that about it. In the context of the album, 'Unstoppable Me' forecasts stormy weather. 'Pride goeth before the fall,' as they say."
Mecoclub's script taps Elbel's admittedly goofy humor. The Threefinger Opera's central character treats hapless bystanders to displays of overbearing confidence. He also doggedly pursues a runaway tire down historic US Route 66 in Atlanta, Illinois. The bouncy pop shimmers with shades of Ray Davies' music hall confections for the Kinks, singles by Elbel's childhood favorite Electric Light Orchestra, and hints of Beatlesque fare from Paul McCartney and George Harrison.
Harrison's penchant for the ukulele is borrowed for the song's fundamental structure, reminiscent of "Between the Devil and the Deep Blue Sea." A ukulele choir and background vocals are provided by members of Chicago-area ensemble The Beatleleles.
The Threefinger Opera demonstrates Ping's affinity for wide-ranging musical styles, unfolding as a virtual jukebox. The sonic house party hosts a plethora of musical guests, including friends from the Fixx, Calexico, PLS PLS, the Claudettes, Resurrection Band, the Seventy-Sevens, and more.


Band photo by Becky Souder Knorpp.
Ping spins penchants for storytelling and rock 'n' roll into a relatable song cycle drawn from true-life misadventures. In spite of a calamitous catalyst, The Threefinger Opera is defiantly optimistic and relentlessly joyful.
Not long ago, longtime The Big Takeover scribe Elbel endured a crushed nerve that paralyzed two fingers on his left hand. Rather than mope through a lengthy rehabilitation, Elbel decided to see what he could accomplish with his remaining three fingers. "I wanted to find new ways to do what I love when the old ways became unavailable," says Elbel.
Click here: The Threefinger Opera is available now via Bandcamp.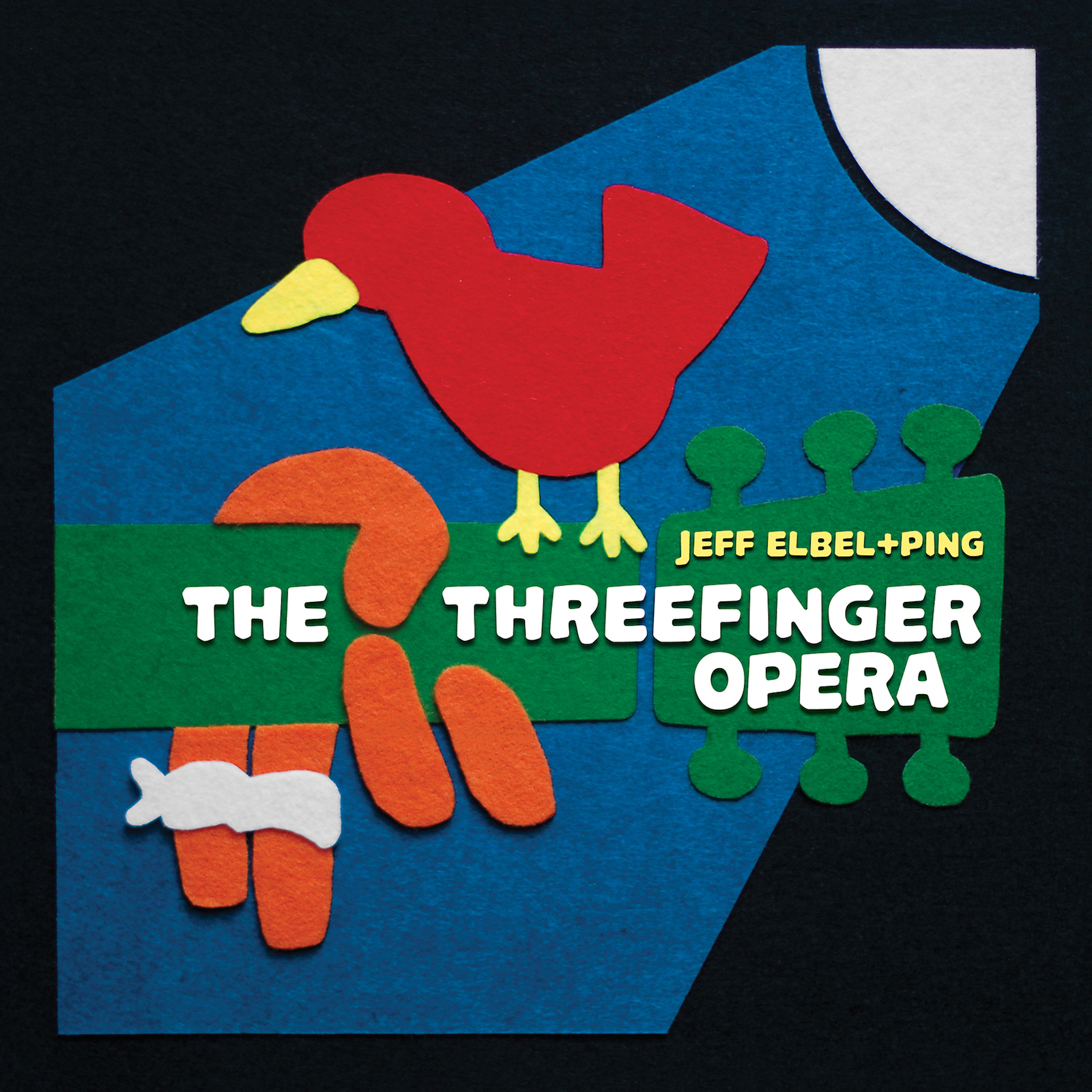 Album artwork by Brian Heydn.
on Facebook: facebook.com/ping.rocks
---
"Unstoppable Me" written by Jeff Elbel. Published by Zimbalon (ASCAP).
John Blum: drums
John Bretzlaff: guitar
Mike Choby: keyboards
Jeff Elbel: guitar, ukulele, brass, vocal
Maron Gaffron: alto vocal
Stacey Krejci: bass
Andrew Oliver: percussion
Tom Sharpe: percussion
Guests representing The Beatleleles on vocal and ukulele
Terry Fitzgerald
Chris McIntosh
Nina Gegenheimer
David Causton
Joe Pesce
Mixed by Matthew McCabe at Finley Sound, Loomis, CA.
Mastered by Miro Svetinsky at Mirolab, Long Beach, CA.
---
Lyrics:
The road will rise to meet me
Clouds will sail away
Nothing's gonna bring me down
Springtime every day
That happy, fat old robin is singing just for me
That's right (right!), anything's possible
I'm unstoppable
Oceans part before me
Crowds will step aside
A spring in the step
A light in the eyes
Chest that swells with pride
The future is unwritten, and the door is open wide
That's right (right!), anything's possible
I'm unstoppable
No wish to seem ungracious
I'm thankful for my lot
Every day I'm counting
The blessings that I've got
For blessed and truly capable
Are things I truly am
I'm sowing inspiration
Striking up the band
Ready to encourage
Every Joe and Jan
Fondly offer favor
Happy helping hand
Oh, thank you very much, my friend, I'm doing mighty fine
That's right (right!), anything's possible
I'm unstoppable
Life is good, it's good to be alive
It's good to be unstoppable me
I've got to be unstoppable me
And I can't stop! Why would I want to stop being unstoppable me?
I'm free to be unstoppable me
I'll always be unstoppable me
I'm go- …
Bu- …
… Why did you stop?
– Lyric written by Jeff Elbel. © 2022 Marathon Records. Published by Zimbalon (ASCAP).
Click here: The Threefinger Opera is available now via Bandcamp.