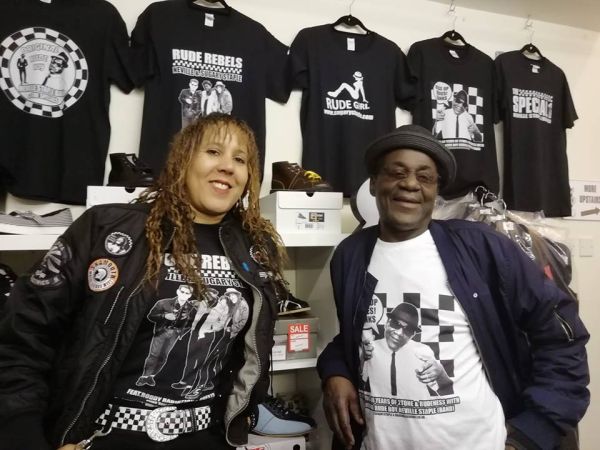 30 April 2019
Sugary and Neville Staple – Photo courtesy of the Staple's<small.
The world has been waiting for new music from The Original Rudeboy Neville Staple since he released his Rude Rebels album with Christine a.k.a. Sugary Staple, his wife and high-energy cohort in ska outfit the Neville Staple Band. Now The Neville Staple Band has released their new single 'Working Hard Everyday', an infectious composition with a catchy rhythm, relatable lyrics and party vibes.
The Staples are basically ska royalty, being a permanent fixture of the UK and International ska scene, performing regularly at both concert venues and massive festivals as The Neville Staple Band. Neville is well known as a founding member of The Specials and Fun Boy Three, not to mention his major role in 2-Tone Records. Sugary Staple is heavily involved with the 2Tone community in Coventry and has been key to the Skamouth events and Three Generations of Ska tours, bringing this music throughout the UK.
Neville Staple has got to be the hardest working (and most prolific) artist of those to come out of the whole 2-Tone Records legacy. His record is impeccable, spanning work with legends of the first wave of ska in Jamaica to most of the movers-and-shakers of the second wave of UK ska to younger artists now, both in the UK, USA and further abroad, as demonstrated by his numerous collaborations, the most famous of which is likely with California pop icons No Doubt.
With 2019 being the 40th Anniversary of The Specials and 2Tone Records, this new single is a timely release, as is the huge series of shows The Neville Staple Band have lined up for 2019 (see below).
"We have had a lot of heartache over recent months and so, in contrast to our recent 'Put Away Your Knives' single, which was aimed at a very serious subject affecting us on a very personal level, this track is fun and lively and relates to all hardworking people, who just keep going regardless of what is happening around them – and especially those who tend to work hard to please or help others. We've also ensured this is a stomp-along, upbeat, 2Tone ska song, hailed as a summer hit by many 'sneak-peak' media reviewers," says Neville Staple.
Neville and Sugary Staple co-wrote this song with Charlie Organaire (a.k.a. Charles Cameron), best friend and colleague to ska pioneer Prince Buster. He was involved in many of the legend's hit songs, as well as writing his own music writing and working with Prince Buster's son Sultan.
"We met Charlie when he accompanied Sultan on a visit to my own Skamouth Festival and we've all been great friends ever since. He calls me a "one women army" (his words) because he said I worked so hard. This is how this lovely song melody started out, with Charlie playing his harmonica and his observant description of me running ragged, while managing to keep things running smoothly, even when chaos and problems were erupting behind the scenes," explains Sugary Staple.
"Neville and I got to work on this song soon after and wrote the rest of the music and lyrics. This song really is about all those who put lots of effort in, work their socks off and juggle jobs, life and sometimes performances and public engagements, even with personal troubles going on. They often get very little reward too, other than making others happy. That's me," she laughs, noting, "In fact, that is a lot of people in this mega busy modern world of fast tracking! But we sing about it with a fun dancing tune to let your hair down to."
The Neville Staple Band recently released the single 'Put Away Your Knives', a 2-Tone influenced punky ska and reggae mix – This is a cry to young people involved in knife crime, motivated by a tragic event that struck their family in September 2018 – the fatal stabbing of Neville's 21-year-old grandson Fidel Glasgow. Here Neville and Sugary Staple are joined by British-Jamaican reggae pioneer Dandy Livingstone, who penned 'Rudy, A Message to You', a big hit for The Specials (as 'A Message to You, Rudy').
Both 'Working Hard Everyday' and 'Put Away Your Knives' can be downloaded from iTunes. It can also be streamed on Spotify.
Throughout May, The Neville Staple Band will be touring with The Undertones, followed by dozens of additional shows at venues and festivals throughout the summer. June also brings several celebrations for the 40th Anniversary of 2-Tone, together with The Specials' Jerry Dammers as DJ and Beat Goes Bang (comprised of members of The Beat, General Public and Dexys Midnight Runners) and yet other shows with Roddy Radiation, The Specials' original guitarist, which will be announced soon. Tickets can be obtained HERE
TOUR DATES
May 2 LONDON – Electric Ballroom (with The Undertones)
May 3 COVENTRY – Empire (with The Undertones)
May 4 BRISTOL – SWX (with The Undertones)
May 9 NEWCASTLE-UPON-TYNE – Boiler Shop (with The Undertones)
May 10 LEEDS – O2 Academy (with The Undertones)
May 11 MANCHESTER – O2 Ritz (with The Undertones)
May 16 NORWICH – Open (with The Undertones)
May 17 BEXHILL ON SEA – De La Warr Pavilion (with The Undertones)
May 18 COOKHAM – Lets Rock The Moor (2:00)
May 18 SOUTHAMPTON – Engine Rooms (with The Undertones)
May 25 HERTFORDSHIRE – Stone Valley South Festival
May 26 MERTHYR TYDFIL – Merthyr Rising
June 1 CHIPPING SODBURY – SodFest
June 8 SHEFFIELD – Music For The Homeless
June 15 KETTERING – 40th Anniversary of 2-Tone (with Jerry Dammers DJ, Beat Goes Bang)
June 22 WESTON-SUPER-MARE – 40th Anniversary of 2-Tone (with Jerry Dammers DJ, Beat Goes Bang)
June 29 STANHOPE – Stone Valley North Festival
July 5 BLYTH – North East Chilli Fest
July 6 SOUTHAMPTON – Let's Rock Southampton
July 13 THAME – Thame Music Festival
July 14 EXETER – Wonder Fields Festival
July 19 MELKSHAM – Melksham Music Festival
July 20 HOLMFIRTH – Holmfirth Ska Splash 2019
July 21 TAMWORTH – Warton Music Festival 2019
July 27 CHIDDINGLY – Chiddfest
Aug. 3 SUDDINGTON / MACCLESFIELD – Rewind Festival North
Aug. 9 WINCHESTER – Boomtown Fair
Aug 10 RATLINGHOPE – Farmer Phil's Festival
Aug 17 STRETFORD – Great Northern Ska Festival
Aug 18 HENLEY-ON-THAMES – Rewind Festival South
Aug 31 CASTLE DONINGTON – Off the Tracks Festival
Their latest single 'Put Away Your Knives' is worth adding here – food for thought and for the spirit.
Keep up with Neville Staple
Website
Facebook
Bandcamp
Twitter
SoundCloud
Spotify
Keep up with Sugary Staple
Website
Facebook
Twitter
Instagram
YouTube
SoundCloud
Spotify