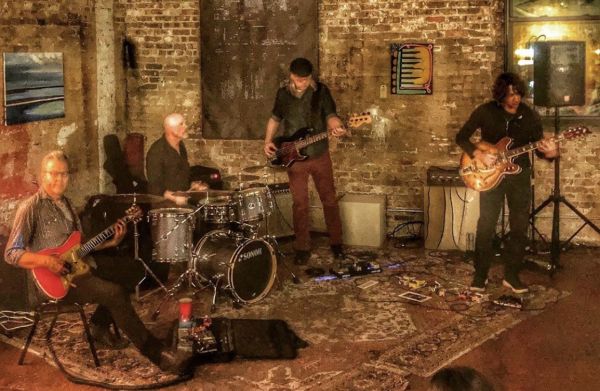 30 March 2021
Outronaut – Photo Credit: Steven Mendel
Led by guitarist and composer Steve Gerlach (Tommy Keene, John Cale, Plush) and featuring members of The Tossers and Sons Of The Silent Age, OUTRONAUT is largely an instrumental affair that leaves room for the imagination.
The third video from the Chicago-located quartet's latest album, Kill The Light (2020), is an animated battle between good and evil set to an instrumental psych-surf rock epic that conjures up the music of acts like King Crimson.
Psychedelically streaming and careening garage rock guitar lines are submerged by a lurching lowdown bass line and stirred up with kinetic drumming. As the song progresses, it builds up with the sporadic swirling of sharp and gritty rock guitar jags that whip up into a vivid vortex.
Big Takeover is pleased to host the premiere of the the socially relevant music video for "Word War Tour."
Emerging animator P-Chan (AKA Phil Fujiwara) brings the villain – COVID-19 personified – and the healthcare hero together on top of the Statue of Liberty for a life-or-death showdown against a backdrop of blown-out band footage that was shot at Liars Club in Chicago.
In the storytelling cartoon clip the masked (yep, there's deeper meaning to be found here during our pandemic age) and caped healthcare hero comes to the rescue of the afflicted public, tackling COVID-19 with injections of the vaccine.
She vehemently flings the syringes of vaccine against the skull-faced COVID-19 character and hits the target, vanquishing the virus through the triumph of scientific process and medication, and of course, with public compliance.
"World War Tour" appears on the 2020 album Kill The Light, which can be streamed/ordered at Bandcamp
Video animation via P-Chan Art
Liars Club Chicago footage and treatment by Tom McKeon
Outronaut Facebook