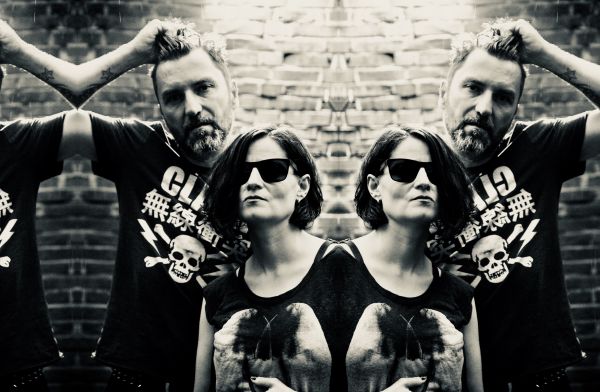 15 March 2019
Seasurfer – Photo Credit: Christian Klepp
Dream-punk group Seasurfer hail from Hamburg, Germany and are addicted to creating their very own sound out of tons of reverb, delay, and fuzz – and electronics. Bandleader Dirk Knight was in the so called "Heavenly Voices" scene with his former band Dark Orange on the German cult-label HYPERIUM in the '90s, working with musical luminaries like Robin Guthrie (Cocteau Twins).
"venusberg" is a new Seasurfer single released by Texas-based Saint Marie Records. The song is taken from Seasurfer's forthcoming album Electronic Monsters, which arrives this autumn.
With "venusburg" listerners are introduced to the continually evolving sound of the band. Their fuzzy wall of guitars are still there, but a layer of electronics finds its way into the mix as well. There is more pop structure and melodics here than the typical shoegaze soundscape.
"Believe in love for all and we dedicate this song to all you lovers out there who make love not war!", proclaims vocalist Apolonia.
Interestingly, the Electronic Monsters LP is not Seasurfer's next release. The band will first drop a mini-album, the dreampop days, featuring singer Elena Alice Fossi from well-known Italian dark electro band Kirlian Camera, with mixes from 4AD's John Fryer. This record will be put out by Saint Marie soon.
Prepare to swept away by the dazzling sounds of Seasurfer's latest tuneful track, a glittery electro-tone number that runs on pulsating and gleaming electronics, buzzy and swirling background guitar wash, dashes of diffusive synths, and velvety, seductive vocals from Apolonia.
The performance video features clips of Apolonia and Knight overlaid by flashes of different colors, film reel starters, kaleidoscopic effects, white-outs, and images of city building lights and cloudy to dawning sun skies.
Listen/Purchase "Venusberg" at Saint Marie Records' Bandcamp
Saint Marie Records Webiste
SEASURFER
Website
Facebook
Twitter
YouTube