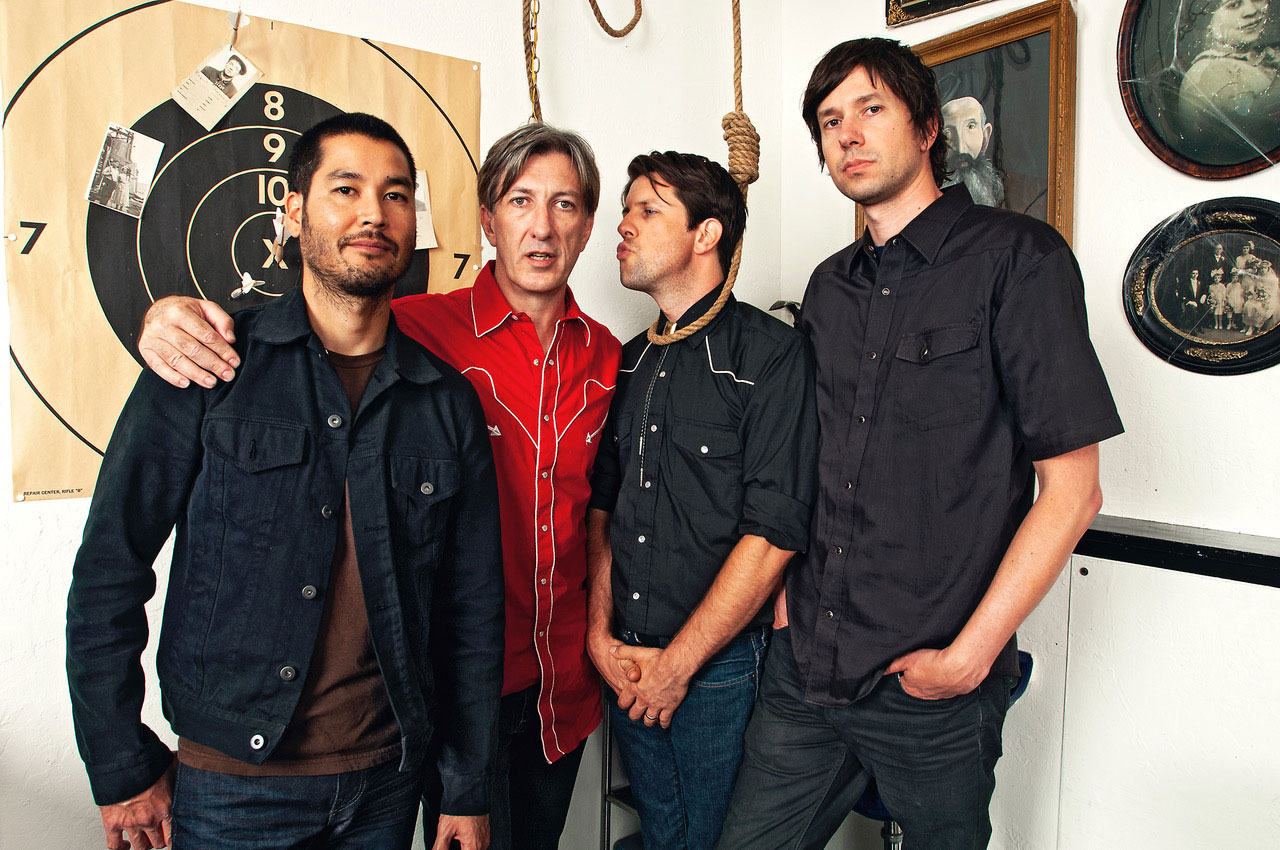 26 January 2023
Photo Credit: Robert Cardin
There's always been a bit of seediness in American culture and San Francisco post-punk outfit Steakhouse have managed to translate some of that destitution into digestible little snippets on their new album "Amer Rouge."
The title directly calls out all the ways the color red serves as a signifier for what or who you might want to keep your eyes on: think MAGA hats, Marlboro advertising, blood, debt and really anything that attempts large-scale pervasiveness. They shrink the large scale into more digestible bits, as each song is a vignette—a small look into the many ways people just try to maintain some semblance of personhood, even if in the most terrible of ways. Some of the stories aren't wholly sad and downtrodden though—Steakhouse know how to find the humor in what's too messed up not to laugh at ( just look at "Federale", "Travolta" and "No. 1" for example), but they can still reel it in with a sucker punch to the face of reality. Fans of Black Flag's "White Minority" may feel a little resemblance in their "National", as a somewhat militant hymn born out of the aggressively divisive, violent and myopic nature of our political climate. It hits all too close to home because it is close to home.
Bear in mind—Steakhouse are like anthropological musicians, working through the eyes of observation more than any tales from a personal stance. Infusing Amer Rouge with lyrical satire based on everyday experiences helped fill each track with an extra oomph of actuality. It's just as easy to see the humor in it as it is the tragedy, since both are something we've all been more than primed to recognize. Wrapping these realities in a blend of post-punk, krautrock and Americana makes for a palatable pill to aurally swallow, though a bit more harsh and in your face than their last album.
Every move Steakhouse made with Amer Rouge was intentional, from channeling the steady rhythms of Can and the deep bass tones of Public Image Ltd. to having Joe Goldring (American Music Club and Swans) engineer for them again, as well as John McEntire of Tortoise and The Sea and Cake mixing it.
Steakhouse is Mark Lee on vocals/keyboards, formerly of Toiling Midgets and Reid Black on guitar (ex-Innaway; currently of Into Another), who are the principal songwriting team, along with drummer Brian Michelson and bassist Ville Vilpponen.
Exclusive Quote from Reid Black:
"Any record I've done is like a little time capsule. If I hear older ones I was a part of, I can instantly remember what my life was like at that time. The day-to-day, my headspace, etc. And the difficult making of this record, one that stretched out over 3 years, really captures a lot of life for me. Especially since it was conceived in such a turbulent era.
When I hear "No. 1", I can recall finishing the pedal steel tracks remotely, with the session player, while the people were taking to the streets in 2020. When I hear almost every guitar track I can recall going into our rehearsal space, at the cavernous and normally cacophonous Secret Studios, during the depths of COVID, and recording while the place was silent and empty. And when I hear "Ranch 99", I can remember praising the rock gods below as we narrowly avoided losing the whole song due to a hard drive failure.
I tend to be ambivalent toward the recording process. But when it's all over, I do enjoy looking back at the moments, sonic and otherwise, that comprise a record and the experience of creating one."