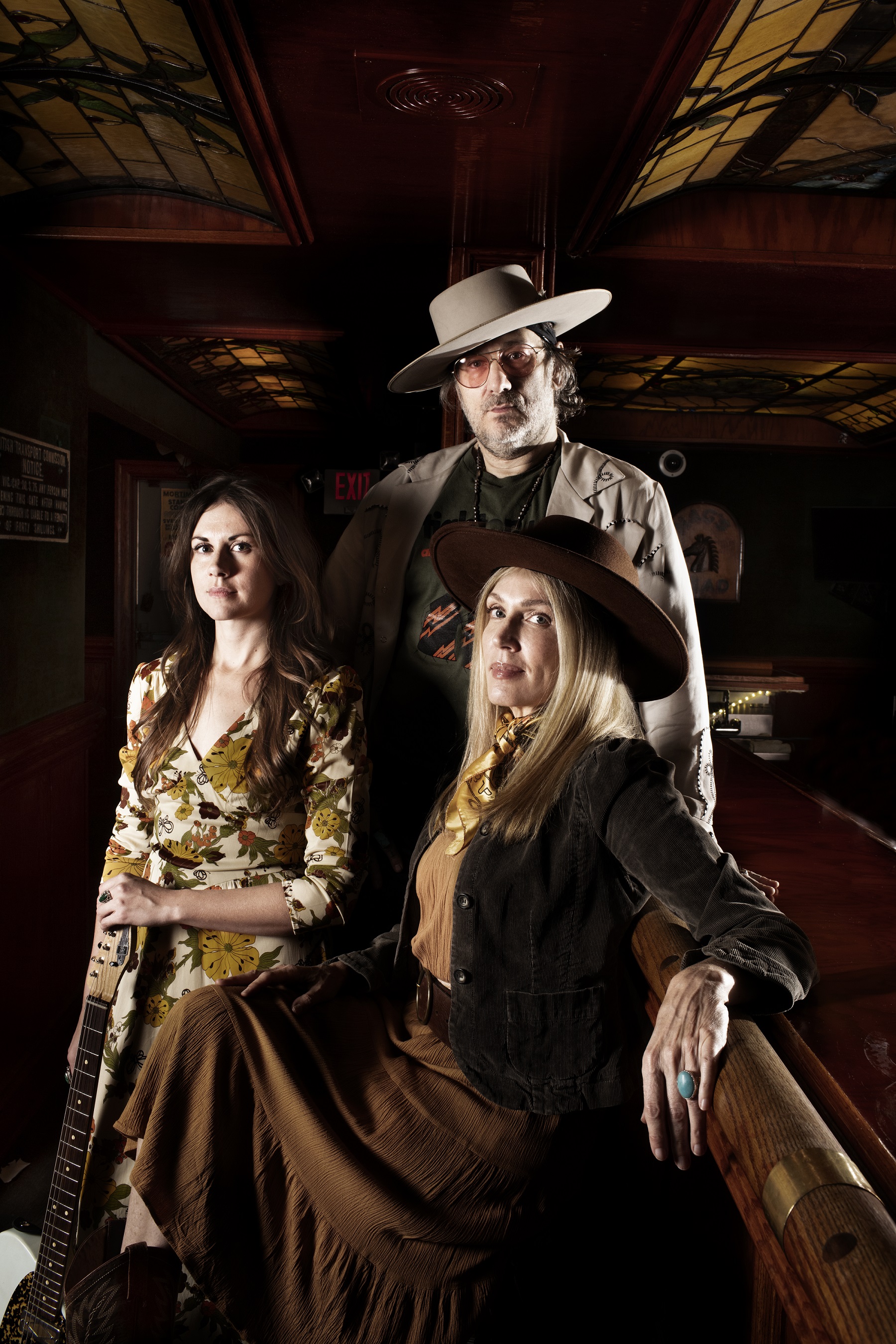 25 January 2023
Photo Credit: Shelly Mosman
Buoyed by the positive reception of their 2020 debut album, CAN'T GO BACK, the Minneapolis/Eau Claire-based Americana trio, Turn Turn Turn, drew inspiration from the recent pandemic/political zeitgeist and penned more than two dozen songs in 2021. Half of the material made its way onto the band's sophomore effort, NEW RAYS FROM AN OLD SUN, which Turn Turn Turn will release on January 27th. The 11 songs on NEW RAYS FROM AN OLD SUN were inspired by personal events, a desire for human connection, and the omnipresent news media showing a world teetering between chaos and transformation. Barb Brynstad (bass and vocals), Savannah Smith (guitar and vocals), and Adam Levy (guitars and vocals) tracked most of the new record at Levy's apartment in St. Paul's Schmidt Artists Lofts. The band also enlisted its core members, drummer Josh Kaplan and keyboardist Peter J. Sands, to lend their musical talents, resulting in a sonic mix that is multilayered and nuanced.
NEW RAYS FROM AN OLD SUN showcases the band's country, rock, and soul sensibilities, with more swagger, psychedelic flair, and rough edges than CAN'T GO BACK. The band also repeats the formula that endeared CAN'T GO BACK to fans and music critics: lush harmonies, unexpected chord changes, and miles of lithe, fuzzy guitar licks. Turn Turn Turn's Laurel Canyon meets 70's-Nashville-cosmic-soul vibe is layered with three-part harmonies that stitch the band's musical tapestry together. Brynstad, Smith, and Levy have distinct voices, and the combination – a "fourth voice" – is greater than the sum of its parts. To create their sound, the band "turns" to the past of early American recorded music, "turns" again to the renaissance of the 1960s and 1970s, and finally "turns" to the present and toward the NEW RAYS FROM AN OLD SUN.
Exclusive Interview With Turn Turn Turn:
-What is your new single Dopamine Blues about?
"This song is about trying to recover from a breakup but getting stuck in a feedback loop of compulsive thinking about an ex, thanks to the "feel-good hormone" dopamine released by the ruminations." Barbara Brynstad vocalist and bassist
-What do you hope people will take away from this single?
"We hope people will get a little dopamine rush and feel happy!" Barbara Brynstad vocalist and bassist
-What did you learn about yourself when writing, singing and recording this single?
"I learned that the banjo is an awesome secret weapon in a pop song. I learned a lot of recording tricks working on this song and I discovered that my cats are not fond of high slide guitar notes." Adam Levy vocalist and guitarist
-How much fun was it making your new music video?
"We considered creating a video with a narrative arc, but when we saw the footage from a live show we played in the summer of 2022, we thought it was perfect for this song. So it was a matter of finding the right footage and making the right edits to capture the joy we feel when we play Dopamine Blues." Barbara Brynstad vocalist and bassist
-Anything new happening with Turn Turn Turn? Any festivals and or fun events coming up?
"We hope to play regional festivals in Minnesota and Wisconsin this spring and many more regional, national, and maybe even international festivals this summer. We've also started writing songs for our THIRD album and want to record those in 2023." Barbara Brynstad vocalist and bassist.
Exclusive Quote for Big Takeover Magazine:
"The song is about when you've been dumped and you keep obsessing—-like poking a blister, you know you shouldn't do it but you can't help it, and it actually feels good at some level to think about your ex, even though it hurts. We spend a lot of time in our world trying to escape pain through shots of dopamine from social media, games, and other distractions. We have a hard time just sitting with emotional discomfort." Adam Levy vocalist and guitar.