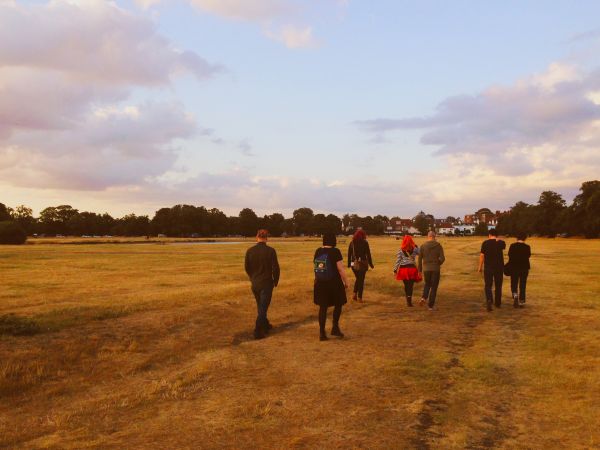 12 October 2017
The Luxembourg Signal; Photo Credit: Leah Zeis
The Big Takeover is pleased to premiere the new album Blue Field from dream-pop/indie pop band The Luxembourg Signal today. The LP is available October 13th on limited edition LP vinyl, CD, and digital formats via Shelflife and Kleine Untergrund Schallplatten (for Europe).
With the release of their first single and debut album on Shelflife in 2014, The Luxembourg Signal quickly found a loyal following among fans of dream-pop/indie pop music, and received enthusiastic reviews for their pop sensibilities, angelic vocals, and lush soundscapes. Since the debut release, the band's lineup of Beth Arzy and Betsy Moyer (vocals), Johnny Joyner (guitars), Brian Espinosa (drums), and Ginny Pitchford (keyboards) has been expanded with the addition of Kelly Davis (guitars) and Daniel Kumiega (bass).
The seven-piece played a handful of shows in the UK and Europe in the summer of 2015 to promote their debut album, including a Sunday evening performance at Indietracks that many cited as one of the highlights of the weekend. 2015 also saw the release of a split 7" single with Soft Science (Test Pattern Records).
For their follow-up LP, Blue Field, The Luxembourg Signal returned to the studio with engineer Mark Rains and produced an album that reveals a bolder, more developed sound with a darker undertone. The album's first single "Laura Palmer," released on 7" in June, earned immediate admiration from fans across the globe. The new LP also features special guest vocals from Bobby Wratten (Field Mice, Trembling Blue Stars) on the reflective track "Fall Feeling."
Listen to the exclusive album stream below – and also read about the band's revealing track-by-track detailing of each song:
"There's Nothing More Beautiful Than a Well-Made Machine" – "The opening track revolves around the concept of the singularity, and the creation and rise of artificial intelligence. This was one of the first tracks that we recorded with Mark Rains at Station House for the new LP so we wanted to take our time to get the right drum sounds. Mark has a storage closet at his studio with several snare drums and we brought a few of our own, and sampled most of them until we found the snare that we ended up using for many of the songs on the record."
"Atomic #10" – "10 is the atomic number for neon. The more advanced humanity becomes, the more it creates the conditions for its inevitable self-destruct. The song was written around the intro guitar picking part, which was done on a Nashville tuned Stratocaster. Our good friend Dave Klotz has a great collection of old synths we had access to so we were able to use his Roland Jupiter 8 and Juno 60 on this track, which added some nice texture."
"Antarctica" – "The mixture of beauty and unease that exists in the absence of civilization."
"Blue Field…" – ""Blue field" is also known as "Scheerer's phenomenon" and refers to the bright squiggly dots you see when looking up at a bright blue sky."
"Shipwreck" – "A transcontinental flight. We used an upright bass, which gives the track a more organic low end."
"Are You Numb?" – "The Moog Prodigy plays the primary role on this track as the song was written around the low and high synth layers. The steady direct drum line and acoustic guitar provides the rhythm backbone that drives the song forward."
"Fall Feeling" – "This was written about an autumn afternoon many years ago, driving along listening to a new record. As occasionally happens, that particular record, that feeling, and the season became forever entwined. We had the good fortune to have Bobby Wratten lend his voice to the lead vocal."
"Laura Palmer" – "We first wrote Laura Palmer about 6 years ago, when some of us went through a resurgence watching Twin Peaks. Laura Palmer was originally the working title of the idea that stuck over time. Some stories never get old."
"What You're Asking For" – "Was written around some drum lines we had on our old Roland drum machine long with an acoustic guitar and several layers of vocals."
Official Site
Facebook
Twitter