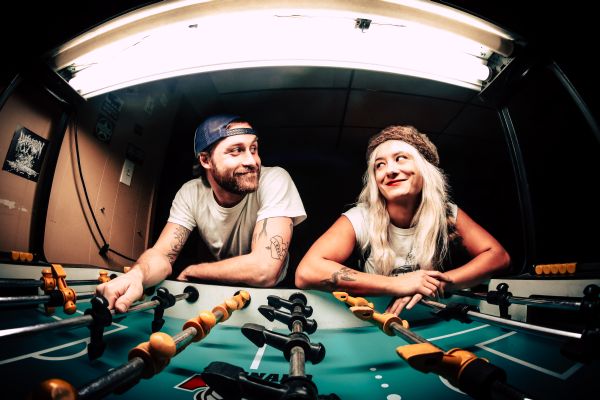 9 March 2018
Sean Hamilton and Miesha Louie of Miesha & The Spanks; Photo courtesy of Miesha & The Spanks
Loud, sweaty, and sweet rock 'n' roll act Miesha & The Spanks are Calgary, Alberta's busiest road junkies. Miesha Louie (guitar, vocals) and Sean Hamilton's (drums) brand of garage rock sits somewhere between the timeless jam of The Runaways and scrappiness of The Gits, with just enough influence from '50s Girl-Group romanticism to catch a case of pop sensibility.
Miesha & The Spanks are explosive on stage, and their new album Girls Girls Girls, produced by Paul Rawson and Danny Farrant (of The Buzzcocks) puts that on record.
Miesha & The Spanks are at their best spilling out of their van and onto a stage after a really long drive. Girls Girls Girls, which The Big Takeover is excited to premiere in full right here, is a record to play over and over and over again. LOUD. Rock records are rarely this infectious in 2018. It's a testament to the band's ferociousness and true melodic sensibilities. A rock record that begs you to run to their next tour date. Pray they hit your hometown.
Miesha took some time out of the rock 'n' roll whirlwind to do a quick Q& A with us:
What inspired the writing of Girl Girls Girls?
In the past when I've put out albums it's been something like, "here's my most recent 10 songs, let's hit record." This album has been a work in progress since our last full length in 2013. The songs aren't linked by a concept or story, it's more of a sound I've been trying to develop. So I guess my inspiration was largely trying to actualize the sound and style I've been working on for the last ten years. As for the title- women are kicking ass right now in the music industry (and everywhere) and I'm pretty proud about it. I help run our local Girls Rock Camp and constantly lose my mind over the talent and confidence in these girls.
Who produced it? What was the recording experience like?
Danny Farrant, who plays drums for the Buzzcocks, and Paul Rawson produced the album in the UK. We flew to Brighton in the middle of our Cross-Canada tour and spent ten long days re-hashing and recording these ten songs. We tried a couple more out, but these fit so well together we decided this was it. We did a lot of re-working, and recorded a million ideas before finding the right one. I've never worked in such a collaborative recording environment before, so it was pretty challenging at times but made the album pretty great. They both make music together for film and TV, so they're this super tight unit, it's like they read each other's minds. Danny's obviously a drum wiz, and Paul's a guitar virtuoso so we also had there was also this specialized approach to the instrumentation, not just the hooks and dynamics of the songs.
What do you want people to take away from the album? Was there a particular mood you were trying to capture? A story you were trying to tell?
I want people to rock the fuck out and feel like they can do anything when they listen to it. That's how I felt when we made it. I hope that drives home when it's on your turntable.
What does the rest of 2018 look like for you?
We're a week into what's basically a two month tour across Canada! So more of this to start. Then we've got more festivals and touring in the summer and fall as well. We love touring and playing and living in the van, so a new album is a great excuse to keep doing it!