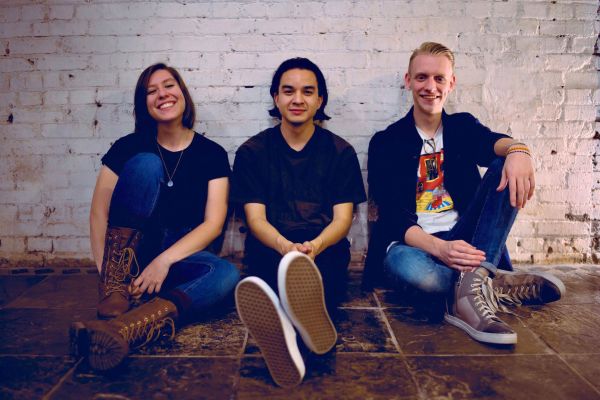 2 May 2018
Sleepspent (L-R): Cecilia Otero, Josh Mendoza, Austin North. Photo Credit: Jon-Carlo Diaz
21-year-old songwriter and guitarist, Austin North began performing as a University of California – San Diego student before eventually returning to his hometown of El Paso, Texas to form Sleepspent with friend and co-writer Aaron Quintanilla. The band is now comprised of North, Cecilia Otero on bass, and Josh Mendoza on drums.
Sleepspent will release its Chris Common (Minus The Bear, Chelsea Wolfe, Le Butcherettes)-produced debut EP It's Better If You Don't Speak Or Think via Slow Start Records on May 4th.
While The Cure and The Smiths are major influences on Sleepspent's atmospheric sound, "We're definitely inspired by shoegaze and dreampop," North says, elaborating, "That can be heard in the alternate tunings used throughout our music as well as the melodic chord progressions and melodies."
North's formative years studying jazz guitar wraps it all up in a solid technical foundation, too, but ultimately, Sleepspent songs exist to make the listener feel. "They're more about whatever emotion and feeling they bring about in people," North says. "I write them to make people feel and interpret my own musings rather than to have them be relatable."
North reveals, "A lot of the lyrics focus on a very personal sense of confusion and isolation. It is all very cathartic, almost stream-of-consciousness writing, and most of it regards trying to find a balance between independence and relationships with the people surrounding me. By confusion, I mean to how to navigate through life happily and successfully, and how to maintain healthy relationships with those around me while struggling with depression and other mental health issues, including feelings of self-isolation. I've dealt with some pretty serious mental health issues in the past few years and have fought feelings of loneliness and a desire to isolate myself from others, and I've allowed the lyrics of many of the songs to be pretty introspective about why I feel the way that I feel."
The melancholic, restless "Something", the EP's first single, defines Sleepspent in precise terms: The melody is utterly mournful, but its palpable sadness is totally addictive at the same time.
Sleepspent's indie version of the shoegaze-inspired densely textured wall-of-guitars sound washes through many songs on the EP, from "Something" to the guitar smolder of "Roots" and the dizzying sonic build-up of "Stars". North has a knack for creating music that is bathed in brooding moods and expansive spaces (think a reverb-heavy Radiohead or lighter aspects of Swervedriver), authentic lyricism, and captivating vocals.
Up-tempo "Come Smile With Me" merges driving acoustic and electric guitars with North's sweetly plaintive vocals that are reminiscent at times of Catherine Wheel's Rob Dickinson at his airiest. North's bleakly bittersweet lyrics like, ""Descending deep / Where there's no more sound / I'm sound asleep / Forgetting how I fell" are in keeping with the EP's themes of, as North puts it, "…feeling lost or trapped, unable to escape the confusion of life."
The magnetic "Cracking" strips it down to bare, kinetic to reflective acoustic guitar and North's vulnerable vocals. The unvarnished sound continues on laid-back, jazz rhythms-inflected EP-ender, a live recording of "What's The Rush?", complete with an appreciative audience clapping at the end of the track.
It's Better If You Don't Speak Or Think arrives on May 4th via Slow Start Records.
Sleepspent is also quickly gaining a reputation in El Paso as a formidable live act. The band has already been nominated as a "Best Band in the City" by The City Magazine in El Paso, who called the trio "completely captivating, live and through your speakers." As Sleepspent's local following has grown, the group has become a go-to local act to support nationally touring artists, and will kick off a summer tour on the EP's release date.
TOUR DATES:
5/04/2018: El Paso, TX at Low Brow Palace (Record Release Show)
5/26/2018: El Paso, TX at Neon Desert Music Festival
5/27/2018: El Paso, TX at Neon Desert Music Festival
6/08/2018: Ft. Stockton, TX at The Garage, Music, Coffee & Music
6/09/2018: Wichita Falls, TX at GypsyUncorked
6/10/2018: Amarillo, TX at The 806
6/11/2018: Norman, OK at Red Brick Bar
6/13/2018: Santa Fe, NM at Second Street Rufina
6/14/2018: Denver, CO at Lions Lair
6/15/2018: Grand Junction, CO at Cruisers Bar
6/17/2018: Las Vegas, NV at Legends Bar
6/20/2018: San Diego, CA at The Clutch Bar
6/21/2018: Bisbee, AZ at The Quarry
6/22/2018: Phoenix, AZ at Lunchbox
6/30/2018: Albuquerque, NM at Tractor Nob Hill
7/12/2018: Memphis, TN at Sounds Good Memphis
7/12/2018: Nashville, TN at Drifters BBQ
7/14/2018: Cincinnati, OH at The Comet
7/16/2018: Minneapolis, MN at Char Bar
7/18/2018: Tulsa, OK at SoundPony
7/19/2018: Wichita, KS at Kirbys Beer Store
7/20/2018: Norman, OK at Mom and Dads Place
Website
Facebook
Twitter
Instagram
Bandcamp
Slow Start Records