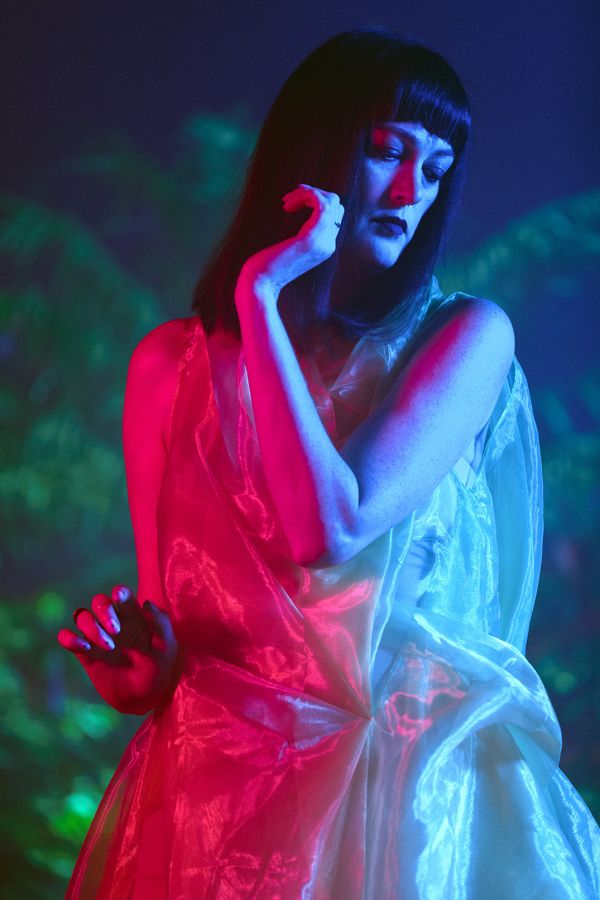 1 May 2018
Searmanas; Photo Credit: Marcos Morteira
Today The Big Takeover has the pleasure of premiering "Undo", the first single off of the forthcoming album by NYC-based electronic artist Searmanas. Self-titled, her album is slated for release on July 6th via Cleopatra Records.
The closest artists that come to mind have got to be Lamb and Julianna Barwick. But "Undo" is more mystifying than that. This is highly cinematic, sheer beauty, like a warm intense embrace between Moya Brennan of Clannad and Mandalay with a stroke of Faithless painted in for added effect. A sonic labyrinth, like Escher envisioned, only with intense color, faded with powerful effect towards its edges.
Conceived in 2016, Searmanas is the solo project of electronic producer Niabi Aquena, her moniker derived from Gaelic and meaning "ceremony" or "ceremonial". Originally hailing from the Shanandoah Valley in rural Virginia, Aquena has based her musical practice in New York City for almost two decades. A classically trained pianist and vocalist, her musical evolution has led her to experiment with electronic hardware.
Searmanas' sound explores the role of ceremony within urban experience, resulting in severe, textured landscapes with touches of sparse vocals. Her wordless poetry ranges from industrial glitches to layered, oceanic progressions, all tied together by an aura of questioning and chaos. Her music is inspired by early Aphex Twin, Ryuichi Sakamoto, early Tori Amos, Jóhann Jóhannsson, Grouper, FKA Twigs, and Fever Ray.
Searmanas has performed with the likes of John Bender, Hieroglyphic Being, Miho Hatori, and Mahogany. She is a member of Brooklyn-based media collective CHASM and regularly performs live in NYC and beyond.
""Undo" Is a pause to the beginning before everything hurt. It is the release of the concept of time. It is the beginning of the process of healing," explains Niabi Aquena.
Searmanas "Undone" will be available the week of May 1st through online stores and streaming platforms. while her full debut album is already available for pre-order via Bandcamp
CREDITS
Album produced by Niabi Aquena, Searmanas
Mastered by Rafael Anton Irisarri at Black Knoll Studio (NY)
Mix by Joshua Valleau at The Glass Wall (NY)
In dedication to Yemaya
Keep up with Searmanas
Twitter
Instagram
Facebook
SoundCloud
Bandcamp