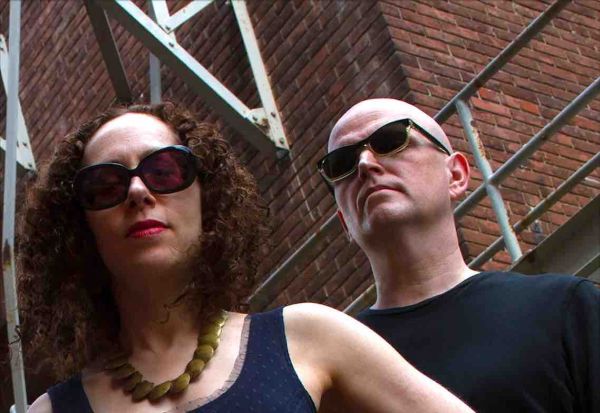 24 July 2018
Tulipomania – Photo Credit: Edward Waisnis
Early last year, The Big Takeover introduced you to Philadelphia-based outfit Tulipomania
It's now time to focus on their new EP Off the Map, which is a three-track offering that includes a remix of "On the Outside" by London-based electronic producer Spinello. Out via Sursumcorda Recordings this coming Friday, we present the premiere for you today.
On Off the Map, band members Tom Murray (lead vocals, bass, drums) and Cheryl Gelover (synthesizer, background vocals) were joined on guitar and glockenspiel by Mitch Smith, who also contributed to the band's eponymous first album.
Recorded and mastered by Richard Hartline, the final mix was produced by Mark Plati, famed for his work with such artists as The Cure, Ryuichi Sakamoto, and Philip Glass, crafted the final mix, in addition to producing, recording, mixing, or performing on most of Bowie's musical output from 1996 to 2003.
"Off The Map" is a hazy down-tempo offering with cleverly-mixed layers and interesting use of space – Murray and Gelover sing in tandem for added emphasis, in and out like the ebb and flow within their musings. Here we find Tom Murray walking a similar quivering vocal tightrope as Mark Hollis of Talk Talk, Robbie Robertson, and Neil Young with a backdrop of compositional power and stylings similar to Talking Heads, Tom Waits, and Arcade Fire. A fascinating window into their minds.
On the other hand, "On the Outside (Spinello Remix)" is a more upbeat offering and is dramatic, dark, and dubby. It was created by Spinello (a.k.a. Shane Woolman), a London-based producer and remixer, who also hosts shows on NTS Radio, Resonance FM, and New New World, in addition to working at The Wire magazine and DJing as part of The Wire Soundsystem.
To date, Tulipomania have released four albums, as well as numerous singles. Their music is built on conflict and contrast, internal battles between hazy dream-pop and angular indie, between fractious and shattered vocals and muscular beats, swirling psychedelia and sonorous, drifting keyboard washes; between sinister atmospherics and raw guitars.
Tulipomania's music has variously been referred to as "cult synth punks", "glam-leaning", "art-rock", and "muscular chamber pop" while many reviewers are quick to reference the affinity with early 4AD Records' output, an association that is underlined by the fact that the duo have utilized legendary 4AD graphic designer Vaughan Oliver for album packaging.
Tulipomania also have two new animated music videos to accompany this release, created by band members Cheryl Gelover and Tom Murray. Celebrated for their juncture of art and sound, Tulipomania videos are always something special.
The collage-animation process for the "Off The Map" video was quite intensive, with Murray and Gelover alternating fragmented self-portraits with imagery they pieced together, frame by frame, from thousands of individual sheets of paper. These fragmented self-portraits alternate with imagery torn and pieced together, matching the contradictory mood of the lyrics. The result is a stunning visual that reinforces the contradictory nature of the song's lyrics.
The video for "On the Outside (Spinello Remix)" also features vintage objects animated frame by frame as torn paper and tape collages on sheets of black paper. Loaded with a quaint naiveté, this animation was inspired by the inclusion of a space-age era broadcast layered into the Spinello Remix.
This video for "Off the Map" has been chosen as an Official Selection at the BAFTA qualifying Aesthetica Short Film Festival in York, UK. Described as "artistic and inventive" and "gorgeous", the music videos created by Tulipomania have been featured in many other film festivals worldwide, including the London Short Film Festival (England), Leeds International Film Festival (England), Aesthetica Short Film Festival (York, England), Encounters (Bristol, England), Zubroffka (Poland), StopTrik (Croatia, Poland), Brooklyn Film Festival (USA), and Animation Block Party (USA).
The Off the Map EP is being made available across the main online stores and streaming platforms, and can also be ordered from Tulipomania's Bandcamp
Also check out the two aforementioned videos:
Keep up with Tulipomania
Website
Facebook
Twitter
Bandcamp
SoundCloud
Vimeo
YouTube
Spotify