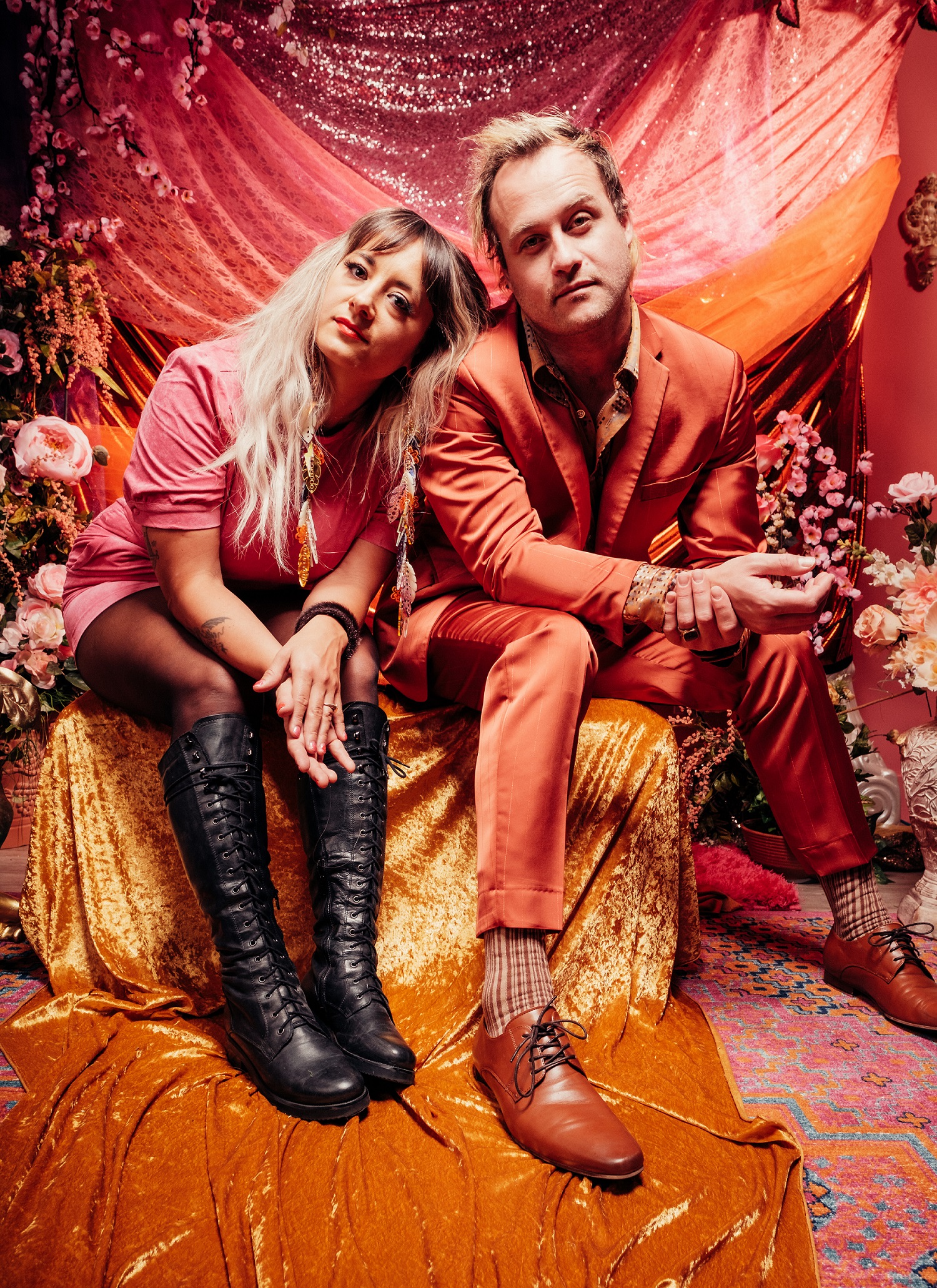 14 April 2023
After an incredible run of form these last few months, which has brought enormous praise and acclaim to their recent singles 'It's My Year', 'Dig Me Out' and 'Mom Jeans // Mom Genes' earlier this year, Canadian duo Miesha & The Spanks are back to release their eagerly-awaited new album Unconditional Love In Hi-Fi on the 14th April, and you can hear it here first.
Bringing back more of that raucous garage-rock aesthetic they have been building for themselves since they first emerged, Unconditional Love In Hi-Fi makes for an incredible fun and vibrant listen. With the insatiable vocals of frontwoman Miesha Louie permeating every inch of this new record, driving the anthemic sound of it ever forward, they are returning with one of their most captivating offerings to date here.
Highlighted by the new lead single 'So Mad', the pair churn out a rip-roaring guitar-driven anthem that perfectly illustrates the cacophonous nature of this new LP. Brimming with a bold and immersive sound throughout, it'll have you pumping your fists from start to finish.
Adding about 'So Mad', they said, "So Mad is about the day to day of what women deal with – from losing autonomy of our bodies as the US slowly revokes laws surrounding abortion and birth control, to being able to safely walk home at night – and the expectation that we can't be too angry about it, and to just… smile more"
Miesha & The Spanks' new album 'Unconditional Love In Hi-Fi' will be available to stream on all major DSPs from the 14th April, and will be heading to the UK for a pair of highly-anticipated live shows. Details of which can be found below.
Tour Dates:
April 11 – The Royal, Nelson BC, w/ Paris Pick, Damien Albras
April 13 – The Lido, Vancouver BC, w/ wait//less
April 14 – Kelowna Curling Club, Kelowna BC w/ Black Of Hearts
April 15 – The Legion, Rossland BC w/ Gravy Train
April 17 – The Exchange (small room), Regina SK w/ Dump Babes
April 19 – Handsome Daughter, Winnipeg MB w/ MOSA, Truly Sorry
April 20 – Amigos, Saskatoon SK w/ The Radiant
April 21 – 9910, Edmonton AB w/ Bad Buddy
April 22 – Tailgunner Brewing, Calgary AB, w/ Bad Buddy, Self-Cut Bangs
May 11 – The Yeti, Kitchener ON w/ Hotkid
May 12 – Palasad Social Bowl, London ON w/ Taylor Holden, Mind Riot
May 13 – The Mill Underground, Tillsonburg ON
May 14 – Westside Bowl, Youngstown OH w/ The Meatball Mob
May 15 – Mohawk Place, Buffalo NY w/ Spud, Velvet Bethany
May 16 – Berlin, New York NY w/ Clinates
May 17 – Wolfe Island Hotel, Wolfe Island ON w/ Forty Seven Teeth
May 18 – House Of Targ, Ottawa ON w/ Vacation, Slow Dawn
May 19 – Monarch Tavern, Toronto ON w/ Hotkid
May 20-21 – Pouzza Fest, Montreal QC
May 31-June 4 – International Indigenous Music Summit, Toronto ON
June 7 – The Peer Hat, Manchester UK
June 8 – Le Pub, Newport UK
June 10 – Hope & Anchor, London UK
June 15 – Sub Rosa, Dortmund DE
June 16 – Molotow, Hamburg DE
June 17 – Honky Tonk Custom Garage, Mönchengladbach DE
facebook
twitter
instagram
website
bandcamp
spotify