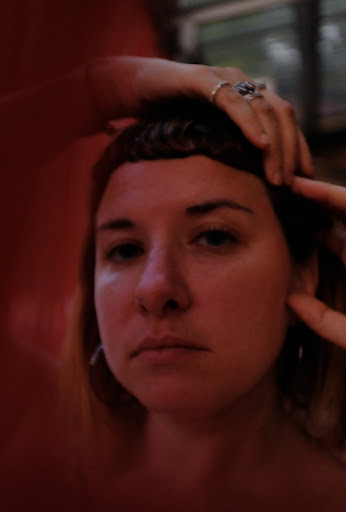 18 May 2023
To talk about Laura Fisher adequately, one needs to look at her background to establish how wide and varied a lens one must perceive her music through. Taught up by Julliard alums as a child, world traveled, and holding high society and DIY cred simultaneously (from playing NYC's Lincoln Center to house show basements), her music is hard to pin down on first listen. What's apparent though, and very much so on repeat listens, is the cool and focused soul that drips from every track on her new EP "Rose-Coloured Dream". This release is a seasoned journey into a unique, musical mind.
Smooth and heavy synth bass guides much of this EP, along with tactile, in the pocket drums, backing and accenting Laura's vocal hooks beautifully. Best heard on the more pop-inspired 'Slanted Roof' for example, with a chord progression that highlights the dreamier side of neo-jazz, there are immediate sing-along moments as her voice creates a dark sound that's inviting at first, with just enough experimental production elements to hold you in suspense. The strutting 'Tillin' On the Lucie' showcases these elements at their best, but with a slower and more intentional air. Featuring an even dustier and more subdued drum sound, reminiscent of the sonic elements of an early Meters record (70's drum tones minus the up-tempo hop) we can clearly peer into Laura's 'Rose-Coloured Dream' to see the cosmics swirls and spirals of her mind, that grow more and more familiar with each listen. Each sonic element seemingly resembles an aspect of her unique musical life journey; the virtuosic arpeggios, the wander-lusting lyrics, the grimy synths, they all meld. It's swimmingly psychedelic, earnestly personal, and yet cold, reserved, and worldly, all without one element overpowering the other.
Written over the course of her formative years, during a 7 year span starting almost two decades ago, then recorded in 2018, and completed just last year, there's a certain symbolism that's hard not to shake about Laura Fisher's presence in her creative process. It's one thing to have good musical ideas, or to talk about how you're going to execute those ideas as an artist in a transient sense, but it's another to actually see a vision through over such a long period of time and have the finished product sound this cohesive. And it's absolutely fascinating that whether this time span was by design, or by circumstance, it seems to reflect a lifetime of experiences many other artists couldn't match the dedication of, or frankly the talent, to pull off.
What track took the most time in the studio and why?
I can't even remember at this point. Each track went through years of recording, editing, production, and mixing. I unfolded in this process as a new vocalist and producer; the pandemic offered a seemingly endless stretch and palette for engineer Adam Keil and I to co-produce each song. Sometimes, we thought a track was finished and then we'd get inspired at 1am just hanging out listening back and suddenly I wanted a guitar that sounded like submarines ("Tillin' on the Lucie" after the first chorus). Or samples of talking that faded in and out of the mix in a really artistic and transportative way ("Slanted Roof" in the bridge), or absolute industrial swell and breakdown in homage to some of my great teenage influences like Portishead's record 'Third' and Nine Inch Nails ("Five Horses" end few minutes).
What does the title 'Tillin' on the Lucie' mean?
Ten years ago, I took a last minute trip with an ex to Port St. Lucie, FL to attend the very small and secret wedding of his brother ~ the bride's grandfather was likely to pass away very soon and he wanted to witness their union. I woke up the morning we were heading home to the most incredible sunrise — it's still burned in my brain, hot pink and orange and palm trees. In the airport, every TV screen was blaring simultaneously (and louder than I'd ever heard – or at least it felt like it) news of a shooting at a naval yard in D.C. When you're traveling so early in crowds and delirious after an already deeply emotional experience, then inundated with another on a national level…. as soon as I got home the song came pouring out of me.
How was the red, smoky EP cover created?
Last summer I reunited with a dear friend, Henny Herz, in Montreal. She lives in Germany and is a wonderful musician who also enjoys photography and has a wonderful eye. Henny was living in Canada for four months and our time together happened to overlap with my birthday. The night before I turned 33, we did an impromptu photoshoot in her house that would become the album art for this and my previous record. The red you see were curtains in her sunroom; we got naturally playful and spontaneous and therefore vulnerable… which all feels like a testament to our friendship & artistry as much as a transitioning of age.
Do you have any ideas or plans for your next release?
This release is a big one for me: it marks the end of doing right by all my past selves, which is an endeavor I embarked upon shortly after the pandemic began and I'm proud to have followed through. During my 20s, I was exclusively a part of collaborative writing projects and bands, and didn't do much in the way of solo material… especially in terms of recordings. So now I'm up to date and that feels incredible. I have a couple dozen songs I've written over the past year and a half that I'm playing live when I do solo gigs, still familiarizing and experimenting track orders and groupings; production ideas come and go (usually elaborate then super stripped down — as my last few releases have altered) but things feel very much in a phase of wonder + simmer. Which is exciting. I'm curious to see what comes of it all but have no doubt that plenty more releases are in my future.
instagram
facebook
bandcamp
youtube