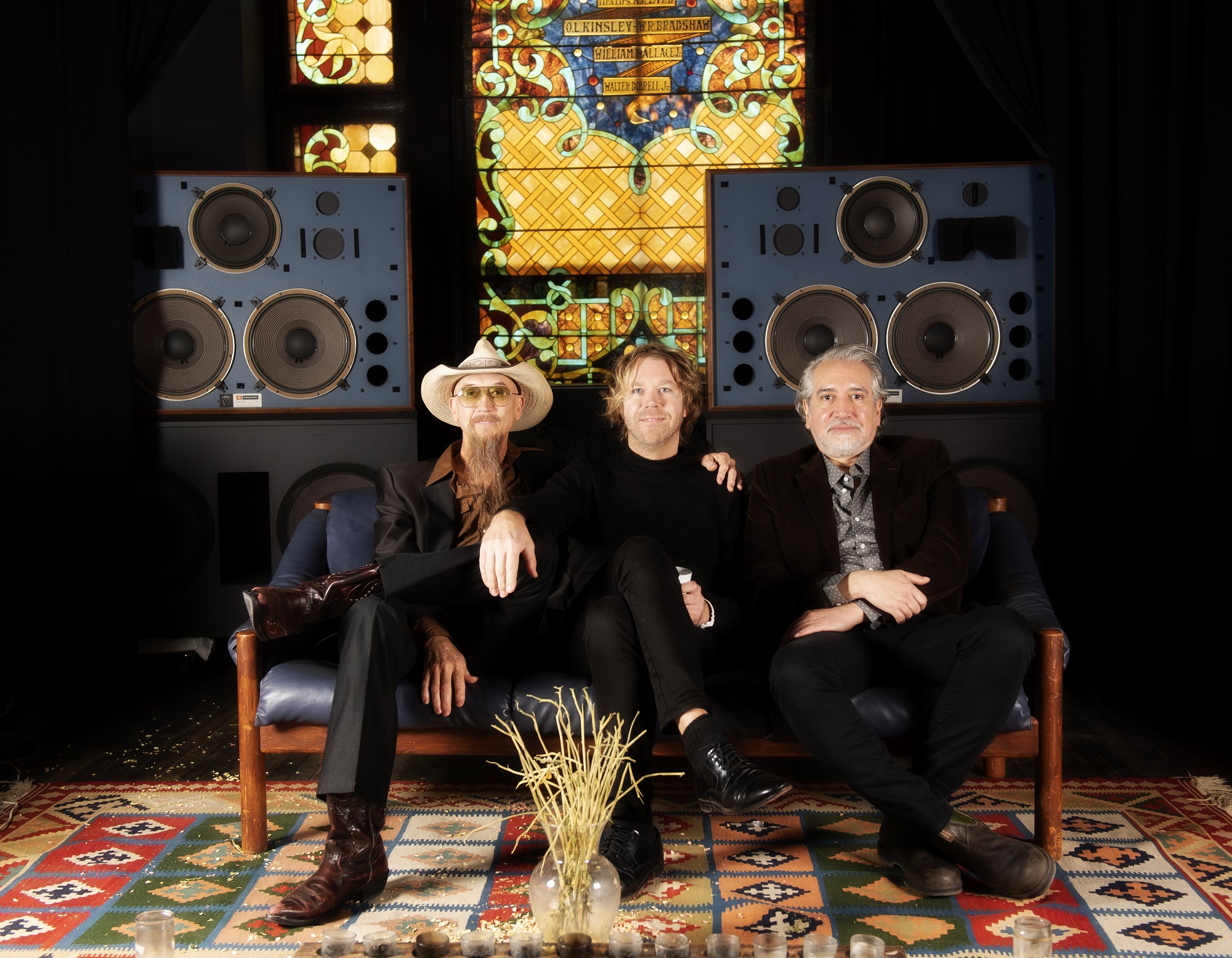 17 May 2023
Photo Credit: Ramin Samandari
Texas-based minimalist indie-pop band Buttercup makes music that is raw and real, and its forthcoming album, Grand Marais (out this summer) is no exception. It is a collection of songs, recorded quickly, that detail the loss of both Erik Sanden's (vocals, guitar, keyboards) and Joe Reyes's (guitar, vocals) fathers and the depressions that followed. Bass player Odie, being a sympathetic soul, also embraced this expression of grief through music. Using only an acoustic guitar and bass as the sole instrumentation, the record highlights the lyrical message even more and showcases their gifts as arrangers. The drums aren't missed.
The second single from the record, "Morrissey for Company," is a gently compelling look at music as catharsis. It's soft and simple, intimate and uplifting, with acoustic guitar, gorgeous layered harmonies: the perfect aural remedy. The tender music showcases a message that seems both tongue-in-cheek and a complex exercise in musical therapy and posits the question: can listening to too much Morrissey help or hurt a heart in pain?
In the aftermath of a very dark time, Sanden listened to a lot – and we mean a lot – of Morrissey. And he did so for over a year. Despite the circumstances, he found that there is no definitive answer. The song "Morrissey for Company" flirts with the romanticization of melancholy. It pokes fun, but it also admires. The fact is we need it all—the dark clouds as well as the lovely sunlight.
The Big Takeover sat down recently with Sanden, Reyes, and album producer Danny Reisch to discuss "Morrissey for Company" in all of its intricacy.
The Big Takeover: What is the story behind this song? What made you want to write it?
Erik Sanden: I lived this song. After my father died, I lay on the couch for a year or so, unable to write songs or do much besides the bare minimum to keep the lights on. But there was consolation in Morrissey and the Smiths: this music seemed the only thing I wanted to listen to. I consumed it like a teenager in love with a band for the first time. This new passion helped me feel alive, and I was thankful that I could still summon that teenage feeling.
Joe Reyes: I have my own musical obsessions (Burt Bacharach and Elliott Smith come to mind), but Erik developed a very deep relationship with Morrissey. It always hurts to find out an artist you love is merely human like all of us. Perhaps this was what caused such a fanatical response, wherein Erik listened to Morrissey's song output nonstop for a long period. But artists by nature are obsessives; how else does anyone put in the ten thousand hours of work needed to give the world something uniquely you? I enjoyed fleshing out the arrangement together, but the impetus for this song is truly Erik's.
Danny Reisch: "Morrissey for Company" finds Buttercup at their best—a band eternally straddling the line between humor and gravitas. It opens with a languid, introspective dialog that builds into a full-band, CSNY-style singalong chorus; cheekily celebrating the act of leaning into one's own misery (or was it Morrissey?).
TBT: The song takes an interesting premise and asks the question: does listening to a lot of Morrissey music help or hurt someone going through a time of grief? Can you elaborate on this and explain how that idea of music being therapeutic (or not) fueled this song?
JR: For myself, music is an absolute balm for the stressful parts of life. When in doubt, I reach for either music or poetry. Some of it is quite dark. But it reminds me of everyone's travails, that I'm not alone in my despair, that there are people who have traveled this same path and come away with something tangible and thought-provoking to share. All my songs are dipped in some melancholic hue at some point, but if something shines through, that's love. And time.
DR: There's a legendarily "untranslatable" word that appears in Portuguese and Brazilian literature: saudade. "Morrissey for Company" finds Erik Sanden coming to terms with his own saudade. The word refers to a deep melancholy or longing. But its meaning is more complex; it's about savoring and feeding the longing or pain as a way to be released from its grasp. Manuel de Melo calls it "a pleasure you suffer, an ailment you enjoy." Will listening to Morrissey on repeat cure Erik of his saudade? You'll have to listen to the end to find out.
ES: I'm certain that music has cathartic properties. In our modern age with so many technologies and digital distractions blunting our capacity for love, song is like Kafka's axe to break the sea frozen inside us. I know that at times a certain mixture of chords and notes can bring me to weep, and I'm thankful for this. Others argue that sad movies and songs are just plain downers and should be avoided, and they are wrong.
TBT: Taking that a step further, many songwriters find the songwriting process to be a form of therapy, in that it helps explore and unpack things that might be weighing the writer down emotionally. Do you think this is true of your experience? Does creating music help you feel better?
ES: Ultimately, yes. Although, to be perfectly honest, sometimes the process is truly annoying—you have to tinker and sit still for quite some time—playing with something that often feels fundamentally lousy and boring. I believe that is—at least in my case—the trick to songwriting: patience and courage to wait for something interesting to emerge. But once something honest has taken form, I feel somewhat better, more in touch with my struggles.
TBT: Do you hope that this song and the album it comes from become your listeners' version of Morrissey, their go-to when they need to pull themselves out of a dark place?
ES: That would be lovely.
JR: It's my hope that any song we record becomes part of someone's life, just like Ray Davies and Gord Downie have become a part of ours. I have go-to songs for all my emotions, and for "Morrissey for Company" to be included alongside any listener's chosen few would be an honor.
TBT: Do you have a favorite Morrissey song?
JR: I played briefly in a Smith's tribute band with some friends, and my takeaway as a guitarist mostly had to do with Johnny Marr's playing, but as a songwriter, I was spellbound by Morrissey's conversational tone and stinging rebukes of English life. And melodically, he seemed to go wherever his fancy took him. This freedom reminded me of Buttercup and how each member plays a large part in the sound of each song. But if I had to choose a favorite song sung by Morrissey, it would be "There Is a Light That Never Goes Out" or "Stop Me If You Think You've Heard This One Before."
ES: "There is a Light That Never Goes Out" perfectly captures the teenage feeling of your head out the window, speeding down the road at night, utterly in love.
Artist website
Facebook
Twitter
Instagram
YouTube
Bandcamp