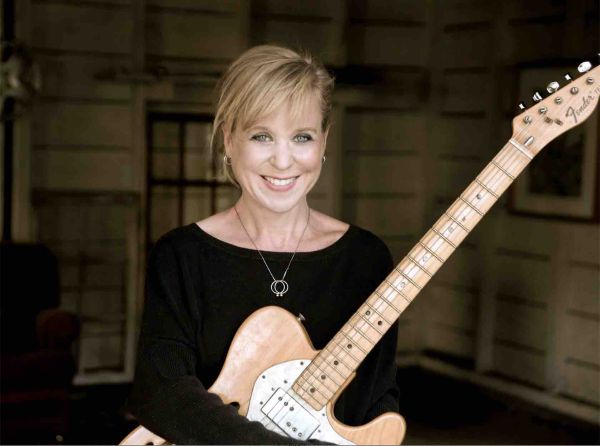 7 November 2017
Kristin Hersh; Photo Credit: Peter Mellekas
Tonight, New York's City Vineyard will be transformed into a cozy, intimate music venue where indie rock legend Kristin Hersh will perform against the gorgeous background of the Hudson River and the downtown NYC skyline. This is part of the series Voices on the Hudson, which features several acclaimed national touring artists.
After founding her influential art-punk band Throwing Muses in Providence, Rhode Island at the age of 14, Kristin Hersh has spent decades confounding expectations and breaking rules, both hers and others. From life as the reluctant frontperson for the Muses, to the solo career she swore would never happen, through the founding of the ambitious and altruistic nonprofit CASH Music, to her recent foray into a successful career as an author, Kristin, now a mother of four, didn't see much of this coming.
Throwing Muses first gained recognition playing on bills with similarly singular artists like the Pixies and Dinosaur Jr. They signed with the highly regarded British indie label 4AD Records (the label's first American signing, even before The Pixies), and then to Warner Bros in the US.
Kristin's solo career spun off in 1994 with the release of Hips and Makers. The album was widely acclaimed and included "Your Ghost", a duet with R.E.M.'s Michael Stipe. This was followed by eight more critically acclaimed and influential solo records.
Kristin never stops creating and much of her work is listener-supported, thanks to Kristin's platform Strange Angels. She often plays all instruments on her solo releases, including the latest album Wyatt at the Coyote Palace. Released earlier this year on vinyl via HHBTM Records, it was recorded over a 4-year period on the island where Kristin grew up. It was also released as a double-CD/ book combo via Omnibus Press. That release coincided with an extensive tour of Ireland, the UK, and US, playing to many sold-out audiences and wide critical acclaim. Once again she will perform songs from this latest release, as well as other offerings.
Kristin Hersh is most recognized as the front person for the influential art-punk band Throwing Muses. She has also found a surprisingly successful career as an author, she has published the critically acclaimed Paradoxical Undressing in the UK (released as Rat Girl in the US), a children's book titled Toby Snax, and Don't Suck, Don't Die, a highly acclaimed personal account of her long friendship with the late Vic Chesnutt.
Wyatt At The Coyote Palace is the third release in the ground-breaking book-CD format that Hersh began with her previous solo album Crooked and Throwing Muses' 2013 release Purgatory/Paradise.
Rolling Stone named Rat Girl one of the top ten best rock memoirs ever written. Rat Girl was also adapted as an award-winning play and is now being made into a TV series. Her book Don't Suck, Don't Die, a personal account of her friendship with the late Vic Chesnutt, was a finalist for the American Booksellers Association book of the year and shortlisted for the Pat Conroy Southern book of the year. NPR said this is "Not only one of the best books of the year, but one of the most beautiful rock memoirs ever written."
Tonight's show at City Vineyard (233 West St in Hudson River Park – Pier 26) is limited to 100 guests. It begins at 8:30pm and doors open at 4:30pm. Tickets are $25-30 and can be found at City Vineyand
Kristin Hersh will also be playing two exclusive shows with step-sister and fellow Throwing Muses member Tanya Donelly on March 10th and 11th at Boston's City Winery . Because tickets to the previously announced shows sold out so quickly, best to reserve ahead
We invite you explore Kristin's music, including her most recent album, below:
KRISTIN HERSH
Website
Facebook
Twitter
Bandcamp
Soundcloud
YouTube
CashMusic