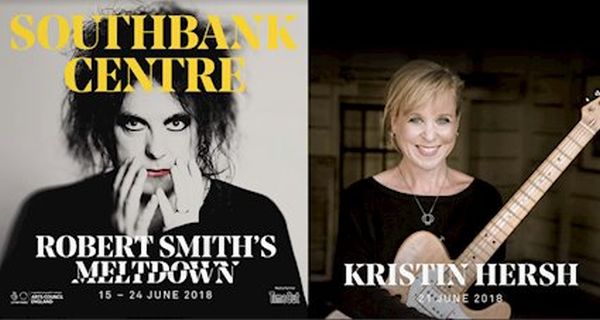 7 March 2018
Indie rock icon Kristin Hersh is among the first dozen artists to be named for this year's Meltdown Festival in London.
Set to take place at London's Southbank Centre on June 15-24, this year marks the 25th edition of this iconic festival. This special celebration, curated by The Cure's Robert Smith, offers a jam-packed line-up of unique performances. Apart from Kristin Hersh, this year's line-up includes My Bloody Valentine, Nine Inch Nails, Mogwai, The Psychedelic Furs, Manic Street Preachers, The Libertines, Deftones, Placebo, Mono, 65daysofstatic, Alcest, and The Notwist.
Kristin Hersh has been confounding expectations and breaking rules since founding her influential art-punk band Throwing Muses at the age of 14. Throwing Muses continue to release groundbreaking music and tour the world, most recently with 2013's double CD masterpiece 'Purgatory/Paradise'. Hersh's solo career spun off in 1994 with the release of 'Hips and Makers', a widely acclaimed album which included 'Your Ghost', a duet with R.E.M.'s Michael Stipe.
Since then, Kristin has released a steady stream of distinctly individual solo albums, including 2010's 'Crooked', her first release in the inventive book/CD format for which she is now known. She played all the instruments on her latest release 'Wyatt at the Coyote Palace', an explosive work defined by blistering guitars, powerful drumming and Kristin's signature visceral vocal technique. Her poignant true stories bring the listener into what the BBC calls Hersh's "dark and dizzy world."
In 2004, Kristin formed the noise rock power trio 50FOOTWAVE, releasing a series of frighteningly intense mini-albums, mostly available for download free of charge, the most recent 'Bath White' EP.
Kristin's writing career has flourished with the highly acclaimed 'Paradoxical Undressing' (released as 'Rat Girl' in the USA) and the award-winning 'Don't Suck, Don't Die', a personal account of her long friendship with the late Vic Chesnutt, in addition to the enchanting books that now accompany each record release.
The Meltdown Festival is the UK's longest running artist-curated music festival. Meltdown is one of the UK's most anticipated music events each year, in which an iconic artist curates their own personal festival, revealing their interests and influences. Robert Smith follows in the footsteps of such legendary curators as Patti Smith, Nick Cave, Yoko Ono, Massive Attack, Ornette Coleman and 2017's M.I.A.
Kristin Hersh says that, "Meltdown is an opportunity for musicians to present what they do in a different light: music from the musician's perspective. A private thing, a world unto itself." Hersh will be playing the festival on June 21.
Tickets for Robert Smiths' Meltdown go on sale to Southbank Centre members at 10am on Tuesday, March 13. Tickets will go on sale to the general public at 10am on Thursday, March 15. Find out more here