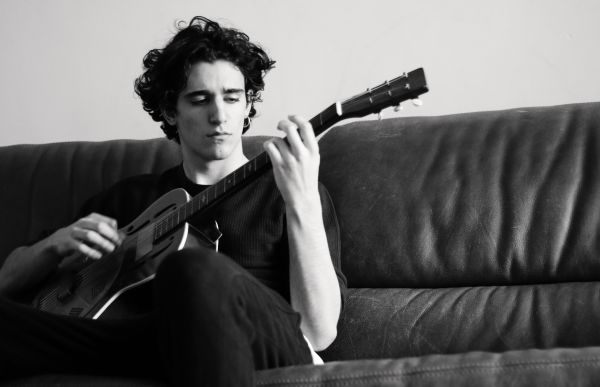 10 July 2017
Tamino; Photo Credit: Ramy Moharam Fouad
Half-Egyptian, half-Belgian, and living between those locations and Amsterdam, the talented 20 year old Tamino (short for Tamino Moharam Fouad) recently released his debut EP via Unday Records.
The firstborn son of a Flemish, anthropologist mother and an Egyptian, salesman father who met in the West-African republic of Guinee, Tamino's first artistic love was theater. The search for "alternative worlds", as Tamino describes it, also guided him towards literature,and eventually, to music.
While in high school, Tamino was a typical fourteen year old rocker, playing in punk bands. In was an adolescent phase, looking back, because at home his mother's record collection opened up his ears and mind to other, more pop- and songwriter-oriented worlds.
Near the end of high school, Tamino was inspired by Jeff Buckley and Radiohead, among other artists and acts, and he left his Antwerp suburb, moved to Amsterdam and enrolled in its music academy. He's received widespread support from the music community in Belgium and is gaining international acclaim for his debut self-titled EP which came out in early May.
Tamino possesses an impressive vocal range and his refined, impressionistic compositions captivate the ears and the mind. He took some time out of his busy schedule (which includes a slot a Belgium's largest music fest, Rock Werchter) to reveal and detail his Top 5 Inventive Music Videos. No slouch in that department, Tamino has released a mesmerizing video for the single "Cigar", which could easily fit into his list.
Also, take a listen to the haunting and riveting "Habibi", which put Tamino on the musical map:
Tamino divulges details about the background of "Cigar" and it's accompanying video:
"I think music videos can be of great extra value to a song, though when done wrong they can also ruin the natural images you get while listening to it. That's why I don't want to make a video for one of my songs if I don't have a natural concept for it of which I know it will be a good extension for the music. If done right it can create another beautiful dimension to the song."
"I wrote the song "Cigar" when I was 18 and living in Amsterdam. When writing the first lyrics, I was inspired by a painting by Van Gogh – Skull of a Skeleton. In my interpretation, the skeleton died as a man without regrets and was thinking about his days alive with a cigarette (or cigar) in his hands and a smile upon his face (who says skulls can't smile?)."
"I then made a concept for a video about a year ago: I wanted to portray a dead man obtaining the chance to live again one last night. During his temporary time alive he does whatever he pleases, just like when he was among the living."
Tamino's Top 5 Inventive Music Videos
"Blonde Fire" – The Hickey Underworld
"Absolutely love this video. It's so freaky and at times a bit disgusting but definitely fascinating. In the beginning, you don't really know what you're about to watch and slowly you're being led into something you've never seen before."
"Quand C'est?" – Stromae
"Probably one of the most beautiful, though haunting music video's ever made. It gives me chills each time I watch it. The most punctual, creepiest, and most heart-breaking symbolization of cancer there is."
"Blackstar" –
David Bowie
"Although 10 minutes I watch it fully every time. The video is full of mystery and I feel that there are a lot of hidden meanings which makes it fascinating time upon time. Actually just like the song. I also love the production design. Each setting is a different world on its own. An unbelievably majestic work of art."
"notget" – Björk
"Björk has always been an innovator and with this heart-breaking song and video, she proves it once again. It looks incredible. Also fantastic production design and costumes. Her performance is stunning as always. I have a big admiration for her because of her uncompromising art and vision."
"Roses" – dEUS
"Beautiful work from one of my favourite bands. Love the drag queen in it. If you look closely at my video of "Cigar" you might see another one… I also love how a bit of Antwerp is shown in this video. Antwerp is a big factor in Tom Barman's work as a filmmaker and there's probably nobody who brings the city as beautifully into picture as he does. Make sure to check out his movie Any Way the Wind Blows and dEUS' music video of "Instant Street" as well."
TAMINO
Official Site
Facebook
Instagram