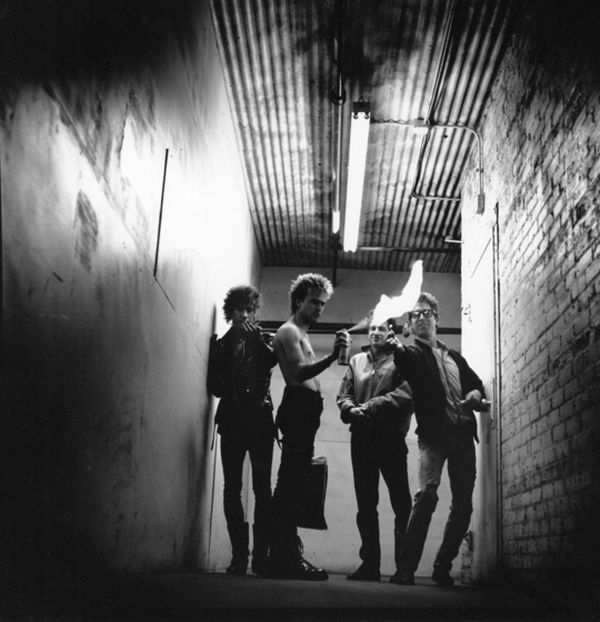 7 July 2017
Bash & Pop; Photo Credit:
BASH & POP'S DEBUT ALBUM, FRIDAY NIGHT IS KILLING ME, COMING FROM OMNIVORE RECORDINGS AS AN EXPANDED REISSUE WITH 18 BONUS TRACKS
The LP from Tommy Stinson's post- Replacements band was produced by Don Smith and features members of Tom Petty & the Heartbreakers and Wire Train, plus Greg Leisz. The reissue, due out September 8th, features liner notes from Replacements biographer Bob Mehr.
When the Replacements called it quits in 1991, founding member Tommy Stinson missed playing in a band with great chemistry and whose members all shared the same vision. He recruited then-Replacements drummer Steve Foley, Foley's brother Kevin, and Steve Brantseg to form a new band — Bash & Pop.
Recorded with producer Don Smith (Cracker, Keith Richards, John Hiatt) and with help from Heartbreakers' Benmont Tench and Mike Campbell, Americana icon Greg Leisz, Wire Train's Jeff Trott, and more, the band's debut album, Friday Night Is Killing Me, arrived in January of 1993. It combined stellar performances and a renewed energy, something many felt the last few Replacements records were missing.
The reissue of Friday Night Is Killing Me returns on the heels of this year's new Bash & Pop album and tour. (The band will be heading out with the Psychedelic Furs across the U.S. this summer and fall.) In addition to the original 11-track release, an 18-track bonus disc adds rare singles and B-sides, their contribution to the soundtrack of the 1994 film Clerks, and a whopping 15 previously unissued performances (encompassing the entire second disc). The packaging contains photos and a new essay from Bob Mehr, author of the acclaimed best-seller Trouble Boys: The True Story of the Replacements.
The reissue was produced by the Replacements' former manager Peter Jesperson and Omnivore's Grammy Award-winning Cheryl Pawelski. It was mastered by Bash & Pop bassist Justin Perkins.
While many are discovering Bash & Pop for the first time on their current tour, and via their new release, the time is right to reintroduce the record that started it all — Friday Night Is Killing Me.
Disc One:
1. Never Aim To Please
2. Hang Ups
3. Loose Ends
4. One More Time
5. Tickled To Tears
6. Nothing
7. Fast & Hard
8. Friday Night (Is Killing Me)
9. He Means It
10. Tiny Pieces
11. First Steps
Disc Two:
1. Never Aim To Please (Home Demo) *
2. First Ups (Home Demo) *
3. Hang Ups (Home Demo) *
4. Tiny Pieces (Home Demo) *
5. Situation
6. Harboring A Fugitive
7. Making Me Sick
8. Nothing (Alternate Version) *
9. One More Time (Alternate Version) *
10. He Means It (Alternate Version) *
11. Loose Ends (Alternate Version) *
12. Hang Ups (Alternate Version) *
13. Tickled To Tears (Alternate Version) *
14. Fast & Hard (Alternate Version) *
15. Friday Night (Is Killing Me) (Alternate Version) *
16. Tiny Pieces (Alternate Version) *
17. Never Aim To Please (Alternate Version) *
18. Speak Now Or Forever Hold Your Peace (Instrumental) *
*Previously Unissued
The Big Takeover is proud to premiere a previously unreleased alternate version of "Loose Ends" by Bash & Pop. Peter Jesperson, reissue producer and original Replacements A&R person/confidente, reveals, "This spirited, work-in-progress recording of one of Tommy Stinson's best written songs is a stone-cold gas. And quite different from the finished studio version. Dig the Westerberg suggested "Tie 'em up" backing vocals which, at the time of this recording, were still looking for their rightful place in the track."