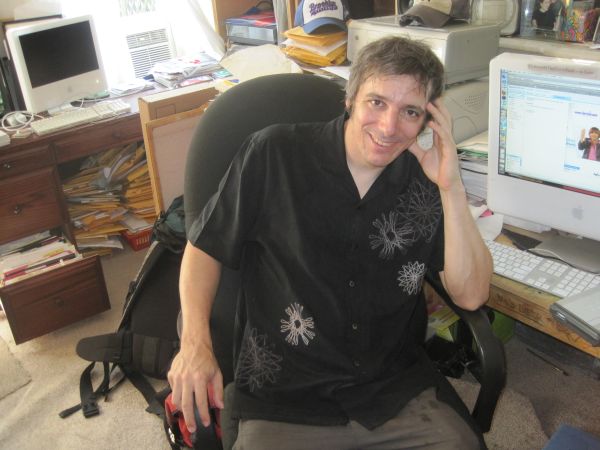 18 November 2016
Jack Rabid at his office – 2010
"This week's The Big Takeover Show – Number 95 – November 14, 2016 is a special 2016 election-themed broadcast about sadness, anger, resolve, and intelligent history. It is a special show for me, especially my opening speech about the election that goes on for five minutes, which I am hearing people are really struck by (I didn't really think that much about it before-hand; just speaking from the heart, as I do at times when something is really on my soul.) I offer it in the hopes that it might be of some help to those still reeling from last week's travesty/debacle/horror/farce/bitter taste."
- Jack Rabid
This week, a post-Election 2016 theme special: new Lou Barlow, Rikk Agnew, La Historia, Deniz Tek, and Brothers in Yarn, plus Bee Gees, Jerry Lee Lewis, Bob Dylan, Phil Ochs, The Clash, Woody Guthrie, and more!!
The Big Takeover Show – Number 95 – November 14, 2016
PLAYLIST:
DJ Jack Rabid
The Bee Gees – Odessa (Odessa) 1969
Lou Barlow – Apocalypse Fetish (Apocylype Fetish EP) brand new
Brothers in Yarn – The Mind's Editorial (Volume I EP) new
R.E.M. – Exhuming McCarthy (Document) 1987
Deniz Tek – They Can't Take That Away (Mean Old Twister) brand new
The Clash – White Riot (single) 1977
DJ Jack Rabid
College Humor – You're a Mean One, Mr. Trump (Dr. Seuss parody song)
Billy Bragg – Help Save the Youth of America (Talking to the Taxman About Poetry) 1986
D.O.A. – Not Gonna Take Your Crap Anymore (Hard Rain Falling) 2015
New Model Army – Another Imperial Day (live) (December 16th 2006, Palladium, Köln, Germany)
The Neurotics – The Winds of Change (Is Your Washroom Breeding Bolsheviks?) 1988
La Historia – Almost All We Have (Low Mimetic)
DJ Jack Rabid
The Subhumans (Canada) – Look at the Dawn (Death Was Too Kind) recorded 1980, released 2008
Bob Dylan – The Death of Emmett Till (The Bootleg Series, Vol. 9; The Witmark Demos: 1962-1964) recorded 1962, released 2010
Dot Dash – Dance on Broken Glass (Searchlights) new
Jerry Lee Lewis – Big Boss Man (Memphis Beat) 1966
Rikk Agnew Band – Learn (Learn.) brand new
The Lone Bellow – For What It's Worth (acoustic) 2013
DJ Jack Rabid
Bad Religion – Flat Earth Society (Against the Grain) 1990
The Damned – Democracy (Grave Disorder) 2001
Killing Joke – Democracy (Democracy) 1996
Phil Ochs – The Ringing of Revolution (live) (Phil Ochs in Concert) 1966
Art Bergmann – Ballad of a Crooked Man (Songs For the Underclass EP) 2014
Woody Guthrie – All You Fascists Bound to Lose (radio broadcast) probably 1944
DJ Jack Rabid
Woody Guthrie – This Land is Your Land (The Asch Recordings, Vol. 1) 1944
IMPORTANT NOTE:
Our show is 100% listener supported! Hurrah! Jack and The Big Takeover would like to thank and acknowledge our show's patron sponsors to date via Patreon.com! (If you would like to join them—which we would greatly appreciate, as not only is our show entirely listener sponsored, such funding GREATLY helps subsidize Big Takeover magazine as well—you can easily do that at patreon.com/jackrabid):
AND THANKS TO ALL OUR PATREON.COM PATRON SPONSORS! YOU ALL MAKE THIS SHOW POSSIBLE, AND IT HELPS THE MAG'S CONTINUED EXISTENCE AS WELL!
Adam (just Adam!), Dana Alioto, Eric Altesleban, David Altman, Brent Appleton, Jorge Arteaga, Dan Ballek, Greg Bartalos, Matthew Berlyant, Jamie Berry, Michael Betmanis, David Bivins, Matthew Bokovoy, Sumishta Brahm, Ken Brandell, Robert Brichetto, James Broscheid, Gene Brown, Tom Carr, Hewson Chen, Marco Costa, Karen Cruz, Terry Cuddy, Nick DiCarlo, Jason Dougherty, Ron Evans, Laura Ann Feathers, Drew Forsberg, Brian Foehl, Russ Forster, Tom Green, Robert Greenfield, Wayne Guskind, Katie Haley, Chieko Hashimoto, Lorraine Henriques, David Hornish, Kim Kaliszewski, Tommy Kehoe, Kevin Lane Keller, Jeffrey Kelson, Brendan Kiernan, Elizabeth Klisiewicz, Chris Krobath, Richard Kronenberg, Matt Levine, Ross Levine, Tim Lidster, Ed Lin, Kevin Linehan, Jason Loeb, CJ Marsicano, Jeff Martin, Brendon Macareag, Jim Moore, Walter Neel, David S. Nicholas, John Norris, Dytmar Öltner, Robin Mac Quarrie, Robert Rainey, Mark & Wendy Redfern, Bill Roberts, David Steinhart, Mike Stevenson, Marshall Stover, David Troia, David Tuetken, Stephanie Vezina & Philippe St-Laurent, Brian Wall, Alan Wasem, Gordon Weiss, Craig Williams, Jeremy Winter, and Lenny Zenith—as well as Chuck Barry, Christopher Brown, John Ekeberg, Jim Rauh, and Jeff Wright for their kind donations straight to us.
Cheers, folks! I mean it!