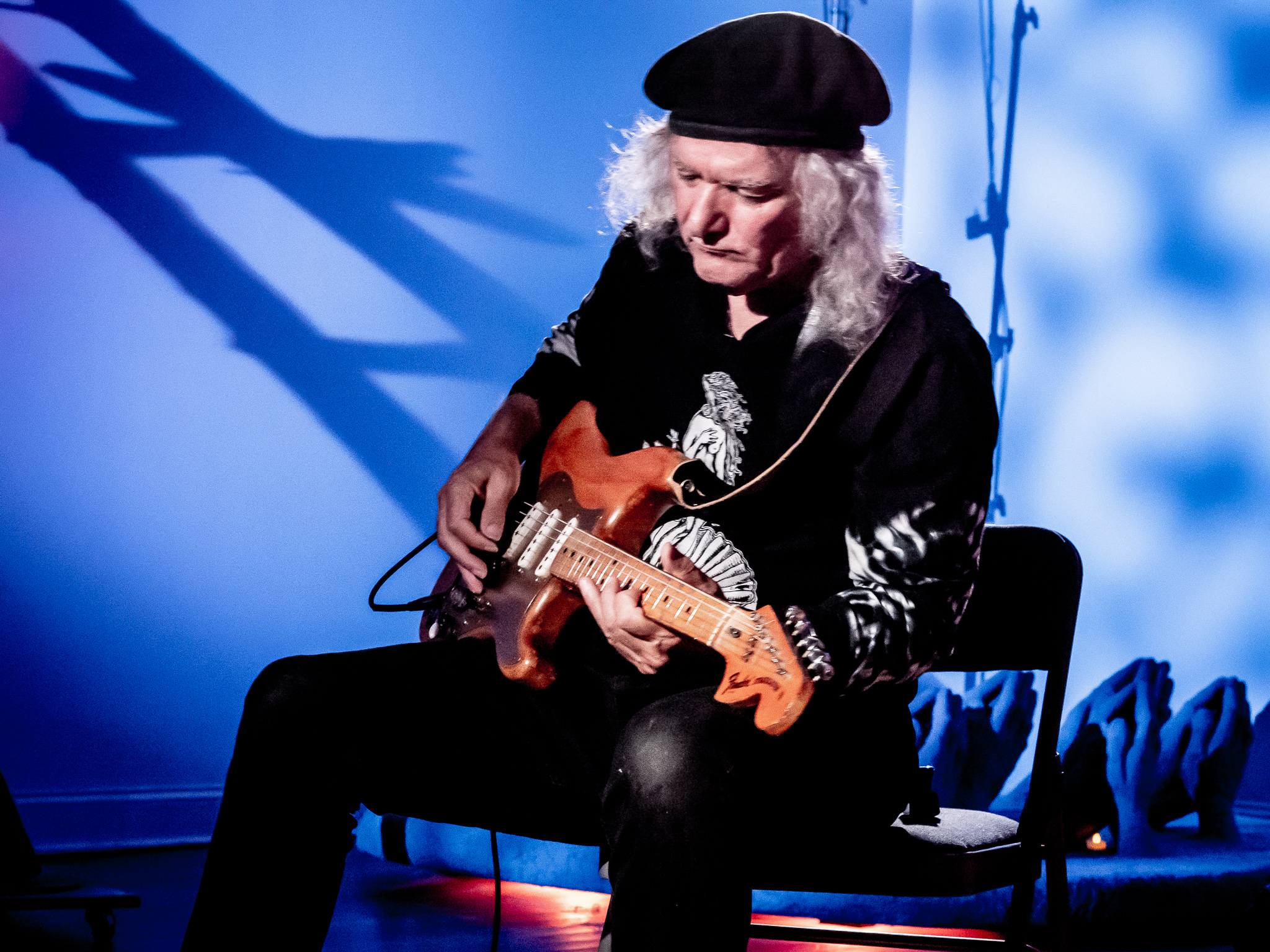 29 January 2023
Photo Credit: Tracy Yarad
Spaghetti Eastern Music, the solo venture of genre-leaping NYC/Hudson Valley guitarist Sal Cataldi, is returning to the instrumental mode with the release of a new single "A Fresh Kill."
Critics from prestige outlets like The New York Times and Big Takeover have heaped praise on Cataldi's work since his debut album under the Spaghetti Eastern Music moniker, Sketches of Spam. This was a 16-track, 69-minute surf through a slew of contrasting moods. It's largely guitar-driven instrumentals were inspired by the acid funk of 70's Miles, Krautrock, Ennio Morricone's Spaghetti Western movie soundtracks as well as Fripp & Eno ambience and the sound of ECM guitar god Terje Rypdal. These contrasted bare-bones acoustic vocal songs reflective of the influence of exploratory Brit folker John Martyn. The discs' acoustic titles included originals like "Wild One" and "Mama Called," a cover of the Zappa instrumental rarity "Sleep Dirt" and a DADGAD-tuned, ballad paced reinvention of the Beatles' "Ticket to Ride," one that garnered airplay on SiriusXM, WFUV's "Mixed Bag," WFMU, Radio Woodstock and many others.
The new single is a dramatic departure from Spaghetti Eastern's latest releases, the stripped-down, all-acoustic ballad, "I Believe in Love," and nine-minute-plus ambient/electronica opus, "Blues for A Lost Cosmonaut. "A Fresh Kill" is a 360-departure from the above, a deeply atmospheric mellow blues that fuses dreamy washes of electronics, gut bucket beats and blistering acoustic guitar runs. It kicks off with a flamenco-inspired acoustic lead riff before heading into a funky modal blues meander, one dressed in impressionistic synths and percussive clavinet. It's the perfect back drop for the guitarist's bluesy, jazzy acoustic extrapolations. It is being released along with a more heavy metal-infused track, "A Scanner Darkly." The tune is a preview of Spaghetti Eastern's forthcoming all-instrumental album, "From Our Labs to Your Lobes V.1" They were recorded by Cataldi at his studios in Woodstock, N.Y. and a floating one aboard his houseboat, The Garlic Knot, in Port Washington, N.Y.
In 2020, Cataldi followed his debut album with a trio of acclaimed atmospheric singles, "Her Lemon Peel Raincoat – Because It's Raining," "Peace Within" and "And This is Their New Hoax," a COVID-19 musical editorial featuring samples of President Trump's most noted denials to Cataldi's soundpainting guitars and synths. In 2021, he released "Blues for A Lost Cosmonaut," a much-praised nine-minute plus maxi single, again in the ambient mode and "Solo Guitar Score for 2×2×4." The latter EP is the soundtrack for a dance piece recorded live at the Avant-Garde Arama Festival in Woodstock inspired by his work with the guitar orchestra of Rhys Chatham and his love of Fripp and "White Light, White Heat"-era Velvet Underground. Chronogram Magazine called it "cool, melodic, inspired and transcendent, a wave of sonic warmth and light while Psychedelic Baby Magazine labeled it "the perfect sonic tonic for these trouble times." In June 2020, Cataldi returned to the acoustic singer-songwriter mode with the single, "I Believe in Love," which received significant critical praise and airplay, including promotion as song of the day by a NY artist, a "New York Slice" on WFUV-FM.
Cataldi also made more beautiful sounds with "One Act Sonix," the critically-buzzed about 2020 debut album from his spoken word/music side project, The Vapor Vespers, with noted Alaskan playwright/slam poet Mark Muro. The duo recently followed this up with two new singles in early 2022, "Sex" and "You Changed." Cataldi is also one half of the improvisational and ambient Hudson Valley-based guitar and efx duo, Guitars A Go Go, with Rick Warren. Their first single, a 12-minute improv opus called "The Volcano Lovers," was a preview of the bold experimentation featured in their June 2020 CD debut, "Travel Advisory."