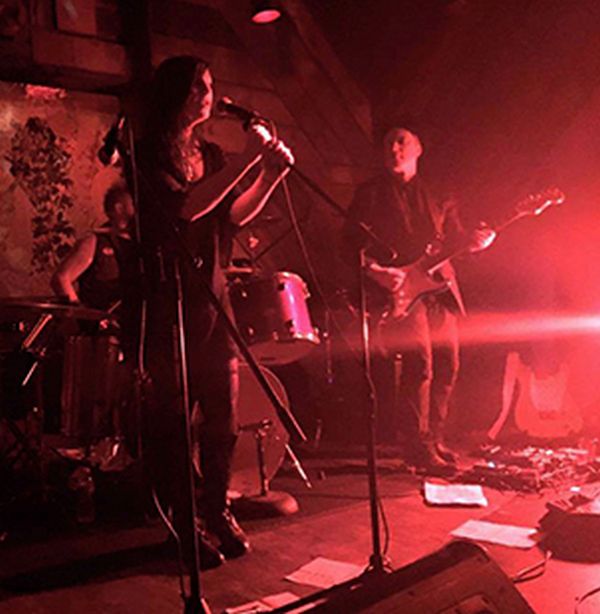 3 August 2017
68Creep live; Photo Credit: Dana Mac<small.
Today The Big Takeover introduces you to "Black Cat", the first single from 68creep's forthcoming debut album, Goodnight, Sweet Betty, the name derived from a quote from David Lynch's film Mulholland Drive. The full-length follows up their debut EP, The Rumors Are True.
"Black Cat' is a slow-paced track that immediately gets under your skin and features perfectly haunting vocals. Like the soundtrack to an opium-induced trip through a kaleidoscope, the tune has also been described as "murder at midnight!".
Comprised of seven tracks, the album is slated for release on September 22 via the (KISS/KILL/REPEAT* label. It also features mixes of "Welcome to My Nightmare" (Alice Cooper) and "Halloween" (Dead Kennedys), as well as "I Put a Spell on You" (Screamin' Jay Hawkins).
Like the album's namesake, Mulholland Drive, this release promises more of the same heavy, ethereally weird beauty and slightly tongue-in-cheek qualities that have become the band's hallmark. This track should go over really well with fans of David Lynch-protégé Chrysta Bell (a.k.a. Secret Agent Tammy Preston in the new season of Twin Peaks).
Based in Brooklyn, 68Creep is a Lynchian dark alternative outfit verging on the edge of stoner rock. At the center of this music is John McRandle's big, earth-moving baritone guitar, capable of churning out a song's sludgy riff, or sparsely sprinkling it with a chilly melody. Drummer (and also the band's founder) Patrick Casey leans into his work, riding his toms taiko-style, while still giving even the heaviest of grooves a good hard swing. Colyn Hunt anchors the foundation with deep-down in-the-pocket grooves and a taste for airy, melodic runs. Riding on top of the instrumental swell is Kimberly Seewald's vocals. They wail and soar, hitting the listener hard, but every so often, comfort and console.
"This album wouldn't have sounded like this if it wasn't written in New York," says Patrick Casey. "We are always talking about how a relationship with New York is love/hate. And it's a real relationship. This environment is gonna seep into your songs, like an ex lover might slip into a dream. Whether you want them there or not."
Goodnight, Sweet Betty is already available for pre-order via the band's own Bandcamp
TRACKLIST
1. Stone Cold Kiss
2. Black Cat
3. Welcome to my Nightmare/Halloween
4. Birthday
5. I Put a Spell on You
6. Sarina Said
7. Watch You Fall
68CREEP
Official Site
Facebook
SoundCloud
Instagram
Bandcamp
Spotify