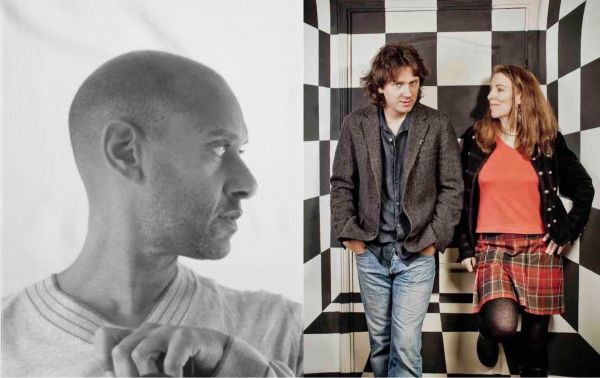 20 December 2016
Ummagma + A.R.Kane; Photo Credits: Rudy Tambala and Oleksandra Kostiv
Music, like fashion, is quite a cyclical beast. While it is clear that there is a massive resurgence of the shoegaze genre (many would argue that it has become much more popular and certainly more international of a phenomenon than occurred in the early 90s when it emerged), most people haven't a clue about its origins. If we look back to the genre's progenitors, we will find British outfit A.R.Kane among the key sources of the elements that gave rise to this dreamy, feedback-drenched, and sometimes even squelching-psych trademark sound.
In The Guardian article AR Kane: how to invent shoegaze without really trying, Rob Fitzpatrick says calls their work "some of the '80s most extraordinary music". In its turn, AllMusic describes A.R.Kane as "the most criminally under-recognized band of their era", forming the basis for numerous 'alternative' musical genres that followed. Apart from shoegaze, these included trip- hop, acid house, and post-rock. Widely recognized as one of the most influential bands of their era, they number among the key inspirations for such artists as My Bloody Valentine, Slowdive, The Veldt , Seefeel, Dubstar, and Andrew Weatherall.
Needless to say, we're please to premiere the first new music A.R.Kane has released since the New Clear Child album in 1994. Considering their legacy, which dates back to the '80s, A.R.Kane has collaborated with a relative newcomer on the dreampop scene – Ummagma . This Canadian-Ukrainian duo, comprised of Shauna McLarnon and Alexander Kretov, is no stranger to us here and we've followed their development over their past few releases, as well as their migration to Canada from a war-torn Ukraine.
These two dream-pop visionaries have teamed up to release a dreamy single "Winter Tale". In the holiday spirit, this release is being offered as a gift to listeners. What a terrific blend of minds and sounds. Both the original and the two remix versions from A.R.Kane are charming, sparkling, and superb.
"Music as a medium is infinitely expansive. It is so hard to capture the essence of it, in words," says Rudy Tambala of A.R. Kane. "I rarely listen to new music now, I am disappointed continuously by the controlled, bland, premeditated arrogance and vanity of the generation Facebook music that is oozing out of the web. I am inspired by my family and the few people that I would call my friends, especially those that continuously prove me wrong, to try to make a difference and kick against the pricks, against ignorance, stupidity, violence and bigotry, against blandness. Those for creativity. Those that understand that love is all you need, and embody this in everyday actions, when they are able."
When Ummagma released the Robin Guthrie remix of their track "Lama" last year on their Frequency EP , we were pretty enthralled. Today, we are no less impressed – here Rudy Tambala of A.R.Kane adds a 'live' effect on his remix, seemingly bringing us into his studio, rather than the mixing board, with raw feedback sound and dreamy launch-pad (and kickback to the band's classic 69, as suggested even by the title 'Mix 69 Style'). This fabulous reverie has a wonderful sense of spaciousness, timelessness to please those prone to daydreaming.
We recommend you catch a few other videos in support of Ummagma's release below.
UMMAGMA
Website
Facebook
Twitter
YouTube
Soundcloud
A.R.KANE
Website
Facebook
Twitter
Soundcloud
comments powered by