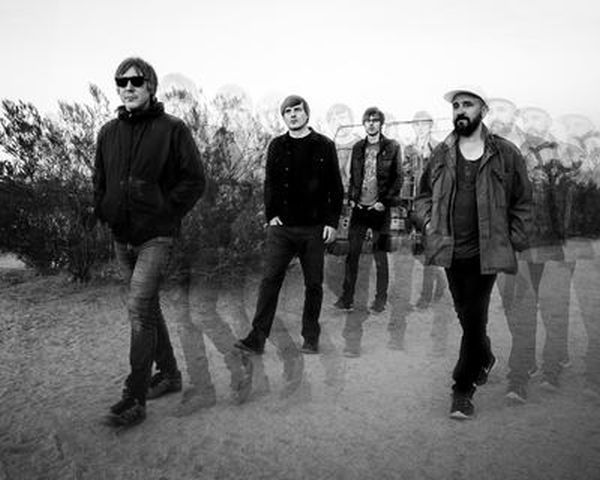 27 June 2018
Film School – Photo Credit: Howard Wise
Fervent favorites of The Big Takeover, psych-rock/shoegaze band Film School return with their first new album in 8 years and share the track "Go Low" with us today. The LP, titled Bright To Death, will be released on September 14th via Hauskat Records and live shows are planned for the fall as well.
Bright to Death is Film School's fifth album and first full-length since 2010's Fission. Recorded over 8 days in November 2017 on the outskirts of Joshua Tree, this luminescent collection of 11 songs is the finest showcase yet for the band's signature layered sonic tones, psychedelic atmospheres, and seductive melodies.
The album gets its title from some text on an artwork singer and guitarist Greg Bertens had seen as part of an exhibit by Chinese students on the topic of global warming. "When this lineup first came together in the early 2000s, I never thought we'd be doing some of our best work 15 or so years later," marvels Bertens.
"Go Low" is another slow-burning gem that unhurriedly builds up to a stormier ending. Bertens' shadowy, drawn out vocals hazily drape over the laid-back drum pace while sparkling guitar chime, starry synths notes, and cymbals shimmer add a brighter sheen. As the instrumentation swells in intensity, a searing guitar line soars through the effervescence adding a hot rock kick to the dreamy atmosphere.
Bertens reveals details about "Go Low", stating, "Lyrically this song was inspired by the Officer K character in Blade Runner 2049. It's about self-realization and where you go with that knowledge. To me the song's murky tones align with the messy process of personal transformation."
Bassist Justin Labo adds, ""Go Low" started as a couple of short distorted atonal loops played on a Moog. It was something that I had around for awhile, but it didn't really take off until we worked on it together in Joshua Tree. Greg's vocals gave it a melodic hook and structure. Nyles flew in a saturated, octave fuzz noise guitar line that really elevated the whole track."
"Go Low" at Spotify