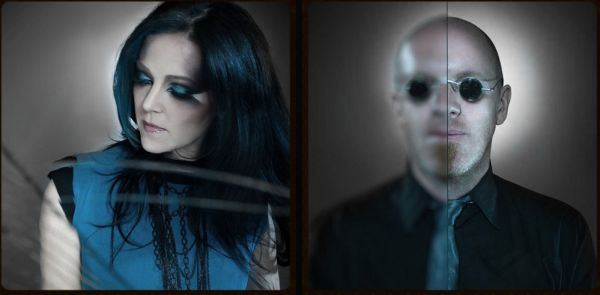 21 May 2018
KaRIN and Statik of Collide; Photo courtesy of Collide
Collide is the totally independent, DIY creation of KaRIN (vocals, lyrics) and Statik (sonics, production) that emerged in 1992 and has been going strong with many indie record releases through the years. The Los Angeles-based duo is formed of two opposing entities who exist as a symbiotic whole, combining the female and masculine energies, the cognitive and the subliminal, the strength and the mystery.
To date, Collide has released eleven full length records and a DVD, including a collaborative project named The Secret Meeting with Dean Garcia (Curve, SPC ECO, S T F U). KaRIN and Statik are now on the cusp of unveiling their latest atmospheric opus, a double album titled Mind & Matter, which comes out May 22nd.
This LP is packed with remixes with a focus on songs from the Collide album Color of Nothing. Included in this 29-song release are two new, unreleased cover songs: (Yaz's "Winter Kills" and a mesmerizing reimagining of John Lennon's classic "Imagine"), as well as a brand new, unreleased original Collide song, the captivating "Holding Back", which The Big Takeover has the pleasure of premiering here. As always, KaRIN's mysterious and ethereal vocals beguile in contrast to Statik's more ominous and bracing sonic embrace.
Special guest remixers on Mind & Matter include Bret from Blue Stahli and Jason Slater from Snake River Conspiracy, as well as Kevin Kipnis from Purr Machine and Wade Alin from The Atomica Project / Christ Analogue.
Other remixers include Alien Nation, BIINDS, Blue Sky Alive, D' MacKinnon, Digital Gnosis, Giant Monsters on the Horizon, Modern Vultures, Jason Yates, Katarrhaktes, LGVela, Maria Lui, Nathan Charlson: Milkfixer, Pappy (a.k.a. Throe), Rale Daver, Rick Moore, The Boundless, The Stitchlings, Tkivo, Vladan Hranisavljevic, The Wave and the Particle, and Zero Meaning.
The Collide PledgeMusic campaign is wrapping up, but there's still time to contribute in order to get exclusive material, so check it out and spread the word.
Website
Facebook
Twitter
Instagram