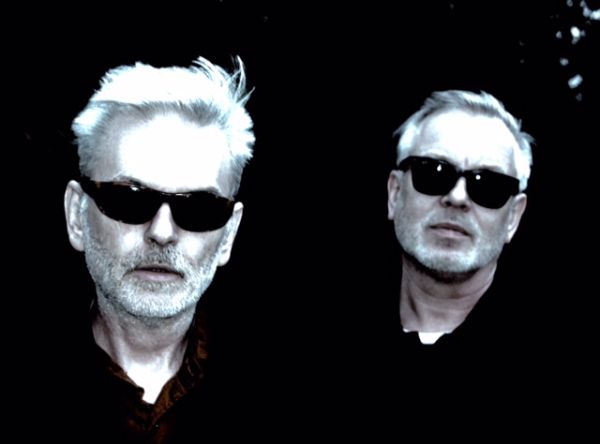 3 April 2018
The Room in the Woods; Photo Credit: Yvonne Marsden
Today The Big Takeover has the pleasure of premiering "Magical Thinking", the lead track from the forthcoming EP by the same name by British duo The Room in the Wood.
This release is the work of long-time Liverpool sonic veterans Paul Cavanagh and Dave Jackson, whose post-punk band The Room split back in 1985 – now the two have come together again as The Room in the Wood, with the two writing several dozen songs in the past year alone. The first three shall be offered on this Magical Thinking EP, to be released via German label A Turntable Friend Records.
"Magical Thinking" is a candid and catchy tune that occupies a mysterious can't-put-my-finger-on-it territory, somewhere between Wall of Voodoo's Stan Ridgway, The Fall and more folk-pop territory with The Doors also a likely deeper influence. A fine listen and a fine start on their new trajectory.
This first batch of songs combine Jackson's lyrical storytelling with Cavanagh's exquisite guitar-stylings and make for a diverse collection that blends post-punk pop, gritty blues-folk, and velvety ballads, variously influenced by Russian fairy tales, Francis Bacon, dead oceans, swimming pool bridges, and unanswered prayers. This EP will be followed by an 11-track album, to be released later this spring on vinyl, CD, and digitally.
The Room in the Wood was recorded with Steve Powell (Michael Head & the Red Elastic Band) at his Liverpool Arc studio and features contributions by drummers Colin George Lamont (Mark Lanegan, Dave Gahan) and Jake Woodward (Peter Perrett).
Dave Jackson has many years as a vocalist and lyricist, having written and recorded since his teens in bands such as 051, The Room, Benny Profane, Dust, Dead Cowboys, under his own name with former Shack guitarist John Head, and as Dave Jackson & The Cathedral Mountaineers. He has recorded and released 10 albums with these various incarnations and, during the eighties, notched up seven John Peel sessions with The Room and Benny Profane, in addition to appearing on the Whistle Test, Janice Long, and Saturday Live.
Jackson has also toured extensively in the UK, Europe, and the USA with bands such as The Fall, The Violent Femmes, Aztec Camera, The Lemonheads and The Wedding Present. He currently teaches creative writing at Liverpool John Moores University, having developed his novel Violet City as a low-budget fantasy feature film.
Guitarist Paul Cavanagh has played with Chinese Religion, The Balcony, Ludus, The Room, Top, It's Immaterial, Gloss and Moongoose. He has performed as a solo instrumentalist as Cabin in the Woods and as one of Mike Badger's Shady Trio. Paul also worked with former Room drummer Alan Wills at Deltasonic Records, with acts such as The Coral and The Zutons, as well as managing The Basement. Paul has toured in the UK, USA, and Europe and recorded four John Peel sessions as well as releasing albums with The Room, Top, It's Immaterial, Moongoose, in addition to several critically acclaimed singles with Gloss.
As The Room in The Wood, Jackson and Cavanagh's music is Influenced by Leonard Cohen, David Bowie, Bert Jansch, The Velvet Underground, The Fall, Roxy Music, Johnny Cash, Television, David Lynch Films, Tom Waits, Patti Smith, Bob Dylan, Brian Eno, Hank Williams, Suicide, Scott Walker, and Neu!
A Turntable Friend Records is a truly independent record label of the past (1990-1999) and the future (2017-x), currently in its second life. Based in Germany with distribution through Rough Trade, their mission is to keep vinyl alive while casting light on sonic gems of yesteryear and today. 1990s peers of Sarah Records and Slumberland Records but far from copying their style, ATF Records always had their own musical identity, allowing for a roster as diverse as Secret Shine, Boyracer (with Even As We Speak), The Claim, The Ropers, the Hellfire Sermons, and Lorelei.
In mid-April, The Room in The Wood's Magical Thinking will be available exclusively as a digital download only. We recommend you get it directly from the label's Bandcamp and checking out their other artists while you are there – their most recent offerings come from bands Bradford, Easy, and Dose.
TRACK LIST
1. Magical Thinking
2. Baba Yaga
3. Dragonfly
CREDITS
Paul Cavanagh – guitars & bass
Dave Jackson – vocals
Colin George Lamont – Drums & percussion
Alistair Ligertwood – cello (2)
Steve Powell – engineer, co-producer
Recorded at Ark Recording Studios, 3 Birchall Street, Liverpool, L20 8PD (2017/18)
All songs written by Paul Cavanagh / Dave Jackson
The Room in the Wood
Facebook
SoundCloud
Twitter
A Turntable Friend
Facebook
Bandcamp
Website
SoundCloud
YouTube
Twitter