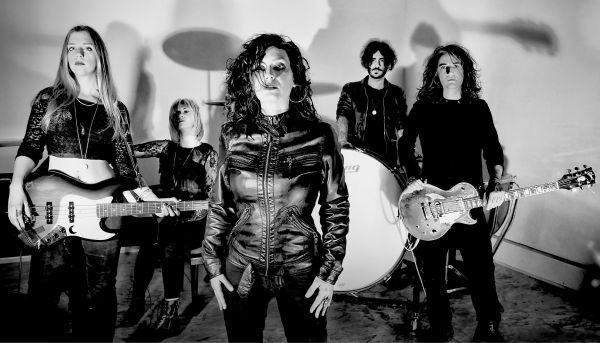 23 November 2017
Belladonna; Photo Credit: Lucilla Le Donne
Italian quintet Belladonna is among a rare breed of bands whose singular nature has enraptured and inspired fans all over the world. Formed by songwriters Luana Caraffa and Dani Macchi, Belladonna is powered by a melodramatic, emotionally-charged brand of rock 'n roll that they've dubbed "Rock Noir." The band's self-produced, debut album Metaphysical Attraction (2006) turned the band into an overnight sensation, racking up over 1 million streams on its Myspace page and received acclaim from the Italian editions of Rolling Stone and GQ. Since then, they've had their music synced in international TV spots for major films like Split, My Cousin Rachel, The Dark Tower, and Black Panther.
Over the course of their career, Belladonna has shared the stage with luminaries like Siouxsie & The Banshees and Dita von Teese, and has even appeared at the SXSW in 2010. Belladonna were invited to perform as special guests with Nine Inch Nails and Mars Volta in Italy on the strength of the relentless first single off its second album, The Noir Album's "Till Death Do Us Part."
Belladonna's sound began to evolve towards a more cinematic aesthetic over the course of the next two albums, which included projects with several notable classical composers. They collaborated with renowned English composer Michael Nyman on the single "Let There Be Light," which was based on music from Nyman's soundtrack for the Academy Award-winning movie, The Piano.
The band once again blurred the line between the rock and classical world with last year's The Orchestral Album, where they completely rearranged 10 songs from the Belladonna catalog in a more film-like direction. They recorded the album with guitarist Dani Macchi co-producing alongside Kazakhstani arranger/conductor Angelina Yershova, who led an orchestra that featured many of the legendary Ennio Morricone's regular orchestral players.
Belladonna is currently in the studio recording the follow up to their fourth album, Shooting Dice With God, which is expected to be released in 2018.
The Big Takeover is pleased to premiere the darkly menacing and dynamically emotive lead single "Spiders of Gomorrah", which is set to be featured in the trailer for the new Netflix series Godless.