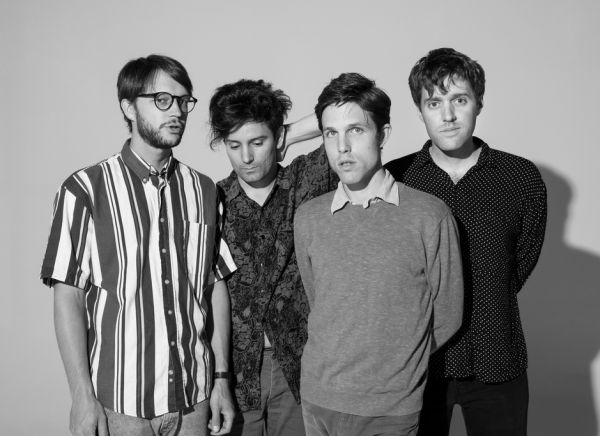 24 August 2017
Small Reactions; Photo Credit: Michael Morales
Atlanta, Georgia-based nerve pop band Small Reactions released their second album, RXN_002, on August 4th. Noise and melody, volatility and composure, pop music and anything but. Following their debut, Similar Phantoms, and a collection of 7"s, EPs, and mixtapes, this album is their most successful, realized version of "noise pop" to date.
Small Reactions spent the last several years paring down their music to the most essential elements. By focusing on basic instrumentation, simple structures, and few musical cues besides "loud" and "fast," songs were easily driven to the tipping point, off the rails and towards destruction. RXN_002 assesses the wreckage, puts the pieces back together, and starts the journey where the band left off, to the darker recesses of human experience. Noisy guitars, relentless drums, and hypnotic, melodic bass are all intact, but the tools for exploration have expanded. The sound is less monolithic and more nuanced and complex.
"Cowboy Up," the closing track on RXN_002, reflects a specific moment in the band's history. Written during an especially cold practice in November 2013, the song was titled from a rallying cry given in the basement of The Cottage, the band's house, studio, and DIY show space. "The house was old and drafty and never had central heat. It was stone and generally felt 15 degrees colder inside that basement than it felt outside even," explains Sean Zearfoss, the band's drummer. "We always complained about it, but we had no choice. Despite three space heaters running all the time, it never got warm."
"Cowboy Up" was the joke the band told one another to suck it up that night. The improv for the day, fast, loud, and relentless, was the band's physical attempt to stay warm. The title and the song stuck, complementing one another to a grand conclusion. There is a purpose to the song – it's mental, emotional release, but it's also physical necessity.
Lyrically, the track reflects upon faux masculinity, the idea of posturing as "leader," "dominate force," or even "hero" in any situation despite clear or subconscious resistance to those roles. The band's initial command, originally given in jest, is used to call out male stereotypes.
For the "Cowboy Up" video which The Big Takeover premieres here, director Justin Newton brings that idea to life, first, by physically setting the story in a saloon rife with a card game, guns, live music, and a brawl – the song is called "Cowboy Up," after all. Then he pushes this idea further by personifying the song's narrator as a hapless rambler who lives by a misguided attempt at playing alpha male. Ultimately, Newton's video represents everything that can go wrong by following gender roles headlong with reckless abandon. The pink, fogged saloon gave a warning that wasn't heeded.
Bandcamp
Facebook
Instagram
SoundCloud
Twitter
YouTube