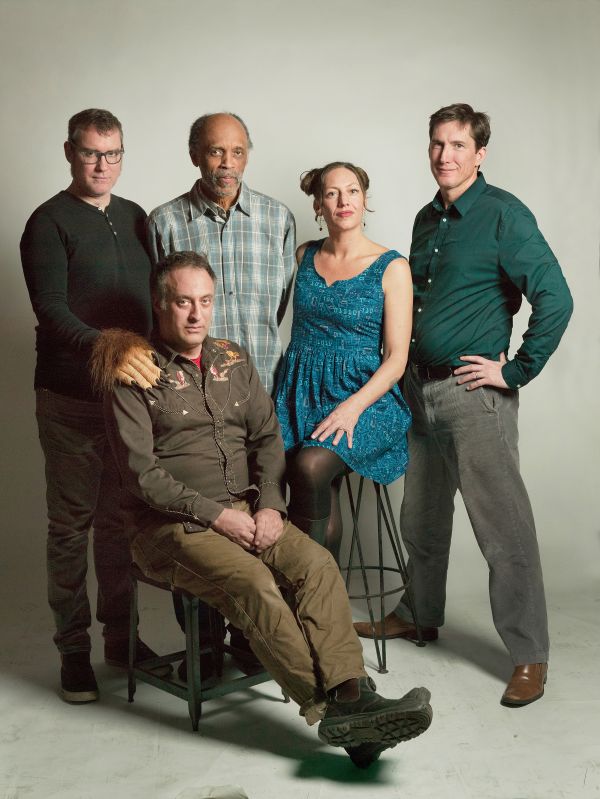 23 August 2017
OHMSLICE; Photo Credit: Brennan Cavanaugh
New York-based Ω▽(OHMSLICE) formed around multi-instrumentalist and instrument inventor Bradford Reed (King Missile III, creator of the electric board zither he calls the "pencilina"). OHMSLICE's music is based upon Reed's experiments in processing percussion through a modular synth.
Layered over a sonic framework of double-drummed syncopated rhythms and analog pulses and drones are the sultry vocals and driving, often abstract lyrics of poet Jane LeCroy (Sister Spit, Poetry Brothel). Joined by a rotating crew of collaborators including Josh Matthews (Drumhead, Blue Man Group) on drums, the legendary and prolific Daniel Carter (Thurston Moore, Yo La Tengo) on trumpet and saxophones, and Bill Bronson (Swans, The Spitters, The Gunga Den, Congo Norvell) on guitar.
The collaborative act's debut album, Conduit, will see release on September 8th via Imaginator Records. The album was recorded at Ft.Lb Studios in Brooklyn and was produced by Reed. The album, which was recorded live over a two-year period, combines formal structures and heavy grooves with a sonic meditation on the nature of human-electronic improvisation.
Conduit is an organized documentation of spontaneous creation and exploration and moves from the fuzzed-out psychedelia to meditative ambient cycles and beyond. Within this realm, the listener is meticulously guided through beautiful harmonic and rhythmic phase mosaics and held captive by an innovative and violently unquantized approach to groove-based electronic music. Combined with LeCroy's visionary mixture of philosophy, reflection, language, and song, Conduit illuminates a path to a rare and alluring space that reveals endless layers with each new listen.
The Big Takeover premieres the spooky, disorienting video for "Snow" which features black 'n' white footage of wintry, nocturnal urban spaces, sometimes in split-screen. The protagonist holding the video recorder marches through the snow, cast in shadows as the disquieting sonics similarly creep through the stark atmosphere. LeCroy's spoken word vocals hover eerily over the proceedings which come off like an ominous Blair Witch -like film clip.