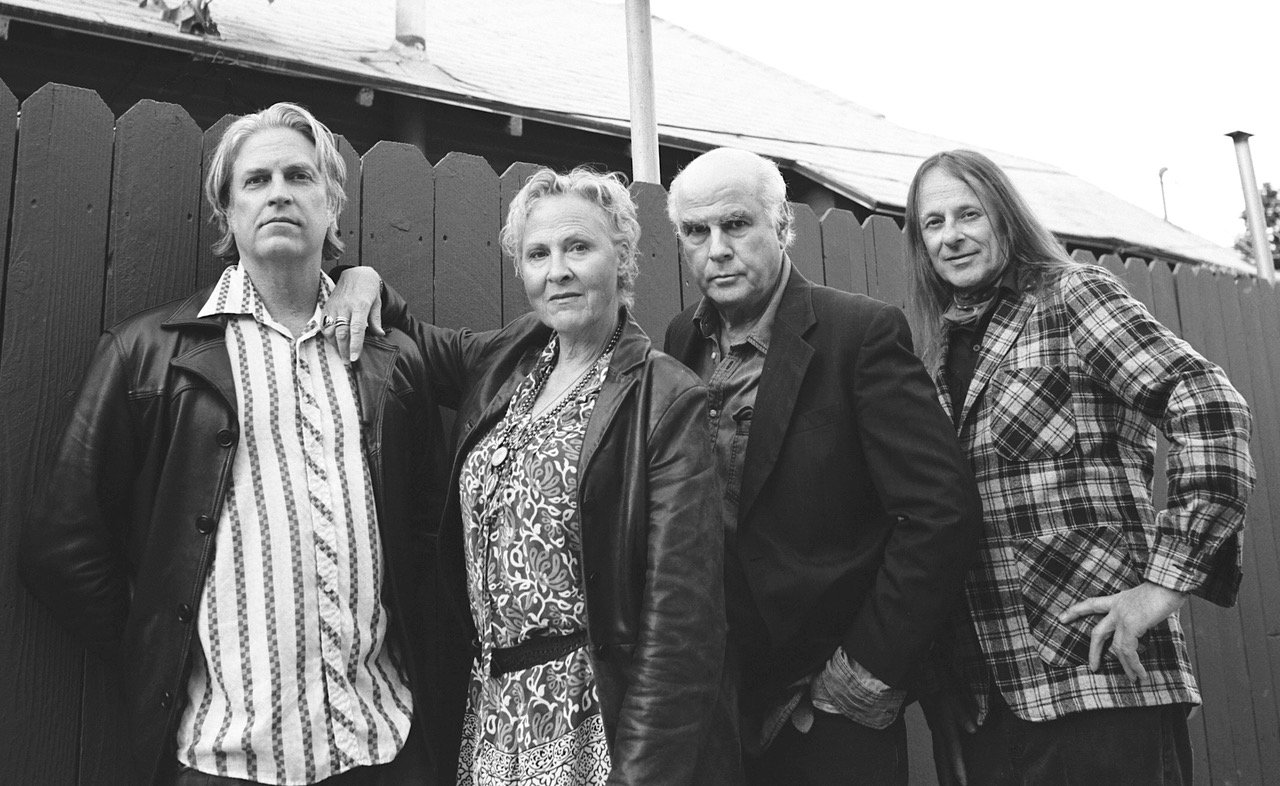 16 October 2023
Today, The Big Takeover is premiering the latest video from legendary LA band Divine Horsemen, "Dirty Like an Angel" from new album Bitter End of a Sweet Night (In The Red Records) set for release next week on Friday October 27 – just in time for Halloween! Directed by independent filmmaker Dave Markey (1991: The Year Punk Broke (1992), My Career As A Jerk (2012). Dave has also directed music videos for Redd Kross, Sonic Youth, Bob Mould, Meat Puppets, The Flesh Eaters. The Muffs, The Black Lips, Black Flag, Pat Smear, & Mudhoney amongst others.
The Divine Horsemen's new 16-track collection features the band's co-founding members, singers-songwriters Chris Desjardins (better known as Chris D.) and Julie Christensen, and the core members of the ferocious Hot Rise band — guitarist/co-writer Peter Andrus (a member of the group's late-'80s lineup), bassist Bobby Permanent and X's nonpareil drummer DJ Bonebrake (who won't be doing 'live' dates). The sound is filled out by Green On Red and Dream Syndicate keyboardist Chris Cacavas (who appeared on the 1984 Chris D./Divine Horsemen album Time Stands Still) and classically trained violinist Elizabeth Wilson (Elizabeth is not on the "Dirty Like an Angel" track.) Desjardins produced the album.
Chris D. explains the genesis of the production: "Though last in line, the 'Dirty Like an Angel' video was the first one of the three that we're releasing where a full-blown concept emerged in my imagination for the imagery of the piece. I brought in filmmaker David Markey and his team to execute my vision. I've known Dave for some time. He is a seasoned veteran going back to the 1980s in the music video and filmmaking arena. Dave and editor/cameraman Antony Berrios also shot and edited the video for The Flesh Eaters' song 'Miss Muerte' from the I Used to be Pretty album on Yep Roc Records in 2019.
"For the 'Dirty Like an Angel' video, I personally pulled together the non-band clips used, and I shot the 'fake-head-in-the-bucket' and 'the burning letter' footage. I used 3 collages ( or 'modtages' as she calls them) by Mavis Martini. And to top it off, I borrowed some fantastic Austin, TX lightning storm footage shot by Lisa Pankratz (long time drummer for Dave Alvin and other bands). Then Dave Markey and Antony shot all the band performance stuff, working their magic, and edited everything together. We got a great location to shoot the band, using a studio/storefront belonging to Cathy Cooper (of the band, The Great Sadness).
"'Dirty Like an Angel' is one of the spookier, darker-themed songs on the new album and is perfect for an October premiere. In reference to some of the vintage A-bomb footage in the video, that aspect was conceived back in March 2023, before I was aware of the then-upcoming Oppenheimer release."
The Divine Horsemen will be hitting the road in support of their new album, and a record release show at Zebulon in Los Angeles is confirmed for November 2. You can buy tix HERE
Directed and shot by David Markey
Edited and shot by Antony Berrios
Production Design: Robert Broadfoot
Spotlights: Brian Quick
Storyboard/Clips: Chris D.
Collage Clips: Mavis Martini
Lightning Storm Footage: Lisa Pankratz
Special Thanks to Cathy Cooper and Joe Cardamone
Songwriting credits:
Lyrics: Chris D.  Music: Chris D./Peter Andrus
© Shakeytown Music, BMI, admin. BMG